Turley Dental opened its new office Monday at Shiloh Crossing on the Billings West End, and its neighbors, Five Guys Burgers and Fries and Popeyes Louisiana Chicken, aren't far behind.
The Billings-based dental practice celebrated its grand opening Wednesday outside its new 6,400-square-foot facility in front of Taco Bell.
Next door, construction is moving forward for a new 8,700-square-foot building housing Five Guys, Popeyes and space for a third tenant. Denny Rehberg, who owns Popeyes, said he hopes to open Dec. 10, but weather and other factors could cause delays.
Turley was founded by Dr. James Turley in 1984 and is co-owned by Dr. Chris Hirt. The practice has seven dentists who split their time between the new office and another location in downtown Billings.
Turley has a neighboring tenant, Riddle Jewelry, inside the building. The practice has state-of-the-art technology, including 3D X-rays, and is located in a retail sector to increase visibility and boost business, according to Hirt.
Turley is open 7 a.m. to 7 p.m. Monday through Friday and 8 a.m. to 5 p.m. Saturday. The phone number is 248-6177.
At Popeyes, Rehberg said employee interviews are underway, and he needs about 70 people to open. Rehberg, a former Montana congressman, opened the state's first Popeyes in February 2015 along King Avenue East.
The Five Guys restaurant would be the first in Billings. The contractor is Langlas and Associates of Billings.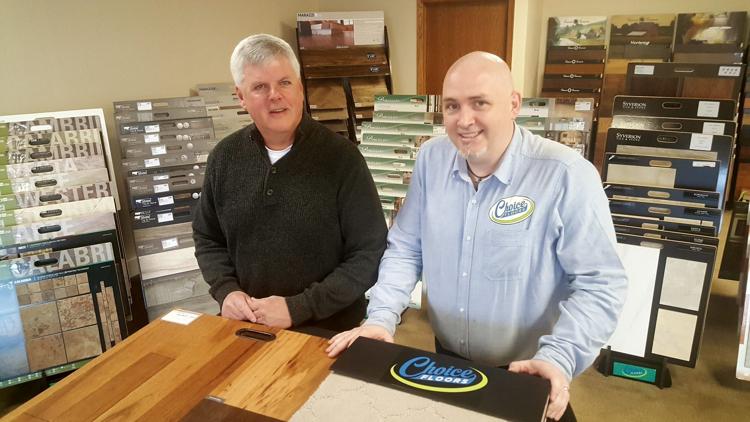 Flooring retailer growing
A Billings carpet and flooring retailer has added a new agent to grow into a new West End home.
Jim Moreland has joined Choice Floors, which moved into a new space this spring at 1812 Grand Ave. next to Stuart's House of Vacuums.
Broker Tim Bartholomew moved into his first storefront about 18 months ago at 2018 Main St. in Billings Heights. His new space is about 1,500 square feet, roughly the double the room, and a more visible space.
"We like the location on Grand Avenue. We get a lot more traffic, and it's a lot more convenient for customers," Bartholomew said last week.
Choice Floors sells carpet, hardwood, laminates, vinyl and other flooring. Bartholomew said he also works with a list of sub-contractors for installation and offers free in-home measurements.
Moreland has spent about 15 years locally in the flooring industry, including larger companies. Choice Floors is rooted in a company called Carpet Direct, where Moreland previously worked.
He said he likes the personal feel of Choice, which he joined this summer.
"Here, customers will get more of a one-on-one approach. They trust you because you're physically involved in the sale, much more than anywhere else," Moreland said.
Choice Floors is open 10 a.m. to 5 p.m. Monday through Friday and Saturday by appointment. Call 671-5502 to reached Moreland and 860-8379 for Bartholomew. The store's number is 894-2100.
A Denver-based construction company has expanded into Billings.
Long Building Technologies announced last week that it opened a new branch at 455 Moore Lane unit on Billings West End.
The 51-year-old company specialized in HVAC mechanical service and installation and improving energy efficiency of structures, spokeswoman Katie Lewis said.
The company has hired five employees, including people with experience in the local construction industry, he said.
Long has locations in eight states.
Rimrock Mall is planning a series of promotions for the holiday rush.
From Thanksgiving Day through Christmas Eve, the mall will hold its Gift-A-Day Giveaway, drawing daily prizes for shoppers who text GiftADay to 60867.
During Thanksgiving weekend, shoppers who sign up for the mall's "Oh So Simple Rewards" program will receive $20 back on their first purchase. "Oh So Simple Rewards" was launched this summer and offers cash back for dollars spent in the mall.
Mall representatives will also hand out gift cards noon to 5 p.m. Dec. 10 during Rimrock's second annual #ShareTheSpirit Day.
Additionally, Famous Footwear is hosting a grand opening 10 a.m. to 9 p.m. Dec. 3 at its new store inside Rimrock Mall. Store officials say they're planning shoe giveaways to celebrate.
Famous Footwear opened Nov. 9, and the company is keeping open its other Billings store at 2829 King Ave. W.
Home2 Suites by Hilton in downtown Billings, the first hotel for the brand in Montana, has started checking in guests.
The hotel at 2611 7th Ave. North hopes to capitalize on the city's tourist industry, along with visitors to the nearby hospital corridor, baseball park, university and airport.
Guest rooms will have access to kitchens, a gym, pool, complimentary breakfast, laundry facilities and outdoor fire pit and barbecue grill, among other amenities.
Buckle your seatbelts if you