As Montana continues its phased reopening into the wedding season, many event venue owners and operators are scrambling to reschedule gatherings and accommodate changes.
In response to fewer COVID-19 cases in Montana, Gov. Steve Bullock enacted a phased reopening plan in April. During Phase 1, the plan prohibits gatherings of 10 or more people if social distancing guidelines cannot be met for the entirety of an event.
Bullock also announced the state will move into Phase 2 on June 1, which would prohibit gatherings of 50 or more people if social distancing guidelines cannot be met for an event.
The decisions to keep loved ones apart has prompted many brides and grooms to postpone or cancel their weddings altogether, and as a result, businesses are innovating and hustling to make ends meet.
The Billings Depot had six cancellations and rescheduled 34 events as of mid-May, said Michelle Williams, the Depot's executive director. The former railroad depot built in 1909 hosts more than 100 events a year, and weddings account for about 40% of that.
Staff re-evaluated how they could accommodate brides and grooms and brainstormed ways to keep people safe.
"Right from the very beginning we were looking at what are our procedures for cleaning, what are our policies are for rescheduling, and how can we be a more supportive partner," Williams said.
A few brides are waiting to see what restrictions will look like in June and later in the summer before rescheduling, she said. Vendors that contract their services with the Depot are also affected by the virus.
"There are so many other vendors that are a part of the celebration — the florist, the cake, the photographer, the DJ and party rentals — there are just so many people," Williams said. "So if we have to shut down the event, the trickle-down impact is pretty large."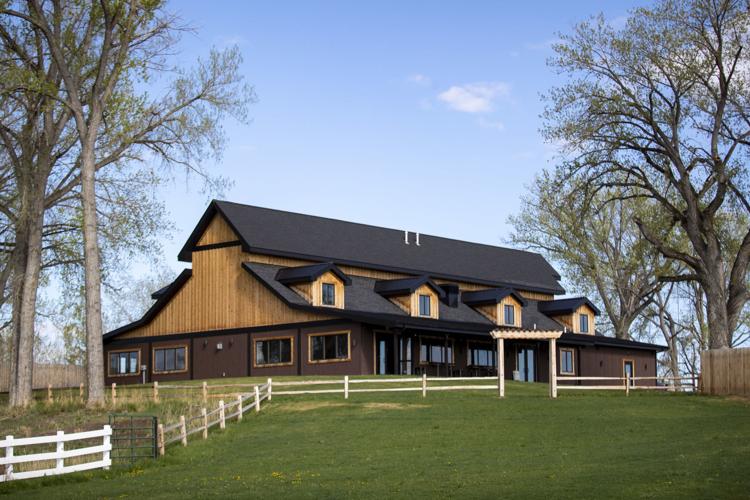 Camelot Ranch on Billings' far West End has seen three cancellations and about 20 postponements so far, owner Lynn Tucker said. The venue is a 20-acre ranch located right outside of Billings and includes a modern barn building for receptions. Half of the couples plan to have a ceremony on the date scheduled with a reception later in the year free of charge when friends and family can be together, Tucker said. 
The venue hosts nearly 100 events a year, with weddings making up a majority of them, Tucker said. Because a few weddings are scheduled to take place at the ranch in June, Tucker hired Briper Cleaning to sanitize the venue's reception building May 16.
With restrictions on gatherings, buffet-style catering and the introduction of other guidelines, planning a wedding is even more stressful for couples.
And with many deciding to wait to be wed, it puts strains on the industry.
Both the Billings Depot and Camelot Ranch have applied for grants to help out with operating costs. Williams said that staff received assistance from the Paycheck Protection Program and they were able to retain all of the venue's staff. The Depot also applied for a few grants through the Coronavirus Aid, Relief and Economic Security (CARES) Act, after Bullock made more than $123 million available to families, small businesses, nonprofits and more on May 5.
Camelot Ranch hasn't received any grants from the state yet, Tucker said, and because the virus has affected the number of events booked now and in the future, it may take some time to see the financial consequences.
"You just never know day-to-day where we're going to be," Tucker said. "We just pray that people are still going to want to have their special day out here. It's a once-in-a-lifetime special day."
Bakers, decorators feel the strain
Vendors that help make a couple's special day complete are also struggling as weddings postpone and cancel in the area.
Cassie LaGreca, owner of wedding decorating company Better to Gather, said that about 50% of her clients have moved their events to 2021.
Contracts for their services have to be re-signed, LaGreca said, because costs of supplies, flame-retardant fabric used for decorating and more increase year by year. Many couples are having family gatherings instead of a wedding ceremony in order to avoid paying more for services in the future, LaGreca said.
Weddings moved to next year take up available time for new weddings, so it makes it difficult to make a profit, LaGreca said.
"So if our client had a June 12, 2020, wedding and it's moved to June 2021 — June 12 is a really popular date to book — now we have one wedding that weekend already," LaGreca said.
Because some events are shifting to private properties, LaGreca has also had to implement liability waivers stating the company cannot be held liable for virus spread at the event and that decorating an event does not endorse or encourage its occurrence.
LaGreca received a grant from the Paycheck Protection Program, but staff have to keep track of how that money is allocated. The loan will be forgiven if at least 75% of the money borrowed goes to payroll. The remaining 25% must be used for expenses like utility costs, and lease and mortgage payments over an eight-week period. If it's not used for those purposes, the loan must be repaid in two years with 1% interest.
"We've been grateful for it, but we're sort of looking at it like a two-month life raft," LaGreca said. "The implications of basically halting business for two months and then having a global pandemic are further reaching than the two months that it covers."
Antonia Craighill owns and is the sole baker for Velvet Cravings in downtown Billings, where weddings and other events make up about 60% of her business. While customers can walk in and purchase cupcakes on the go, it's not enough to recover from all of the lost business.
She's had about four or five customers postpone their wedding cake orders for now. In March when the county shut down businesses and implemented a stay-at-home order, she closed her lobby completely and tried to finish existing orders.
Her husband also owns Soup 'n' Such in Billings, so trying to juggle two businesses amid the pandemic has been difficult.
MetraPark will host graduation ceremonies for Skyview High School, West High School and Senior High School on Sunday, and orders for graduation cakes have poured in. Calls for other special occasion orders have also helped Craighill.
"People were still celebrating birthdays. Your birthday was still happening, and it was kind of like a blessing in disguise for me," Craighill said. "People were still trying to be normal during this storm of chaos."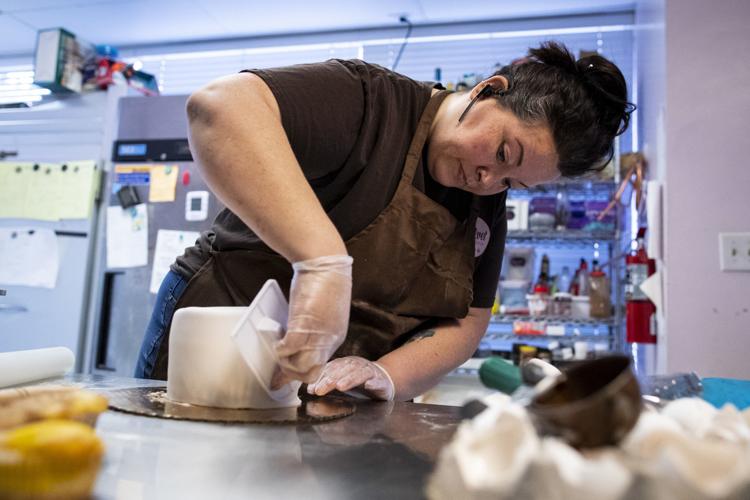 The restrictions have affected not only the family's businesses, but also their employees. The Paycheck Protection Program grant is helping retain the 20 employees for Soup 'n' Such.
"Personally we're okay, but my family isn't the only family that we're taking care of," Craighill said. "We have 20 employees, so we have 20 mortgages, we have car payments for everybody, so we're trying to get them their hours."
Getting creative
Venues, along with many businesses, are trying to adapt and make changes that follow public health guidelines.
Camelot Ranch and the Billings Depot have trained staff to educate them about the coronavirus and how to effectively clean and sanitize surfaces, including bathrooms, throughout an event. Sanitizing stations have also been installed throughout Camelot Ranch, Tucker said.
Both venues are devising ways to incorporate high-quality livestreaming of ceremonies over social media. Tucker plans to partner with DiA Events to offer livestreaming packages, complete with cameras and audio.
When Bullock announced Phase 2, he encouraged venues and other businesses to work with public health officials to design a plan that addresses social distancing and sanitation.
Williams with the Depot invited RiverStone Health officials and Yellowstone County public health officer John Felton to tour the venue Thursday and provide advice for future gatherings.
Based on new processes and procedures that the venue will put into place, the Depot can host gatherings of up to 75% of the building's capacity, which is about 225 people, beginning June 1.
With seating plans, sanitizing stations, indicators on the floors to aid with social distancing, additional staff and more, larger groups can now celebrate at the venue. Seating plans help with contact tracing if someone does get sick, Williams said.
Elevated body temperature scanners have been widely introduced recently to combat the spread of the coronavirus, and are used in airports and offices. Williams said that a monitor has been installed in the Depot's entryway, which reads a person's body temperature as they walk by.
It's a first step to protecting a large group, she said.
"I compare it to a metal detector at an airport, so it's not going to tell you if someone is sick, just like a metal detector isn't going to tell you what the person has on them," Williams said. "It's just going to identify an anomaly that opens up a bigger conversation."
Staff will also help reduce congestion in high-traffic areas like doorways and hallways, and regularly clean surfaces and bathrooms throughout events. Wearing gloves and face masks will also become the norm for staff.
Public health advised Williams against loud music and dance floors, since loud music forces a person to raise their voice while talking, which could cause a greater risk of exposure to illness since the virus is carried through droplets in the air from a person's mouth or nose.
And while there aren't any hard requirements on dancing and loud music, the Depot is recommending that events try to steer clear of it, if possible.
The Depot will work with brides and other event organizers on forming seating charts and educate them on the new procedures prior to events.
Williams is excited that the new procedures and the advice from RiverStone Health provide new hope for future gatherings.
"I think we have gone above and beyond in our precautions to allow events to still exist and couples to still get married and all of our vendors and partners to kind of start getting back into this business again," Williams said.
It's a perseverance folks throughout the wedding industry share, said Craighill, the baker.
"It's difficult, but we are warriors," she said.
____________________________________
PHOTOS: Billings wedding vendors prepare to restart
Concerned about COVID-19?
Sign up now to get the most recent coronavirus headlines and other important local and national news sent to your email inbox daily.