Crow Tribe historian Marvin Dawes recounted several tales about the region's importance to his people during a visit to the Bighorn Canyon National Recreation Area on Tuesday. Here's a short sample of some of those places and the tales.
Long before Yellowtail Dam backed up the Bighorn River in the 1960s to create a 70-mile long reservoir, the Crow Tribe saw the region as the heart of its vast homeland.
"This was a well-traveled area," Dawes said.
The Bad Pass Road between the canyon and the Pryor Mountains was known as the road to the Spanish towns. It was about a two-day trip to move along the route between what is now Lovell, Wyoming, and Fort Smith, Montana. Where the trail emerges from the mountains near Fort Smith was an "ideal campsite," Dawes said.
The remains of Chief Pretty Eagle were reburied on a hill overlooking the canyon after his skeleton was retrieved by the tribe from the American Museum of Natural History in New York City. Dawes said Pretty Eagle's bones were laid to rest near where he fasted as a youngster, a circle of stones and sagebrush. As a tribal elder prayed during the reburial ceremony an eagle screeched overhead.
"It was really awesome," Dawes said. "It was like he was there and glad to be home."
At the Four Winds interpretive site atop the hill leading to the Ok-A-Beh Marina, Dawes burned sage in a smudging ceremony and prayed to ask his ancestors for forgiveness if he did something wrong during the outing. Nearby was a high hill his relatives had used for fasting. Off to the left was a site known to Dawes as The Place They Come to Pray."
You have free articles remaining.
Keep reading for FREE!
Enjoy more articles by signing up or logging in. No credit card required.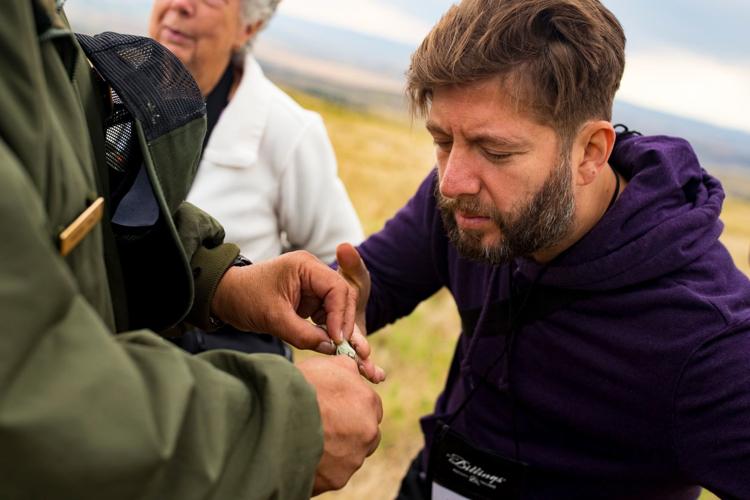 "As you stand there, open your hearts," Dawes said.
Ok-A-Beh refers to a small, dead-end canyon near the marina that in the past was where the Crow would hold horses they had stolen from other tribes. The canyon made a natural corral, fed by springs that cascade down the cliff walls, and the horses could be protected by guards placed on the bluffs above.
Traveling south from Ok-A-Beh Dawes noted the many caves that dot the limestone cliffs. In one he said a black buffalo is depicted in a pictograph, representing bad blood between two warriors. The painting is considered a bad omen. After visiting the cave in the 1960s an archaeologist's car broke down driving back.
"Boom. Something happened," Dawes said.
There are lots of stories about footprints and hoof prints in the canyon that disappear into rock walls.
"This canyon is very spiritual," he said.