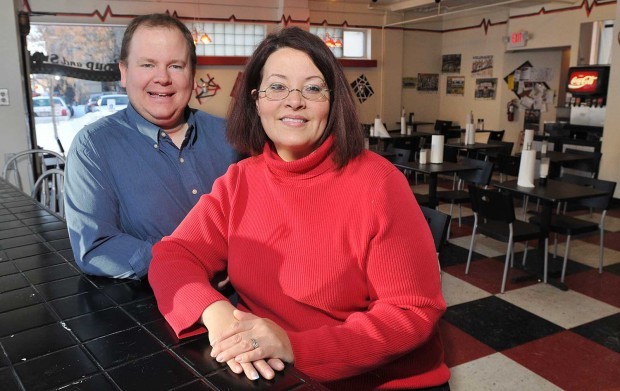 For a lot of people, it's been a miserable winter, with snow, subzero temperatures, and more snow.
For Mike Craighill, it has been good weather.
He and his wife, Antonia, run two Soup and Such restaurants, their newest one in downtown Billings.
"Winter is definitely our busiest time," Craighill said. "Even though we have a salad bar with great summer fare, what do you think of on a cold day? Soup."
With a popular restaurant in the Heights, the Craighills started looking for a second location on the West End. When they learned a prime downtown spot was available, they were at first a little leery. Lots of restaurants have come and gone downtown.
But, the new store, which opened October 2008 at 2716 Third Ave., has worked out beyond their expectations.
"We have a different niche," Craighill said. "Customers like a fast and healthy lunch. And, they're able to get in and out because they have a limited time for lunch."
Both Craighills worked at Walmart before going into the restaurant business, and while they liked the security of a giant corporation, they like the challenges and rewards of running a small business more.
And, both say they are actually having fun, and especially enjoy the steady stream of regular customers.
"We have a good following," he said. "It's nice to know people's names and visit with them about their kids and their work."
The downtown store can be reached at 294-0148. The Heights restaurant at 1414 Main St. can be reached at 245-6302. Here's what else Craighill had to say about starting a business and keeping it busy.
Endless Soup and Salad Bar featuring seven fresh soups daily and a 60-plus item salad bar.
It had always been Antonia's dream to own a restaurant that featured healthy and affordable alternatives to fast food.
Where did startup funding come from?
We used a lot of personal savings and sweat equity. Additionally, Big Sky Economic Development Authority helped us with several things during the startup stage, including helping us find a business loan, help with our business plan and training.
How long have you been in business?
Soup and Such Heights started in July 2006. The downtown Soup and Such opened in October 2008.
Your biggest challenge during the current recession?
Trying to get the message to potential customers that we have excellent, healthy food at a great value for them and their family.
What was done to overcome those challenges?
We have been focusing on the basics of our business — the customer. We try very hard to talk with each customer who comes into our restaurants to find out how their experience was and what we can improve on.
What is being done to expand the business?
In late 2008, we opened a second location, downtown, and are planning a West End location in the near future.
Your best business decisions?
Opening our downtown location. The positive response has been incredible. It is very rewarding to see our customers happy.
Your worst business mistake?
Outdoor signage. When we "upgraded" our original sign, we made a huge mistake by buying a smaller, less expensive sign. It was hard to see. We had regular customers that we saw in the community asking why we had closed. We have since upgraded again, this time to larger, easy-to-read signs.
What advice do you have for someone running a business?
Get to know your customers personally. They give valuable insight into how successful your business will be.
What's your five-year plan for the business?
We are exploring a West End location in the near future and later would like to look at franchising opportunities.
A question you would ask other entrepreneurs?
How do you measure how your advertising dollars are working?
If you weren't doing what you are now, what would be your dream job?
Helping other potential entrepreneurs start a business and follow their dreams.
"Entrepreneurs" appears each week in Sunday's Business section. The feature will help readers become familiar with new businesses, as well as educate others in the challenges of starting a business. If you have been in business for at least one year and would like to tell your story,
please contact:
Chris Jorgensen,
Billings Gazette,
401 N. Broadway,
Billings, MT, 59101,
657-1311, office or
657-1208, fax,
cjorgensen@billingsgazette.com
.