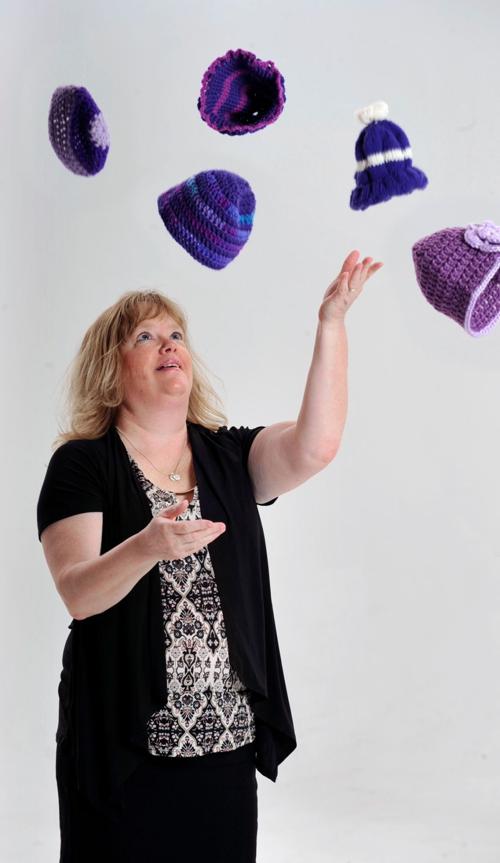 The Knifty Knitters have their needles clicking and their crochet hooks flying.
The group — most of them are residents of Aspen View Senior Living and Retirement Community — has a goal of crafting up to 2,000 purple knit hats that will go to families with newborns.
The hat project, part of Healthy Mothers Healthy Babies, aims to reduce shaken baby syndrome.
Wendy Mills works with the Knifty Knitters as part of her duties as enrichment coordinator at Aspen View. Mills was honored recently by Healthy Mothers Healthy Babies, a nonprofit that works to ensure the health of infants.
Infants can be severely injured or even killed when the person caring for them becomes frustrated with their crying. In many cases, those injuries could have been prevented if the adult knew that crying can be normal, according to the Click for Babies website.
At the Rhinestones and Rodeo fundraiser, Mills received the Ken Moore Community Service Award for her efforts to reduce infant deaths in Montana.
Here, Mills discusses a career that's proven to be fulfilling and fun.
Q: First, a little background: How did you get involved in working with seniors?
A: I was a "Should have Danced all Night" baby. My dad was 47 and my mom was 43 when I was born. As a teen-ager, I would duck and cover when they asked for the senior menu at a restaurant. So I've grown up being around older people. My mom, who is 90, still lives with me. Over the years I've been a volunteer. I've coached basketball and soccer and was a leader for Girl Scouts and 4-H. So I have that activity knowledge.
What's the best part of your job?
Three times a week I lead an exercise class. I have about 16 in the class, and we use weights, bands and balls. It's very fulfilling to see them exercise and improve their health. I take a lot of pride in that.
None of the residents who go away in an ambulance are the ones in my exercise class. I had one lady who broke her hip, and I talked her into trying my exercise class. She's doing a lot better now.
It must be fun being involved in all of that hat making. Where does the yarn come from?
Healthy Mothers Healthy Babies has donated some. Holiday Retirement Corp., the owner of Aspen View, has donated yarn. A funny story is that one of our residents, Ginny Dice, went out last January and bought up all of the purple yarn at Wal-Mart, Michaels and other stores.
Florence Massey is another resident who has made over 200 hats so far this year for "Click for Babies" with her own money.  
What's the significance of the color purple?
When you shake a baby, it turns purple, so the purple hat is a reminder not to shake your baby. There are about 2,000 babies born in Billings each year, so that's why we're trying to knit a hat for every baby.
It sounds like your job has its share of challenges in addition to the rewards.  Correct?
It's so rewarding working here. Everybody's generosity is on display. You hear "thank you" all the time.
I'm one of the last people our residents see in their lives. The hardest part is getting close to them, but having to say goodbye.
The business news you need
With a weekly newsletter looking back at local history.