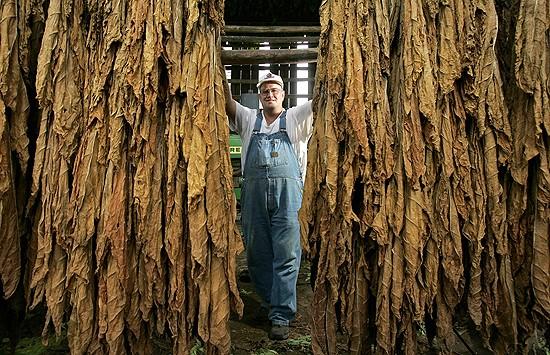 STOUGHTON, Wis. - David Olson peers at a 16-acre plot of tobacco on his southern Wisconsin farm and sees a healthy crop ready for harvest in a few weeks. He also sees an opportunity.
Olson, who has farmed tobacco since 1973, grows a type of Wisconsin tobacco used for chewing, but he and other local farmers have started tinkering with growing burley, the primary type of tobacco in cigarettes.
"It could be an opportunity for some people to make money," Olson said. "But they're so used to raising Wisconsin tobacco, it's a change for them."
Farmers nationwide significantly cut back growing burley when Congress passed the $10.1 billion tobacco buyout in 2004. That replaced the industry's Depression-era production and price controls with a free-market system, allowing farmers like Olson to grow new tobacco.
The nation's biggest cigarette manufacturer, Philip Morris USA, is interested. The company won't disclose exactly how many acres of burley are being tested in Wisconsin or how much it is investing in the effort, but at least four counties are involved.
"We think the climate and soil conditions may be beneficial for growing burley," Philip Morris spokesman Bill Phelps said.
Phelps said the company is looking to "ensure we have a stable supply of burley tobacco."
"Now that tobacco growing has moved to this free market system," he said, "the market is evolving. We want to evolve with it."
With fewer than 2,000 acres of two types of Wisconsin tobacco grown across the state, any burley would be a niche market in Wisconsin. Kentucky leads the nation in burley production, with about 106,000 acres harvested in 2004, according to the National Agricultural Statistics Service.
Growers would be in line for some hefty profits. An acre of burley tobacco is worth about $4,800 before expenses, much higher than the $400 an acre of corn can fetch.
There are factors in local farmers' favor in Wisconsin, even though tobacco accounts for 0.1 percent of the more than $5.6 billion agriculture industry in Wisconsin, according to the agricultural statistics service.
Initial testing from tobacco companies has found that types of tobacco grown in Wisconsin have low amounts of nitrosamine, a precursor to cancer-causing carcinogens, said David Fischer, University of Wisconsin Extension's Dane County crops and soils agent.
That could translate to the burley crop, and the climate of longer, cooler sunny days in the summer also bodes well for the plant. Fischer said, "The real opportunity here is to diversify the tobacco production in Wisconsin."
Olson, 53, tested burley last year, and he said the rich brown leaves are exactly what tobacco companies like Philip Morris want.
Copyright © 2006 Associated Press. All rights reserved. This material may not be published, broadcast, rewritten, or redistributed.