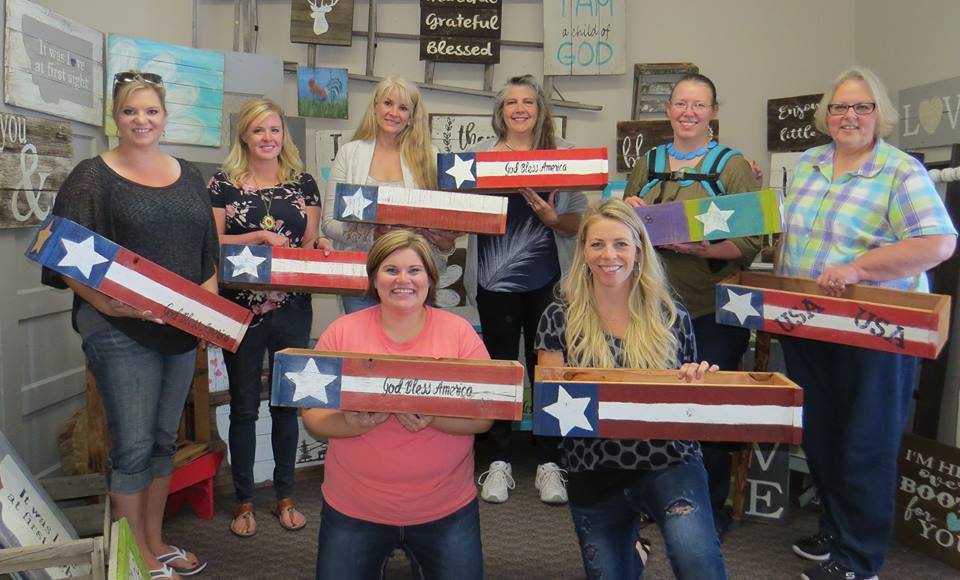 Three years ago, Cheryl Hill and Sarah Kuhr started a new concept in downtown Laurel, aimed at creating a gathering place for crafts lovers.
The Front Porch has since outgrown its original home, and now the two Laurel women have launched a unique concept to bring their brand to the rest of Montana.
"We just feel blessed it's been well-received," Kuhr said.
This month, Front Porch has added classes in nine Montana cities: Baker, Plentywood, Havre, Helena, Red Lodge, Absarokee, Bozeman, Fairfield and Missoula. The business had already offered classes in Laurel, Billings and Columbus, making a total of 12 cities.
The classes in Columbus have been going on for about a year to see if people were receptive, Hill said.
"It's gone so well. That's where we tested the concept to see if it would be doable," she said.
The instructors came to Laurel this month for a weekend training retreat to learn the classes.
Kuhr and Hill launched The Front Porch in the spring of 2014 in downtown Laurel. Business grew quickly, and they moved to their current, larger home at 613 1/2 E. Main St. within two years.
The two former stay-at-home moms sell homemade signs and other goods at the Laurel store, but their bread-and-butter is the classes they teach. Women (and some men) sign up and learn how to make a home décor item, which they can keep and display.
Most recently, for example, students made a Fourth of July planter, emblazoned with the American flag, Kuhr said.
The two women said they'd heard from people around the state about a Front Porch studio in their hometowns, but they didn't feel ready for a major brick-and-mortar expansion.
Instead, Hill and Kuhr tested this model, which allows them to develop the Front Porch brand around the state with little overhead costs. They have an eye on possible franchises but are taking it slow.
"We would love to see the Front Porches all over the U.S. But at this point, as business owners, we want to test the waters… We want to build community where people could gather… We saw that success and how much joy that brought in Laurel," Hill said.
Classes are between $40 and $50 per session, which typically last about two hours. The supplies are provided by Front Porch.
Instructors are paid $50 per class, with a $20 bonus for classes with more than 15 people. They're required to hold four classes per year, but they can do more if there is enough demand, Hill said.
Visit the website at www.frontporch.info for more information about class times in various cities, or opportunities to become an instructor.
Out and about
The former Bourne Again Shoppe at the corner of Grand Avenue and 17th Street West is getting new life.
Workers last week were tearing off the façade for a $20,000 exterior remodel at 1701 Grand Ave.
No tenant was listed on the permit application with the city. The contractor is Kisling Quality Builders.
Bourne Again, a consignment shop, closed about two years ago.
Also on the West End, the former Cetrone photography studio has a new owner.
The property at 3028 Central Ave., which was damaged in a fire last summer, was purchased by Dave Eggebrecht, according to broker George Warmer of Coldwell Banker Commercial.
Eggebrecht couldn't immediately be reached for comment about his plans for the property.
Firefighters determined the July 22 fire was human caused but were uncertain it was set intentionally. It resulted in significant damages to the building, including a collapsed roof.
The building was vacant at the time.
Lawn-care service expands
A Billings couple has brought a new lawn-care business to town.
Tyler and Beth Hollenbeck announced this month they have opened a new Weed Man franchise in Billings.
Weed Man is a 45-year-old lawn care provider that fertilizes and performs pest control for lawns.
Last year, the company recorded $91 million in sales nationwide, a 9 percent increase from 2015.
Call 406-672-0550 or visit www.weedmanusa.com for more information about the Billings franchise.
New owner at enviro firm
A Billings environmental consulting firm is under new ownership.
Jason Vollmer recently purchased Environmental Consulting Services from founder Kevin and Jacinta Walsh. Kevin Walsh will remain with the firm as a senior consultant to help with client transition and develop new business.
The Walshes launched the firm in 1993 and worked with industrial, commercial and private clients mostly in Montana.
Haikus from the valley
The business news you need
With a weekly newsletter looking back at local history.