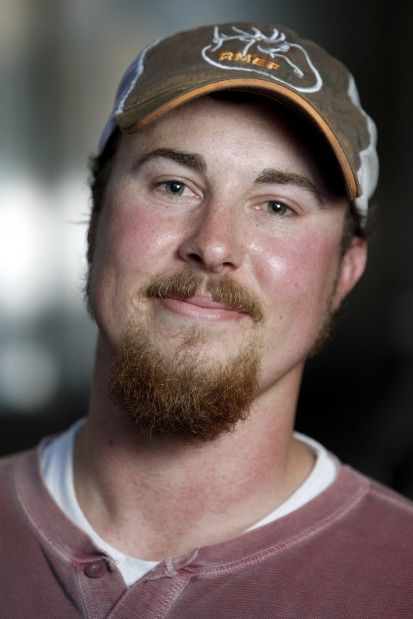 After working two years in the Bakken oilfields, Dave and Levi Bequette are bringing craft beer back to downtown Laurel.
The Laurel father-son duo this summer are opening High Plains Brewing at 601 E. Main St., best known as the longtime home of Modern Auto. They're spending up to $350,000 to remodel the facility for brewing and a tap room, finishing it with barn wood from their Edgar ranch, steel and exposed duct work.
"We're trying to go industrial, older Montana, rustic," son Levi, 33 said last week.
The two men partially funded the brewery through their work in the Bakken. They said they quit because the work took too much time away from family.
The Bequettes say they're aiming to open before Laurel's Fourth of July celebration, which attracts thousands to town, but they may wait until later in the month.
Levi is the former head brewer of Fat Jack's Tap Room, a Laurel brewery that closed in the summer of 2014 after four years. Levi, who learned by trial-and-error home brewing, left the business in 2013 to haul water and gravel with his dad in North Dakota during the oil boom.
He said he still sees a market in Laurel for craft brewing, which has advanced from the province of beer snobs to mainstream appeal.
Nationwide, craft brewing comprised 11 percent of all beer consumed in 2014, and total sales grew about 18 percent, according the Brewers Association, an industry trade group.
In Montana, there area about six breweries for every 100,000 adults over 21, the fourth-highest per capita in the country, the group reported.
For brewers, the appeal is in the process.
"You can see your progress. You can see your product. You can see it finished. Ours started with raw ingredients, and (we) made something out of it. You're able to share it with others, and see their enjoyment," Levi said.
He's bringing back his signature honey porter, which is made from honey produced at the family farm.
"People know me because of that beer," Levi said.
Most grain will come from Great Falls, and the Bequettes plan to buy specialty malts from a distributor in Vancouver, Wash.
The brewery will keep about eight to 10 beers on tap, rotating by season. The Bequettes plan to produce 1,000 to 1,500 barrels annually, brewing in seven 210-gallon barrels.
Levi said he's already contacting bars and restaurants in Laurel to serve his beer on tap.
The business will be a family operation with no additional employees and Levi's wife, Erin, pitching in. Levi also works full time at the CHS refinery in Laurel on the pipeline, and he acknowledges this new venture will be a "trial by fire."
High Plains will be Yellowstone County's seventh brewery. The other six are in Billings: Uberbrew, Montana Brewing Co., Yellowstone Valley Brewing, Angry Hank's, Himmelberger Brewing and Canyon Creek Brewery.
Billings' second Great Harvest Bread Co. store will open the second week of June at the corner of 32nd Street West and Central Avenue, according to owners Susie and Bryan Layton.
The couple said they're hired a 12-member crew who trained over the weekend to operate the new spot, which has scheduled a grand opening June 12 or 13.
The Laytons co-own this second shop with longtime employee Heather Snyder and her husband, Lorenzo. The Snyders will manage the new 2,500-square-foot place.
Great Harvest is a Dillon-based company with franchises nationwide. All Great Harvest breads are baked with Montana wheat and other locally sourced grains.
The stores sell freshly baked bread and sandwiches made in-house. Great Harvest also sells sweets, dry mixes, granola, biscotti and other items.
The Laytons, who are Billings residents, bought the first location about nine years ago at 907 Poly Dr. They said they hope to promote the overall growth of both stores with the opening of the Central Avenue site.
Outdoor Trailhead seating
Downtown distillery Trailhead Spirits has opened its outdoor patio for the season.
In a Facebook post last week, Trailhead owners said they were launching the outdoor seating at 2314 Montana Ave. despite the rainy weather.
The distillery already has ample seating inside the historic depot, and the patio adds about a dozen more seats for cocktail sipping.
Owner Casey McGowan opened Trailhead in 2011 and distills vodka, gin and whiskey with grains grown in northeastern Montana.
I was fascinated by the recent debate in Park County in Wyoming over politics and teaching standards: