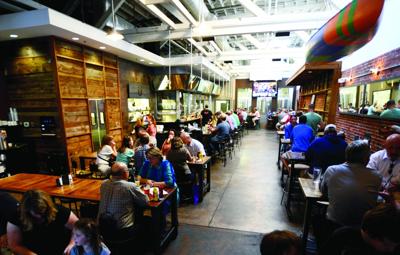 Ten Montana brewers, including one based in Billings, are in the running to be named America's Best Beer, a competition run by a Denver-based beer promoter.
Officials at AmericasBestBeer.org analyzed more than 800 breweries nationwide to come up with a list to put up for an online vote.
Included in the Montana list in are Uberbrew in downtown Billings and Red Lodge Ales. Breweries from other regions are KettleHouse Brewing, Big Sky Brewing and Draught Works Brewery in Missoula, Tamarack Brewing in Lakeside, Blackfoot River Brewing and Lewis and Clark Brewing in Helena, Great Northern in Whitefish and Bozeman Brewing.
Voting continues through Nov. 15, and winners will be announced the following week. Awards will be distributed to the top three breweries in each state.
In more beer news, local craft brewers are sponsoring courses through Montana State University Billings to help drinkers identify that craft style.
The first course Nov. 12 will examine what craft beer is. On Dec. 3, the topic shift to dark beers, then IPAs on Feb. 11, and finally Belgium style on March 10
Classes are $45 each or $150 for all four. They're limited to people 21 years old and over.
Big Sky Economic Development is holding a workshop at 3 p.m. Nov. 9 at the Granite Tower to help local groups learn about seeking grants.
The 90-minute workshop will be led by community development director Dianne Lehm, who will help participants navigate the basics of grants, different types and eligibility.
Other workshop instructors with years of grant-writing experience will also be participating.
The free event will be held on the second floor of Granite Tower at 222 N. 32nd St. in downtown Billings. Space is limited to 15 attendees.
I was on assignment in Glendive last week talking to hoteliers about their struggles now that oil development is drying up. It was my first visit to Dawson County since the last football game of my high school career 20 years ago. (I won't share the score, but we didn't do so well against the Red Devils.)
The town was nicer and more interesting than I remembered, and the beauty of Makoshika State Park floored me. Such an amazing resource, and seemingly overlooked.
So far, though, the area can't shake this reality: