In an effort to highlight innovative chefs and the expanding list of local restaurants, the Downtown Billings Alliance has launched Restaurant Week, beginning Friday.
Restaurants taking part will create unique menu items that aren't normally available.
"We have award-winning chefs and restaurants willing to take risks and change their menu up," said Lindsay Richardson, events director for Downtown Billings Alliance.
Twelve restaurants are participating, and the DBA hopes this inaugural event will grow to become one of the signature events of the year.
At last count, more than 40 restaurants operate in the downtown area and food choices continue to expand. Sassy Biscuit, a brunch joint that serves till 7 p.m. opened this year on North 29th, and Seva Kitchen, with a focus on global cuisine, opened in the former Travel Café across from the Alberta Bair Theater in 2017. Restaurants expected to open later this year include the juice and sandwich bar Well Pared in the Walker's building and the fast and casual pizza place Your Pie, which will open a second Billings location in the former St. Vincent de Paul store.
Last Chance Pub and Cider Mill is one of the newest restaurants to open on Montana Avenue. Sam and Lindsay Hoffman, known best for starting Red Lodge Ales, opened the cidery and pub in a formerly vacant warehouse in November 2016.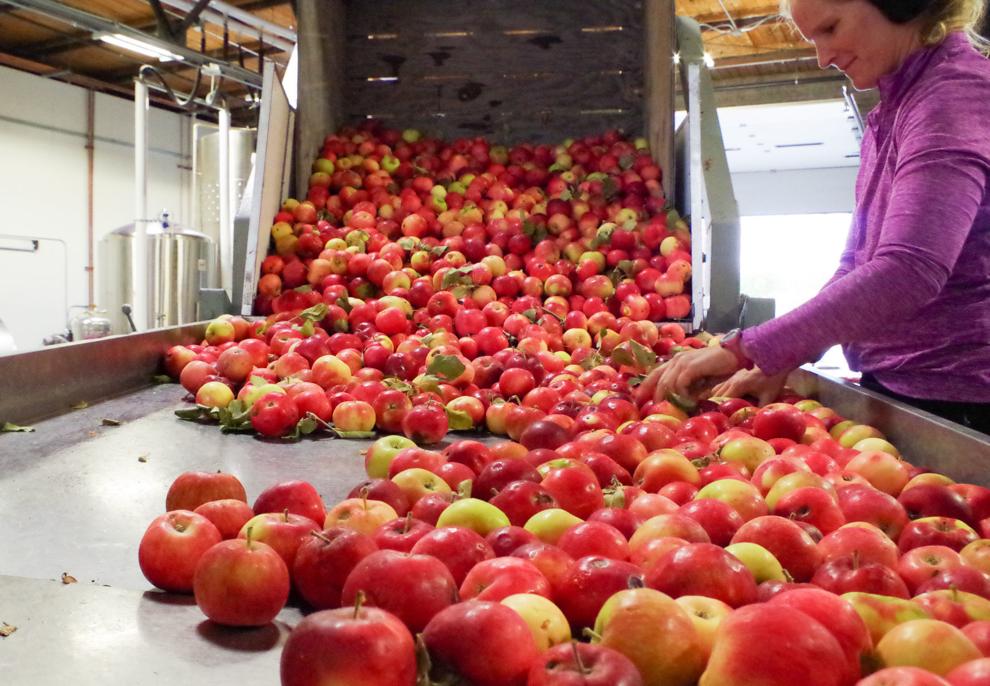 They ferment cider on-site and have been steadily expanding their line of hard ciders. Sam Hoffman said they use Montana apples as much as possible, but there's not much infrastructure in Montana for apples. In late September, Hoffman and his crew were pressing their first batch of Montana apples, about 12,000 pounds that netted 900 gallons of juice. Though many of their products on tap utilize apples from outside the state, they do serve the "Full Montana," a cider made exclusively with Montana apples and local beet sugar.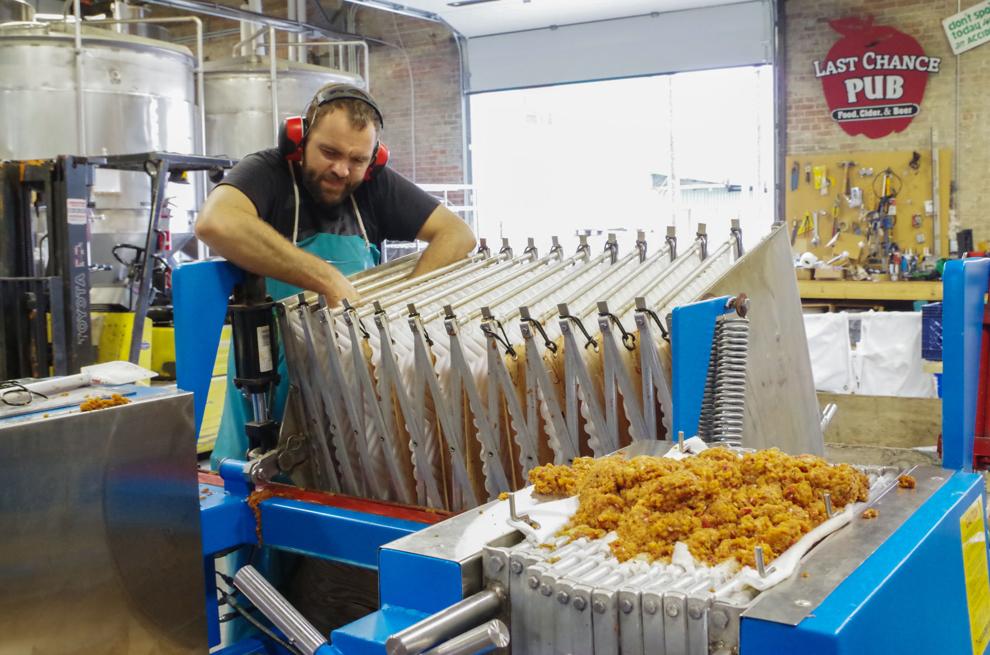 Finding quality, fresh food from local vendors becomes difficult in the winter. For chefs who are reliant on locally produced foods, when the season changes, their menus change too.
For Jason Corbridge, head chef at Last Chance Pub and Cider Mill, there's nothing quite like a tomato fresh from the garden. He buys tomatoes in bulk during the summer from the Special K Ranch in Columbus. Kate Rossetto, an organic farmer in Billings Heights, and Rachel Negaard, who runs a small farm in Grass Range, also supply Corbridge and other Billings chefs with fresh tomatoes, greens, herbs and seasonal produce.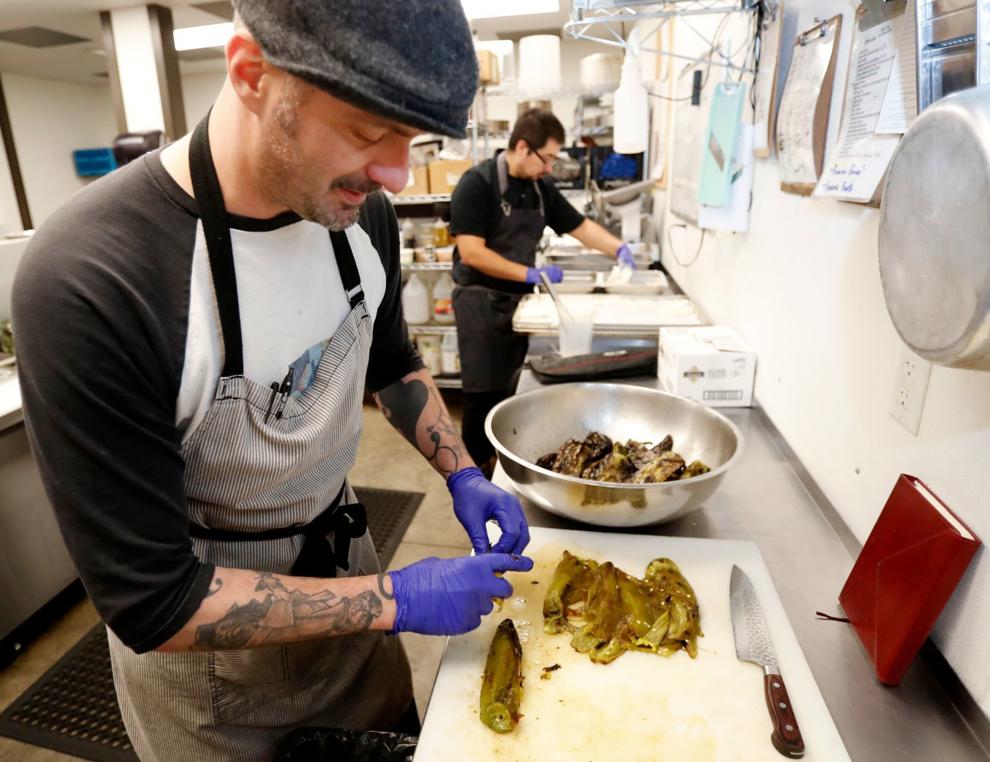 Tomatoes are just one of the many examples of food trucked from warmer locations when it's out of season in Montana.
"If something is closer, it's not always, but should be fresher," Corbridge said. "Forming relationships with these local gardeners, growers, and ranchers gives me access to what I believe to be superior products."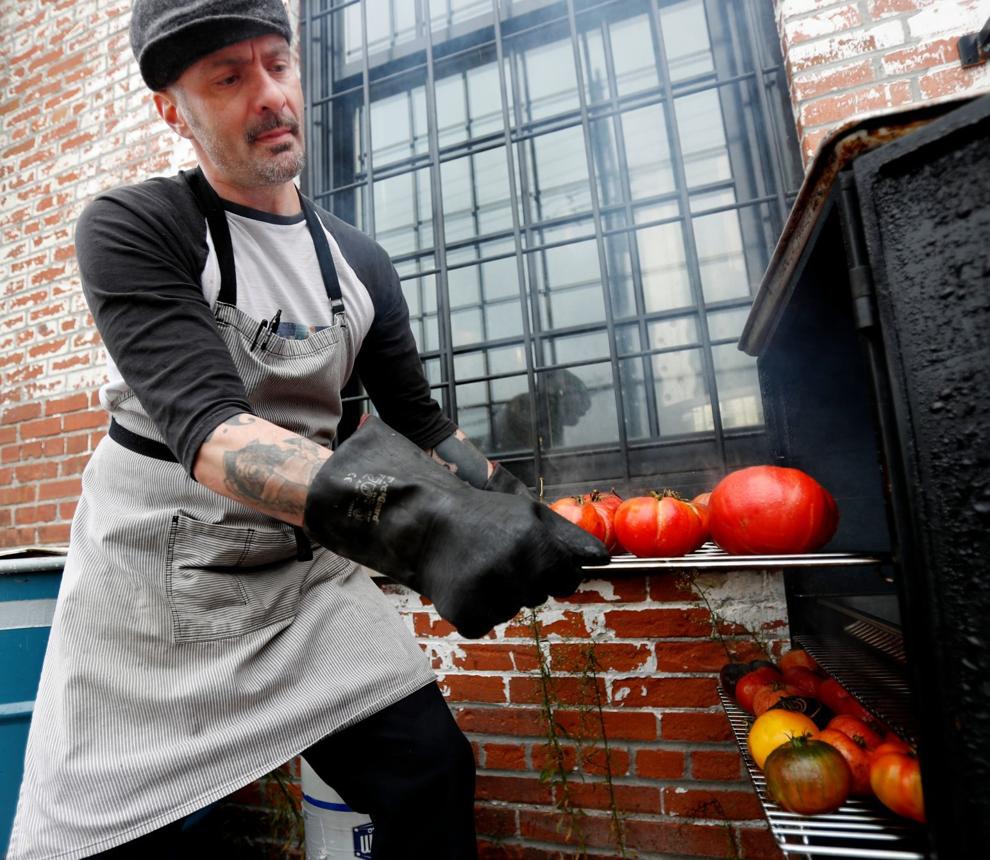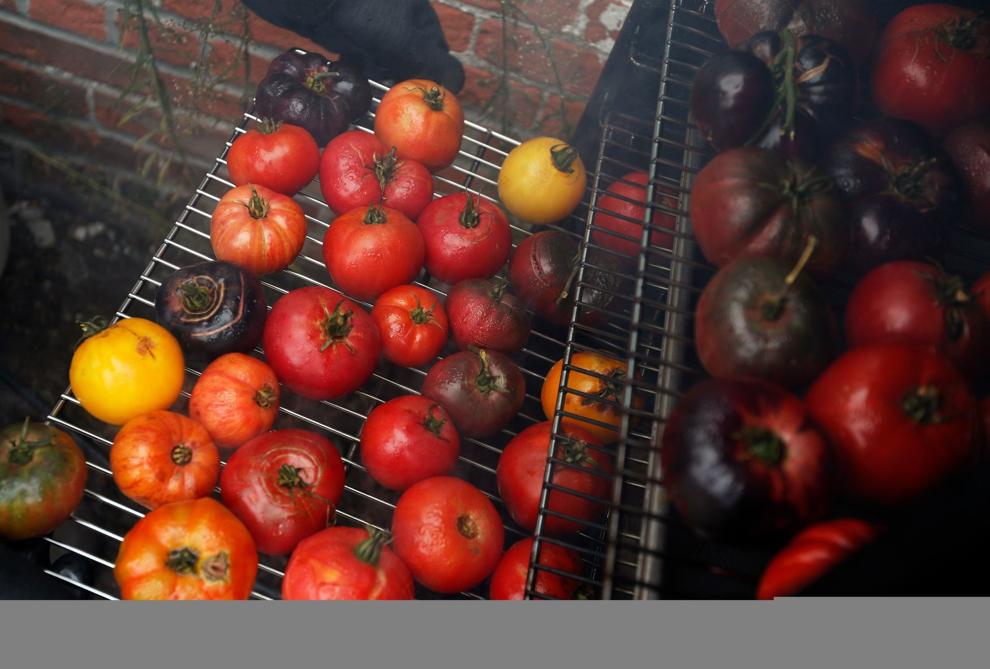 Corbridge is in the midst of a menu change, which will swap out the BLT with one that uses preserved tomatoes in an effort to utilize local food and be responsive to the changing season. He's one of a handful of Billings chefs leading the local farm-to-table movement and estimates up to 60 percent of the products on the menu in the summertime are sourced from local producers. Corbridge also works with local businesses as often as possible to stock paper goods and cleaning supplies.
"For me, the ingredients come first. Second is supporting local business." Corbridge correlates the two. "You're putting money back into the state economy, and it's good for everyone."
Across the tracks, the owners of The Fieldhouse also source many of their products locally. "When you buy one dish here you are supporting three or four local people," said Krystal Harmon, who opened the restaurant with her husband Ben Harmon. She estimates they source ingredients from 15 to 20 producers located from Billings to Bozeman.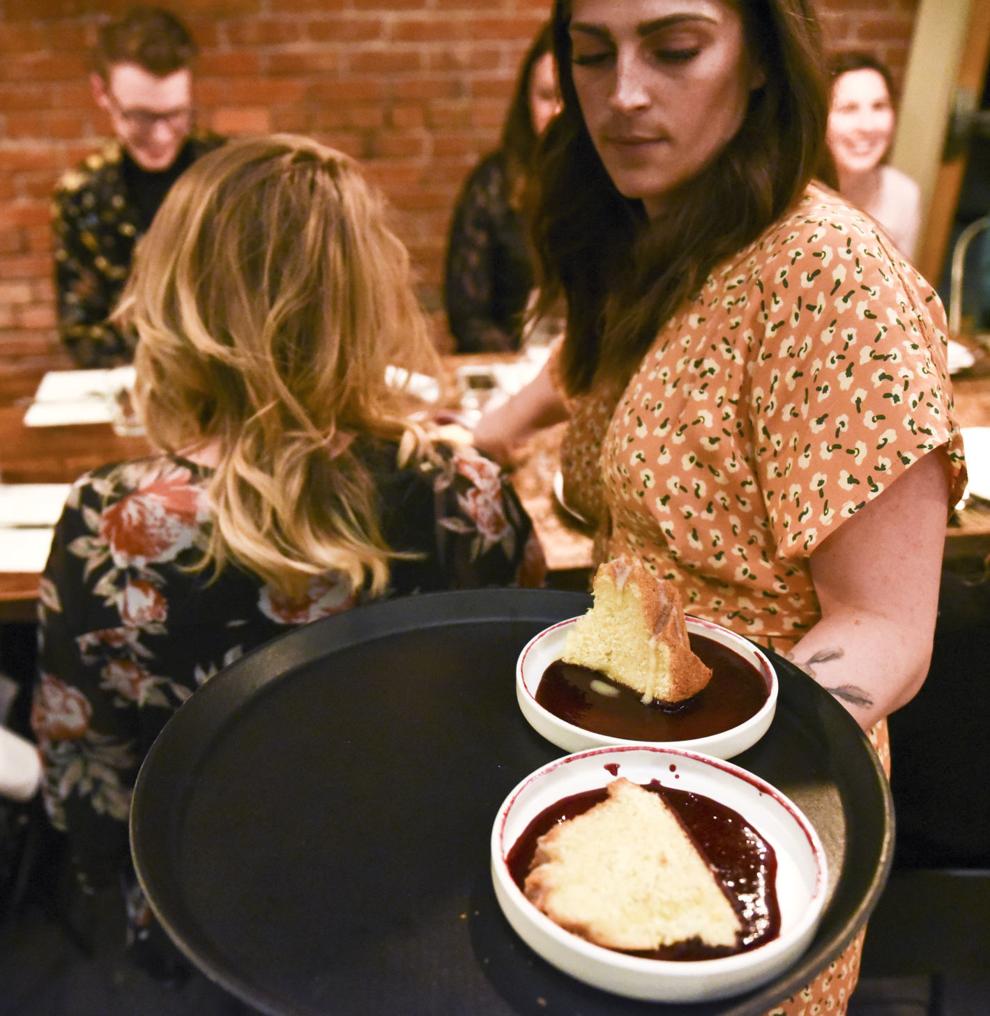 The Harmons change their menu about four times a year. "We pretty much switch out everything," Krystal Harmon said, with the exception of their popular Brussel sprouts and the burger. "We tried that, and it was bad. We brought it right back, but in a classic way."
For restaurant week, Chef Ben Harmon is stretching a bit. "It's just a little bit of extra technique a little bit of extra fun," he said of the special menu he concocted.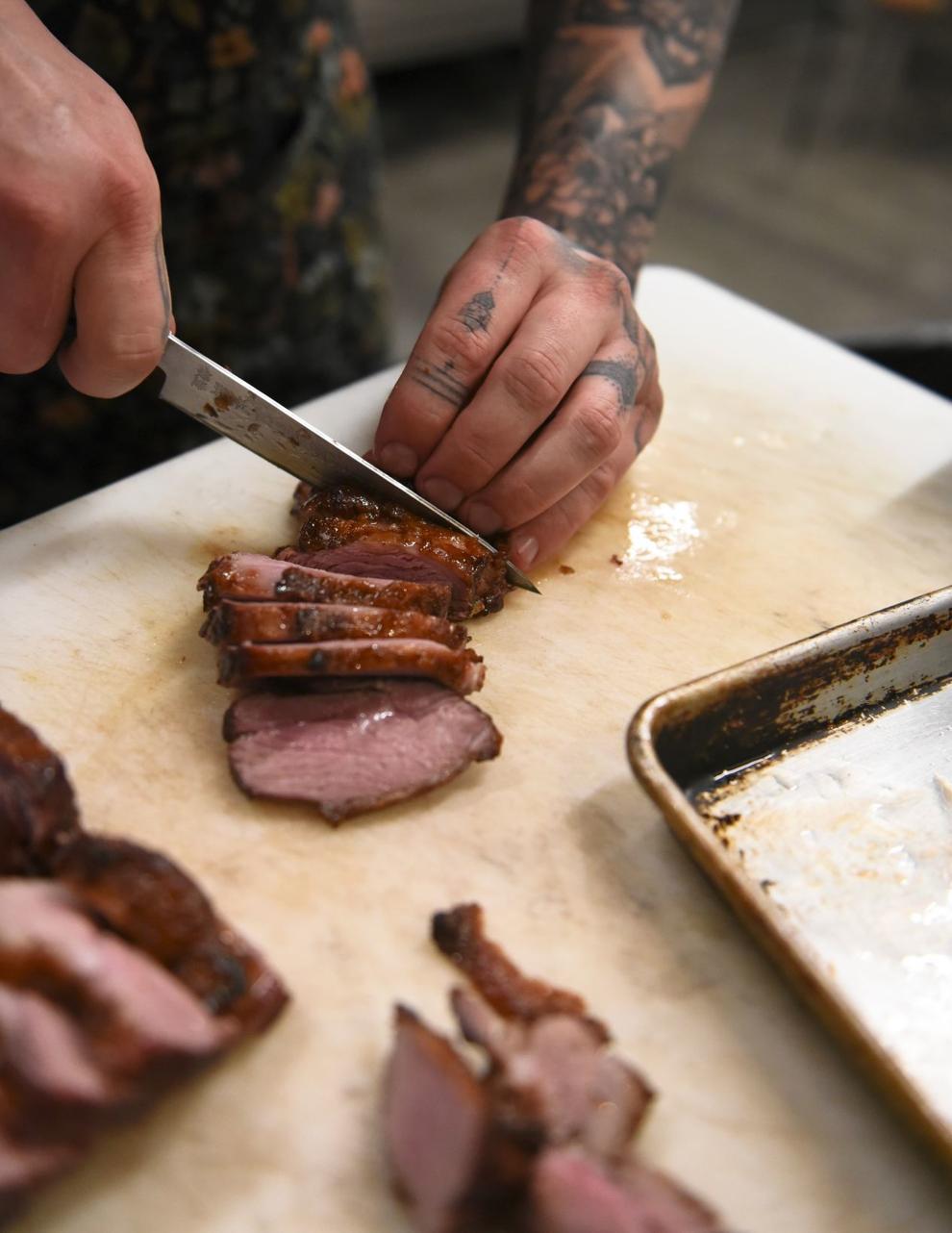 For Harmon, food is an intimate experience. "Sometimes, pizza dipped in ranch will probably taste better than this, but that's not the idea," he said. "Food should be enjoyable. It should be fun. It should be exciting. It should be interesting. It should be provocative."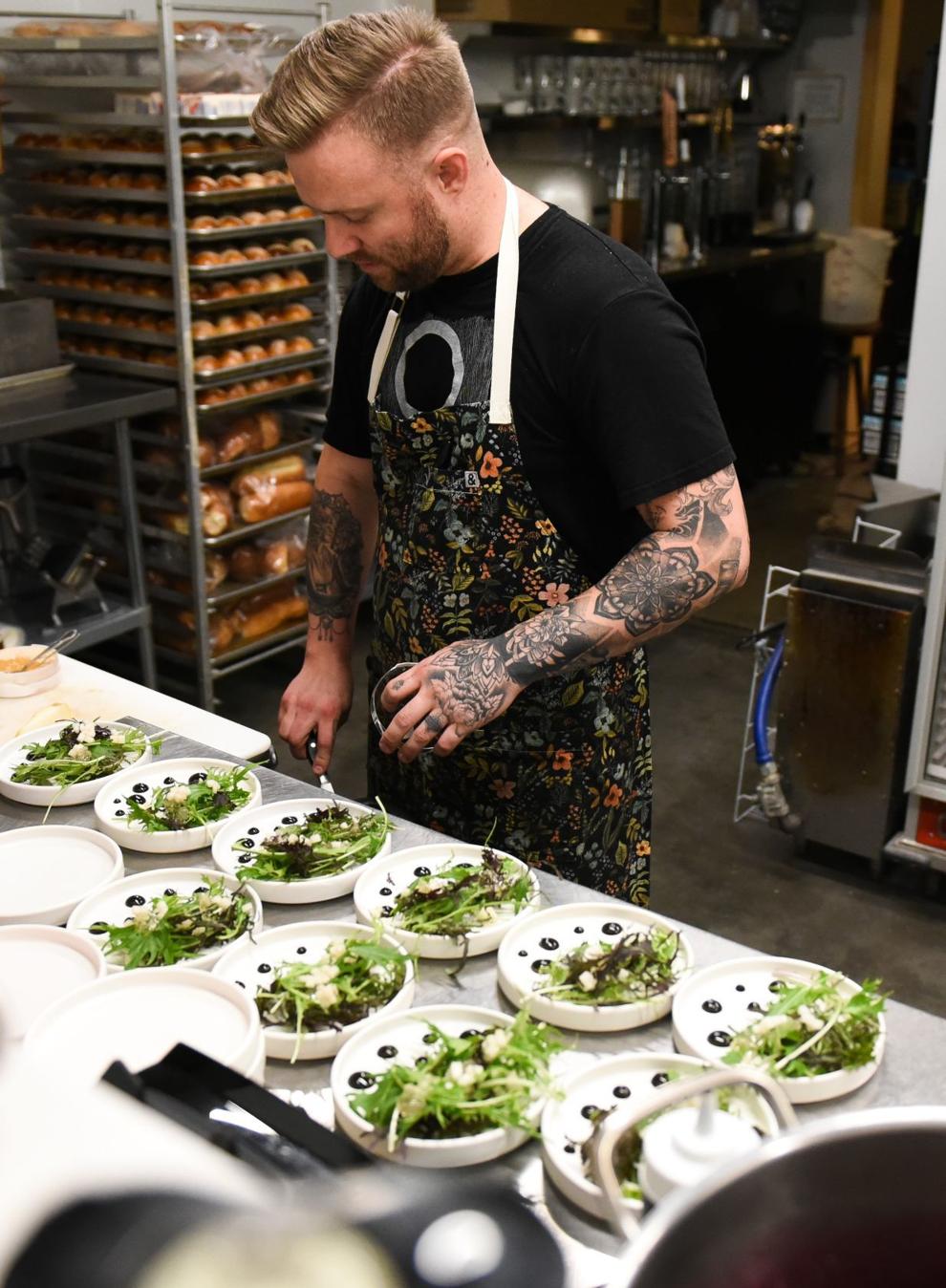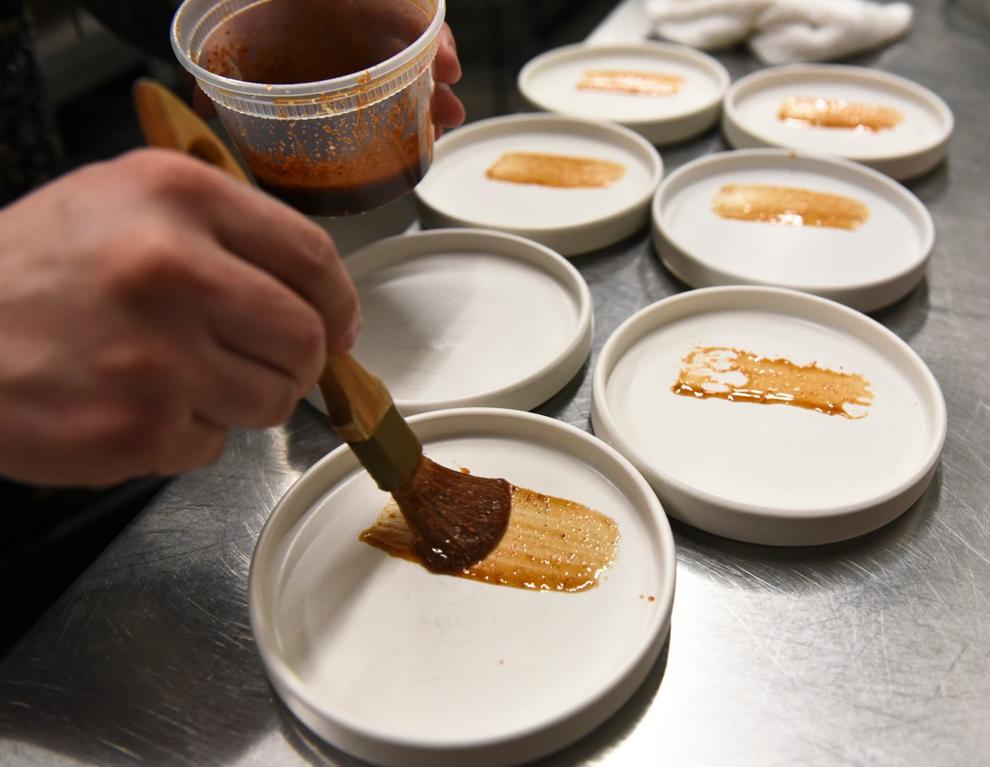 For one of the dishes offered during Restaurant Week, Harmon is working with fresh mustard greens from Kate's Garden. In the fall, these frilly leaves turn red and become a bit less spicy. "Some will just knock you out, they are so spicy and lovely," Harmon said. "They were just out there and kind of shouting at me." He garnished the dish with pears, which are also in season, and bits of honeycomb from an apiary in Laurel.
Harmon loves to share. Even in home-ec class in high school, he recalls wanting to share homemade cookies. "What is the point if nobody's enjoying it?" he said.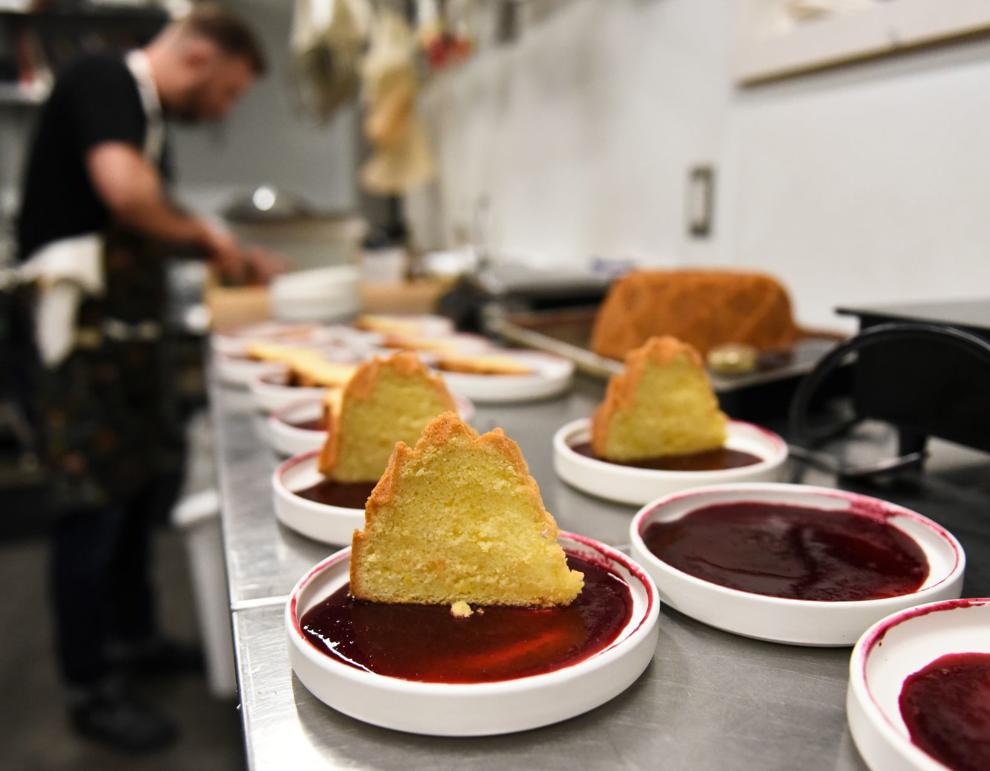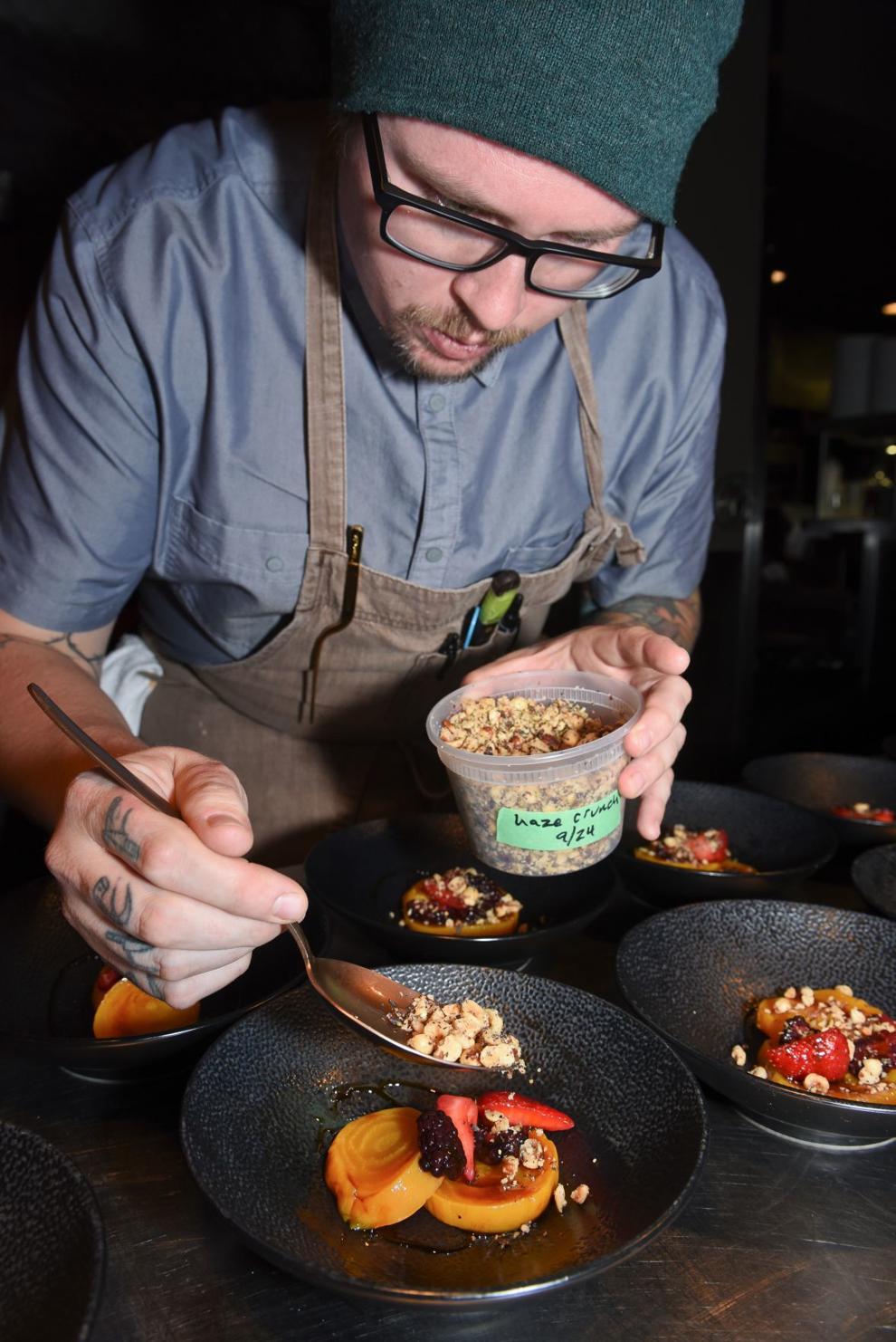 Restaurant Week is part of the DBA's strategic plan to position downtown Billings as an "economic, cultural, and social center of the Northern Rockies and Plains states." DBA staff have begun implementing parts of the 20-year strategic plan, which was initiated by the DBA and presented by the Indianapolis consulting firm Thomas P. Miller and Associates in February.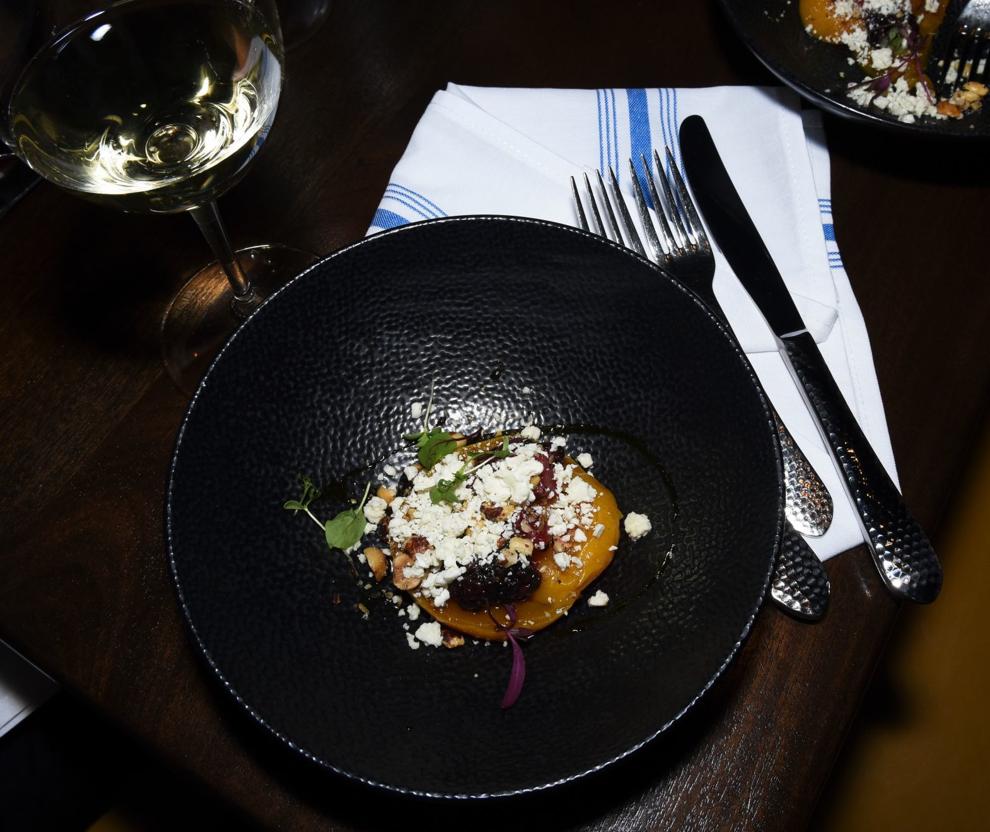 The plan includes focusing on the key industries in Billings, such as restaurants and other eating places that offer opportunity for entrepreneurs and "emphasize the authenticity of the downtown community and help to retain talent and corporate functions in downtown," as identified in the document.
Though Billings is a small metropolitan area, it keeps up with larger cities in terms of restaurants per capita. According to 2015 County Business Patterns data, Billings had 312 establishments classified as "restaurants and other eating places."
"Given Billings' size, we would expect Billings to have only 1.6 restaurants per 1,000 people. Instead, it had 1.84 restaurants per 1,000," said Bryce Ward, co-founder of ABMJ Consulting and an economist at the University of Montana. "This is roughly the same as Denver, slightly less than Portland and Seattle, but more than Minneapolis and Salt Lake."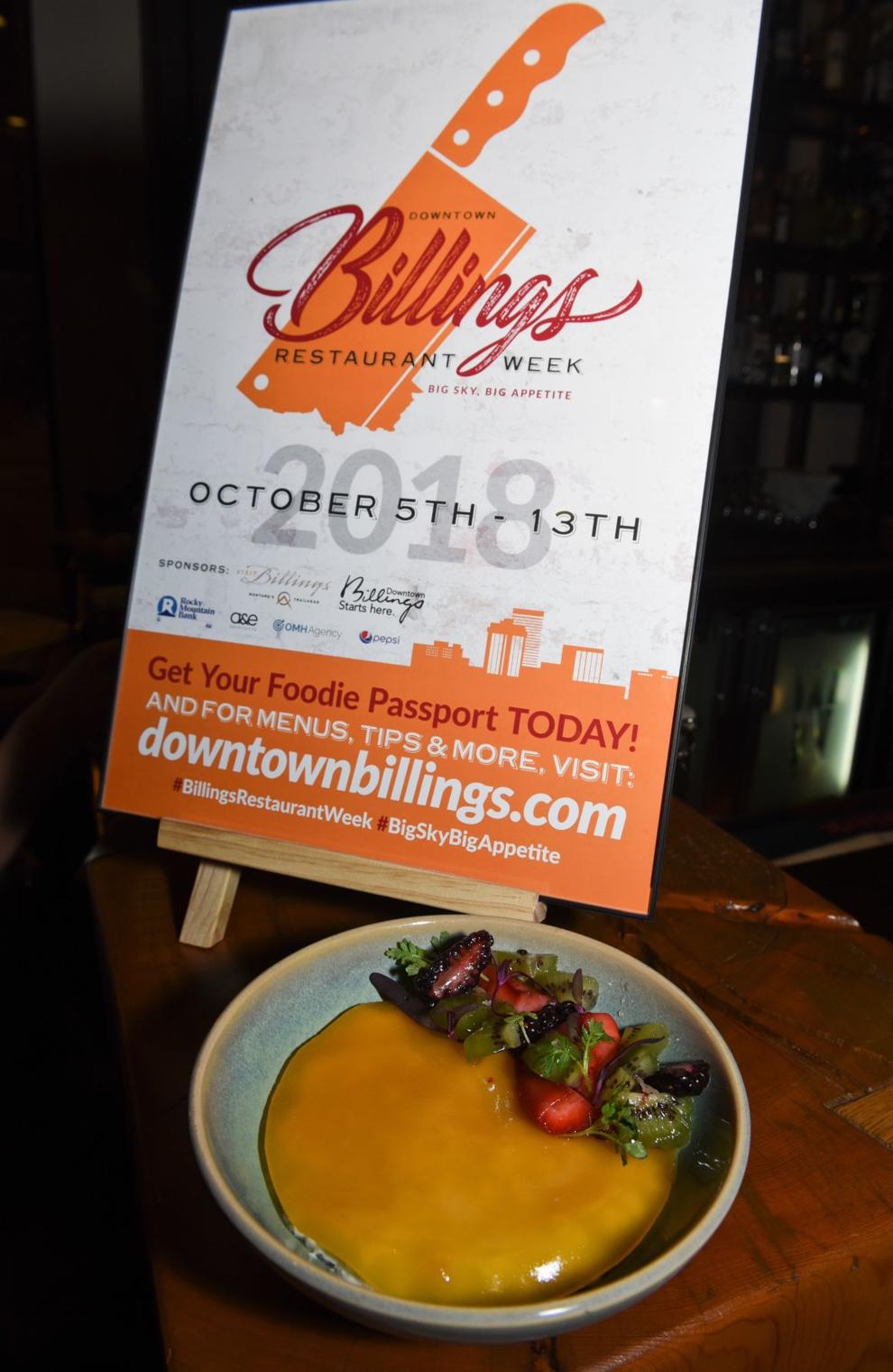 The DBA launched Restaurant Week during October because tourism slows and businesses typically experience a lull before the holiday season, according to Maisie Sulser-Handley, director of development for DBA.
To sweeten participation, DBA is offering a Foodie Passport that comes with a discount offer to a hotel stay at the Clocktower Inn or Northern Hotel. Participants can ask to have their passport stamped at participating restaurants, and can drop it off at the DBA Office to be entered into a drawing for prizes and vouchers to downtown businesses.