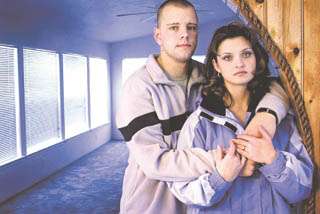 RONAN – At its peak, Jore Corp. was the largest private employer in Lake County with more than 600 employees. Now the company's fate and that of its remaining workers likely hang in the balance with bankruptcy proceedings. What happened?
Many former Jore Corp. employees, who once spent their days putting together some of the most sought-after products in hardware stores, now find themselves trying to put their lives back together.
Those who still have jobs at the Ronan-based company can only continue to work and hope they won't follow their co-workers out the door, all the while knowing a huge cloud hangs over their heads.
During the last 12 months, what was the largest private employer in Lake County has permanently laid off more than half its workforce. It now has about 170 people, down from more than 600 at one point, employed at its plant near Ronan and at a distribution center in Missoula. Jore may close completely depending on the outcome of bankruptcy proceedings that will conclude March 16.
Hundreds of former Jore employees who once put their faith and sweat into the community-minded, employee-friendly business now are relying on a government-funded program that retrains displaced workers.
Others have given up on the Montana dream and packed up. Those who remain on the payroll know it could all fall apart any day.
By January 2001, Jore Corp. had grown to become one of the largest manufacturing employers in Montana. A home-grown company founded by Ronan high school graduates Matt and Mike Jore, company management prided itself on looking after local workers by providing them with training, education, good wages and opportunities for advancement.
It was that same month the company discovered it was in trouble. The first big wave of layoffs hit in February. More took place in April as new management tried to regain a positive cash flow and make debt payments by slashing payroll and selling off inventory.
Travis McElderry, 28, and his wife Stacy, 26, were among the February casualties.
They had a combined income of $60,000 in 2000 – pretty good for two young St. Ignatius kids with nothing more than high school educations and a desire to work hard.
But all of their eggs were in the Jore basket. They were among many "two-Jore" families in the Mission Valley when Jore's downward spiral started. Both worked in supervisory positions at the tool and drill-bit manufacturing plant near Ronan.
Travis McElderry was a packaging supervisor earning about $13 an hour. Stacy supervised incoming inventory control, earning a little less.
On the strength of their combined incomes, they financed a new modular home near St. Ignatius. On the strength of Jore management pep talks, they participated in the stock-purchase plan. They had a 4-year old daughter, good jobs and rosy expectations for the future.
"I honestly thought I'd have no reason to ever leave Jore," Travis McElderry said recently.
You have free articles remaining.
Mary Walsh, dislocated-worker unit manager for the Montana Job Service in Helena, said the state received $3.64 million to serve several targeted employers laying off workers last year, including ASARCO's East Helena refinery, Jore Corp. and several wood-products companies. Jore has been of special concern.
"We've got probably 100 workers enrolled in the dislocated worker program (from Jore), and we're in constant contact with management" in case of more layoffs or closure, she said.
Among workers being retrained by the dislocated worker program are Lance Hames, 49, and Linda Young, 42, who live near Lonepine in Sanders County.
They worked for Jore, first as temporary production workers, then as permanent employees, from the fall of 1999 through April 2000, when they were laid off in a second round of cuts.
Like many former Jore workers, they said they could see it coming.
Hames said that just before and after a stock sale in October 1999, the company became top-heavy with middle-managers, who as far as he could see, spent their time protecting their own turf, or issuing memos to each another.
"An interoffice memo would have no fewer than 50 names on it," he said. At the time, Jore employed about 600 people.
The sense of community and family that existed earlier at Jore seemed to evaporate as the company expanded in 1999 and 2000, they said.
"If you wanted anything done, you circumvented the entire superstructure and e-mailed (CEO) Matt Jore. If you went through the channels 'upstairs,' it was a dead-letter office. Nothing got through," Young said.
Hames, who was a night shift warehouse supervisor, said he was amazed at the high ratio of managers to employees at Jore in those expansive days.
"Every week at Jore, some total stranger would come up and chew your ass off, and you'd think, 'What the hell was that all about?' You'd see these guys once and they'd disappear, and then the next week there'd be another one," he recalled.
Uneasy about the direction the company was taking, Hames and Young chose not to participate in the stock purchase plan for employees.
It was a complete turnaround, they said, from a company in which they once had felt the sense of support and family. Matt and Mike Jore tried hard to do the right thing by their workers and their community, they said.
A lot of the company's problems, they said, came from the Jore brothers' "misplaced good will."
"They have a sense of community and they really did want to supply 2,000 jobs to the Mission Valley," Hames said. The company couldn't control costs, and tried to do too much, too fast, he added.
The company has acknowledged that too-rapid expansion, huge debt, inadequate management and unreliable financial controls, plus an unexpected downturn in sales during the last part of 2000, forced the company into Chapter 11 bankruptcy last May. The Jore brothers were booted out of management, at the insistence of major banks.