For Montana Honda & Marine, the addition of Kawasaki recreational motorbikes and all-terrain vehicles is a chance to broaden the business and grow, co-owner James Winchell said last week.
The dealer at 2124 Goodman Road in Billings obtained the Kawasaki line last month, nearly doubling inventory of some lines inside the spacious, 25,000-square-foot showroom, Winchell said.
"It's been good. People are happy to see them here," he said.
In its motorcycle line, Kawasaki is best known for the Ninja but also manufactures the KLX and KX brands for motorcross and off-road.
Its four-wheel utility vehicles, known as side-by-sides, include the Teryx for recreational use and the Mule brand for industrial and farm work.
Winchell declined to say how much the dealer invested to win Kawasaki, noting that he's investing in signs, tools, parts and other equipment.
Montana Honda has also hired two new employees to work on the new Kawasaki products. The dealership has 15 total employees, not including Winchell's 7-year-old dog, Lina, who is a popular presence there.
Outside on the three-acre lot, the dealer also sells recreational boats, including the Tracker line and Centurion surf boats.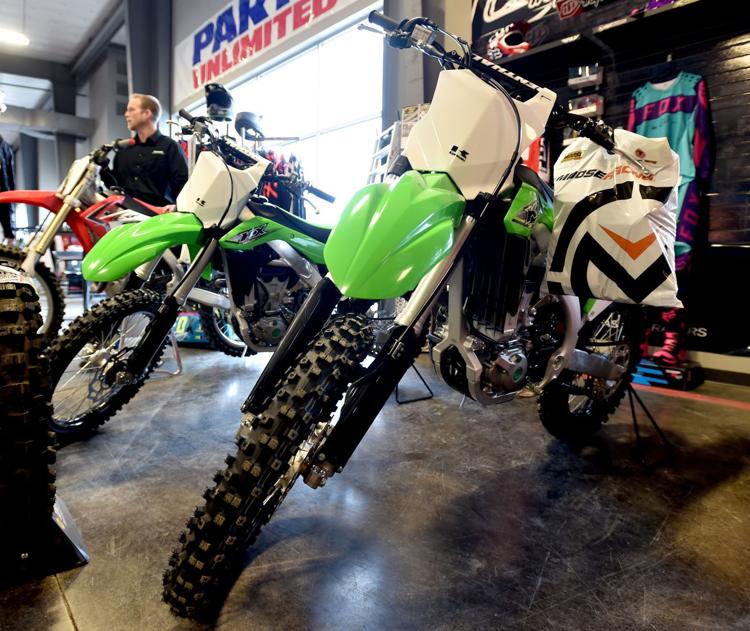 Montana Honda & Marine acquired the Kawasaki line after Reiter's Kawasaki closed in Billings Heights last year. It's the only authorized Kawasaki dealer in the Billings area, Winchell said.
Analysts say demand for these recreational vehicles fell off last year, but the industry is poised to grow long term. Locally, of course, Montana and Wyoming have miles of off-road trails to appeal to recreationalists.
Sales in Kawasaki's motorcycle and engine division fell about 9 percent in 2016 to $1.79 billion worldwide, the Japanese company reported in January. Its Motorcycle and Engine Company is a division of Kawasaki Heavy Industries, one of the world's largest industrial firms.
In the United States, the Motorcycle Industry Council reported a 2.7 percent drop in U.S. motorcycle sales last year, according to PowerSports Business, a trade publication.
Kawasaki officials attributed their recent drop to a strengthening Japanese yen and noted that sales in developing countries, including the United States, were strong.
Also, Global Market Insights, a market research firm, noted that interest in off-road riding is generally increasing.
Sales figures for side-by-side vehicles are harder to determine, but, according to PowerSports, buyers are increasingly looking at the vehicles for multiple purposes. For example, farmers may buy them to better travel through their fields during the week, then head to the mountains for recreation over the weekend, according to the trade publication.
Within the last year, Winchell said he's seen demand tightened in a tougher economy. Prices for beef, grain and other ag products have fallen, which has led to farmers spending less on equipment.
"The unforeseen future is our challenge. But we've been a dealer for so long, people know who we are," Winchell said.
Montana Honda & Marine has traditionally relied on the steady demand from business and industry for the four-wheelers, Winchell said.
The Kawasakis came to the floor just in time: the busy season for the recreation industry started in March and will likely run through July, he said.
"It gives us a little more recreation options for people," Winchell said.