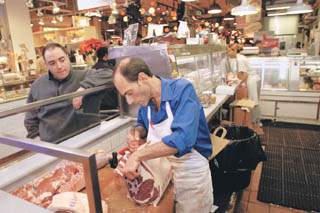 SEATTLE - When U.S. lawmakers called for better beef labeling last month after mad-cow disease was found in the United States, the American Meat Institute complained they were piling costs on a financially beleaguered beef industry.
A few weeks later, a plan for meat packers to help cover inspection costs drew another woe-filled response from J. Patrick Boyle, president of the trade group, who said "farmers, producers and processors are reeling from the economic impact" of mad-cow disease.
But two months after bovine spongiform encephalopathy (BSE) was found in a cow in Yakima County, Wash., it appears the beef industry isn't really "reeling."
Mad-cow disease caused profits to rise initially at many slaughterhouses and meat-packing plants that took advantage of the plunging price in the cattle they buy for processing. The country's largest meat packer, Tyson Foods, said its beef plants, including one near Pasco, Wash., are more profitable now than before BSE. The American Meat Institute called the disease "almost a windfall."
Retailers and burger joints are unfazed. After initial skittishness, Americans are buying as much beef as before mad cow - and sometimes paying higher prices.
Dairy farms, despite being the source of BSE from culled cows sent for slaughter into beef, have enjoyed steady or higher prices for milk and cheese and are still making money, although the value of their herds has fallen. Research indicates milk cannot transmit BSE to humans.
Cattlemen, the hardest hit initially, saw $14 billion wiped from the value of the country's cattle herds as prices dropped in the days after Dec. 23, when BSE was announced. But that total reflects potential losses, not out-of-pocket pain, and it quickly shrank as cattle prices rebounded.
To be sure, mad-cow disease is costing money. Dairy farmers and cattle growers saw the value of animals older than 30 months plunge and stay down because those are most at risk for the disease.
Beef processors - as slaughterhouses and meat packers are known - have laid off about 1,000 workers to reduce costs and slow production in response to lost exports. Certain beef cuts and "specialty meats" such as eyeballs, tongues and intestines no longer bring premium prices in Asia. Instead, they're ground into hamburger or sent for rendering. Some processors are still grappling with meat stranded on ships and in foreign ports when BSE was discovered.
Those factors have now pushed most processors into the red, according to an estimate by HedgersEdge.com, an agricultural research firm in Denver. While Tyson said its beef plants were profitable, Smithfield Foods, another processor, reported beef losses late last month.
However, some analysts expect profit margins to grow fatter this year as more cattle come to market and if export markets reopen.
According to an estimate by the National Cattlemen's Beef Association, the industry may lose $1.3 billion this year from mad cow and new regulations. Compared with the $60 billion Americans spend annually on beef, the loss represents about 2 cents on the dollar.
These figures contradict the assumption that mad cow has been a disaster for the industry. Critics say beef companies could easily absorb the potential costs of new labeling and testing to prevent spread of BSE. But groups like the AMI continue to argue industry can't afford them.
Timeline 1986: Britain makes its first diagnosis of BSE in cattle.

May 2003: One cow in Alberta, Canada, is diagnosed with BSE.

Dec. 9, 2003: A dairy cow from Mabton, Yakima County, was culled and killed at a Moses Lake slaughterhouse for processing into beef. Samples of brain tissue were sent for analysis.

Dec. 23, 2003: BSE was diagnosed in the Mabton cow.
What is mad cow? Bovine spongiform encephalopathy (BSE) is a chronic, degenerative disease of the brain and spinal cord in cattle. Cattle get it from eating contaminated meat and bone meal. Scientists believe it can be transmitted to humans by eating contaminated beef, especially parts of the central nervous system such as the brain. Worldwide, about 140 people, mostly in the United Kingdom, have died from the human form of the disease.
Asked whether beef producers and processors are "reeling," AMI spokesman Dan Murphy said Boyle was sincerely stating what he heard about BSE's severity from members, who make up 90 percent of the industry.
"But with the latest financial report from Tyson," Murphy said, "you've got to question how severe it is."
Mad cow couldn't have struck at a better time, as far as the industry's ability to handle the blow. Producers and processors, which churned out 26 billion pounds of product last year, had raked in record profits, unusual for a sector given to relatively staid business cycles.
After North America's first case of mad cow turned up in Canada last May, a ban on Canadian beef imports sent U.S. cattle prices soaring, while the craze for high-protein diets kept Americans buying meat. Profits flowed to everybody - cattle producers who raised the beef, processors who killed cattle and butchered them, and retailers who charged $8.99 a pound or more for steaks and roasts.
By October, however, the landscape was shifting. After heavy slaughter in the busy summer grilling season, cattle were getting scarce. Live cattle prices shot to record highs, sending profit margins of processors down and bringing a sour end to their most profitable year on record.
The picture changed again when BSE turned up in Mabton, Wash., in late December. Exports virtually stopped, eliminating 10 percent of demand. Cattle prices fell 20 percent. Processors slowed their weekly cattle kill to avoid flooding the market. But with cattle prices down, at least some processors could buy cheaply enough to boost profits, experts say.
"If BSE had not happened, we would have figured on the first six months of this year with processors being very unprofitable," said Joe Miller, executive vice president of the North American Meat Processors Association. "It's not like processors are swimming in money," he added. "But having said that, they are much better off than they were last fall."
Given that processors were hurting just before BSE was found, "there was nowhere to go but up," said Murphy of the AMI. "It's almost a windfall temporarily for the meat packers when the market suddenly shifts in your favor."
Others call it an aberration. Margins were positive for three weeks in January, but "in the last two to three weeks, they've turned pretty red," said Steve Kay, editor of Cattle Buyer's Weekly.
Not all processors are in the red. Tyson's beef operation lost money in the last three months of 2003. Since then, "what we have been able to do is at least get back on the right side of the spread," or profit margin, as wholesale prices rose, Tyson President Richard Bond said in a conference call with analysts last month. The analysts congratulated Tyson for restoring profits despite BSE. One asked whether Tyson's beef business could stay profitable in 2004.
"Yes," was Bond's one-word reply. The company declined to elaborate.
Industry predictions of a beef glut also haven't borne out. Even before BSE struck, the cattle shortage had prompted processors to cut production about 10 percent. The resulting decrease in beef at meat counters has helped keep prices high and stave off oversupply.
"Because we were already in short supply of cattle and hence beef, that minimized the effect of the loss of exports," said Mark Klein, a spokesman for Excel, the nation's second-largest beef processor. Export beef, typically highly marbled premium meat, "is going to easily find a home here" in the U.S., he said.
Some processors appear to have further reduced the weekly cattle kill to keep supplies tight and support prices to protect their margins, said Andrew Gottschalk at HedgersEdge.com. He expects that plants may slow production even more to keep beef prices up.
Processors also are absorbing losses on meat stranded overseas. But the amount, about $200 million, is relatively small and the effect is temporary. Tyson wrote off $61 million to account for stranded beef - about two days' worth of production. Even with that charge, it expects profits to rise as much as 48 percent this year.
Klein declined to comment on whether Excel's beef units are profitable.
Things may even get better for packers. Economists say the supply of cattle is growing and could push cattle prices down further this spring.
That would hurt cattle producers, but might provide relief for shoppers at the supermarket, where prices haven't fallen.
So far, BSE has had surprisingly little effect at supermarkets and burger joints. Americans continue to eat about 65 pounds of beef a year, up 18 percent from five years ago, said Darrell Mark, an agricultural economist at the University of Nebraska.
"The thing that's really encouraging is that consumer demand hasn't backed off on beef," Mark said. "When you factor that in, we still are able to sell the product and that offsets the fact that we don't have the export market."
Fast-food chains report no decline. Neither does Wal-Mart, the nation's largest grocer. Costco Wholesale said beef sales are still rising, just at a slower pace than before BSE. What's more, customers who feared beef turned to pork, chicken and seafood, so overall sales didn't fall.
Cattle producers appear to have suffered the largest losses for the size of their businesses. The swift drop in cattle prices erased $14 billion from the value of the country's 96 million cattle and calves.
"In 10 days time, that's probably one of the largest drops we've ever seen," said Mike Miller, director of business development at Cattle-Fax, a beef-industry-funded market analysis and research service based in Centennial, Colo.
But just like a big drop in the stock market, that was a paper loss that didn't actually come out of cattlemen's hides.
Trade delegations are working to reopen markets. Tyson said it expects Mexico to open by late March and thinks Japan and Korea will open by September.
But discovery of another mad cow likely would blow that schedule and produce economic pain well beyond what the industry has felt so far. Worse, it might scare away U.S. consumers, whose buying, at present, is the main force standing between the industry and disaster.
Copyright © 2004 Seattle Times. Distributed by Knight Ridder/Tribune Information Services. All rights reserved. This material may not be published, broadcast, rewritten, or redistributed.
The business news you need
With a weekly newsletter looking back at local history.