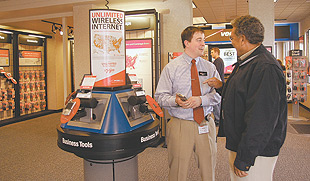 Verizon Wireless customers weren't too excited about standing in line to pay bills and to get their questions answered. As of last week, the line shortened and customers now have room to spread out in the newly remodeled and expanded store on the corner of Grand Avenue and 17th St. West.
Verizon Wireless pulled the old switcheroo by dumping an unused car bay to create a customer service area four times the previous size. They also converted some backroom space, and the result is a store with seven customer service areas instead of the previous two.
"If you asked any customer, the biggest thing they wanted different was to come in and not stand in line and wait," said Jason Kelly, retail store manager.
Now customers can pay their bill self-service style with a few quick punches on an ATM-type machine in the store.
Another area of the business houses an interactive computer linked to Verizon's Internet site that gives customers the opportunity to go through different presentations or to see the newest technology in wireless data, "the future of the cell phone," Kelly said.
Displays with the latest technology toys line the walls, and each wall is repeated three times so customers do not have to wait to catch a glimpse of the newest PDA phones. Five upgraded computers were added to the store's customer service arsenal.
One in four cellular customers are Verizon customers, and Montana has recently received a boost in service from the company with a 70 percent expansion. Network usage in Montana increased more than 70 percent in 2004 over 2003.
"We have been growing so fast that we have to service the customer properly," Kelly said. He said the staff of 10 at the Grand Avenue location is better able to deal with customer needs now that they have room to spread out and field more customers at a time.
The Wright Brothers handled the contracting on the project, which began Feb. 14 and ended on March 19.
"All the employees are saying they didn't realize that we had that much space we could convert over. It's much better now," Kelly said.
Editor's note: If your business is moving, has a major remodeling or construction project or other significant building project, we would love to hear about it. Please send information to: Chris Jorgensen, Billings Gazette, 401 N. Broadway, Billings, Mont., 59101 or cjorgensen@billingsgazette.com.