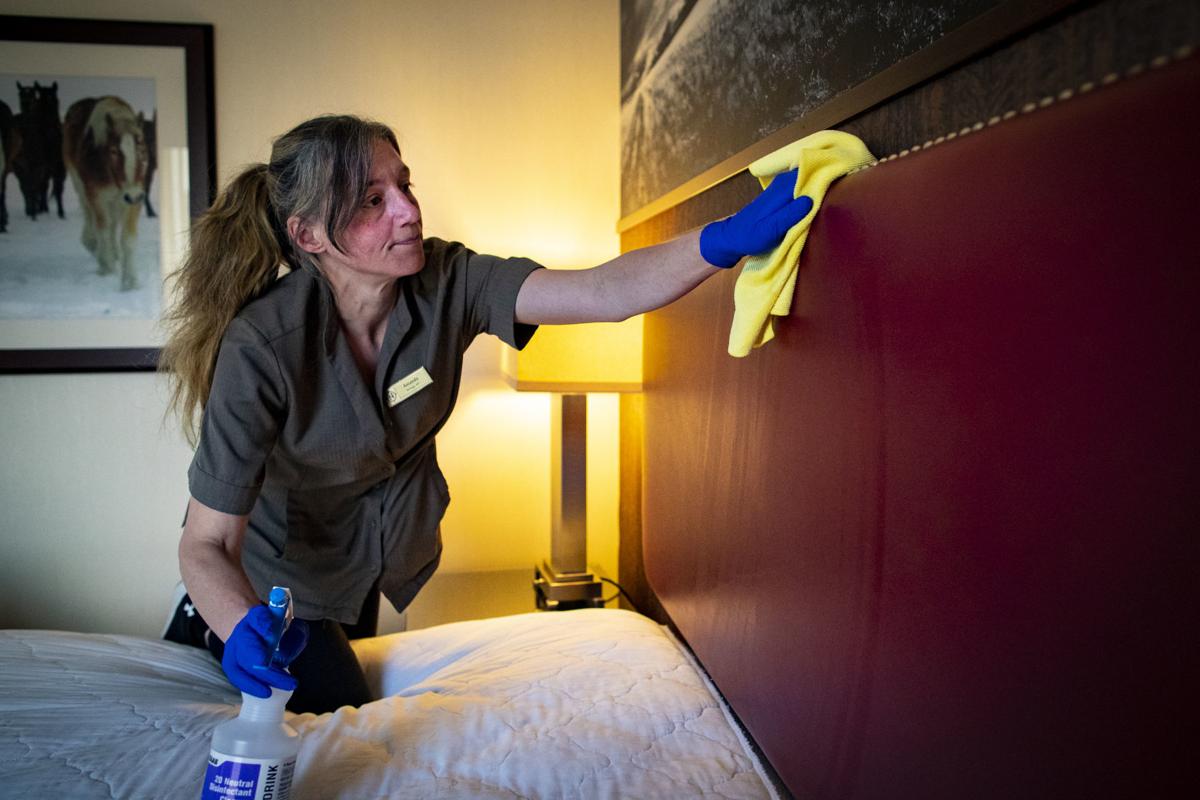 Multiple hotels are struggling as the novel coronavirus spreads and public health officials urge people to stay home.
As of Saturday evening, 147 cases of the novel coronavirus have been confirmed, and orders by public health officials have encouraged people to isolate.
Traveling to states or countries with major outbreaks of the coronavirus increases a person's risk of contracting the disease, and hotels are paying the price as fewer and fewer rooms are rented.
Montana holds about 38,443 total hotel-supported jobs, with about 5,566 direct hotel-related jobs lost and about 15,689 total jobs lost supporting the hotel industry in Montana during this time, according to the American Hotel & Lodging Association.
In Billings, the Hampton Inn & Suites on Ember Lane and the Hampton Inn on Southgate Drive closed last week in response to the pressures of COVID-19, according to Stacy Lind, chief operating officer for Erck Hotels. The hotels will be closed temporarily, and guests and staff are being moved to the Homewood Suites location in Billings.
Preventing the spread of the virus to guests, staff and the public is another reason for closing the properties, Lind said.
The hotels will be under 24-hour surveillance, and an employee will be on the premises at all times.
Only essential businesses are allowed to operate; hotels and motels are considered essential in the order.
Lack of travelers impacts business
The Northern Hotel has seen its fair share of ups and downs over its 118-year history in downtown Billings, including the 1918 influenza pandemic. Now, the hotel is facing yet another one.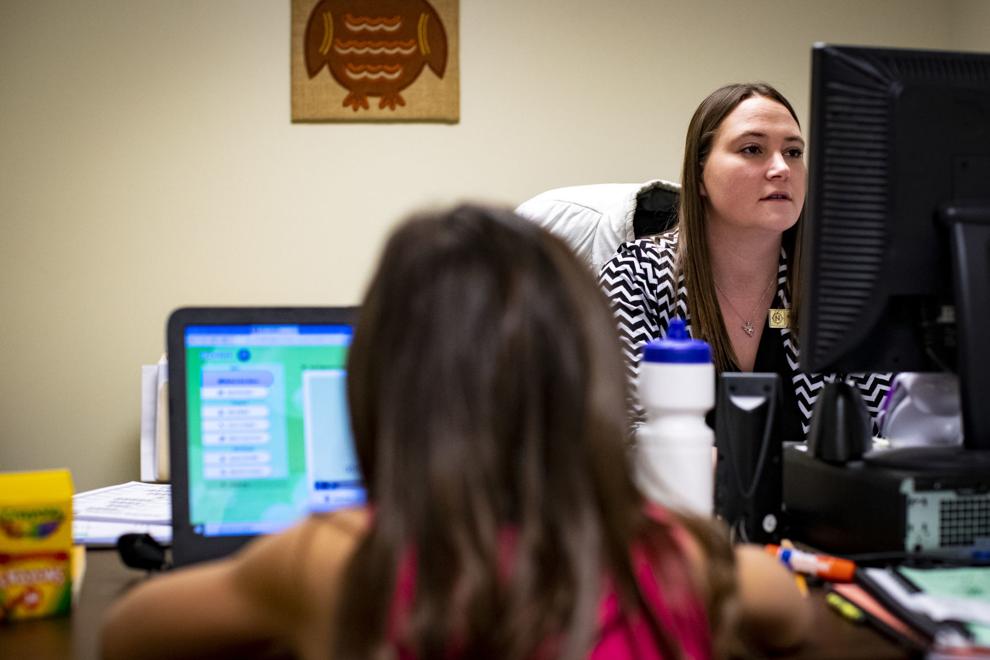 The Northern Hotel's two restaurants, Bernie's Diner and TEN, have closed their dining rooms, and events scheduled in the hotel's convention area have been postponed for a later time, according to Mike Nelson, president of the Northern Hotel.
Catering, restaurant, front-desk and valet staffing numbers have been reduced for the time being as well.
"It's affecting us in every aspect of our daily lives," Nelson said.
The 160-room Northern Hotel has seen a significant decrease in the number of guests, but Nelson said that the hotel has resources and plans in place to make it through while putting guest safety first.
During pre-pandemic times, about half of the hotel's guests were Montana residents, while the other half were tourists from other states or countries.
"We have the resources to weather a storm like this," Nelson said.
The Billings Hotel and Convention Center has also seen some setbacks as events in the convention center were postponed for a later time and about half of the hotel's employees were furloughed, said co-owner Jeff Muri.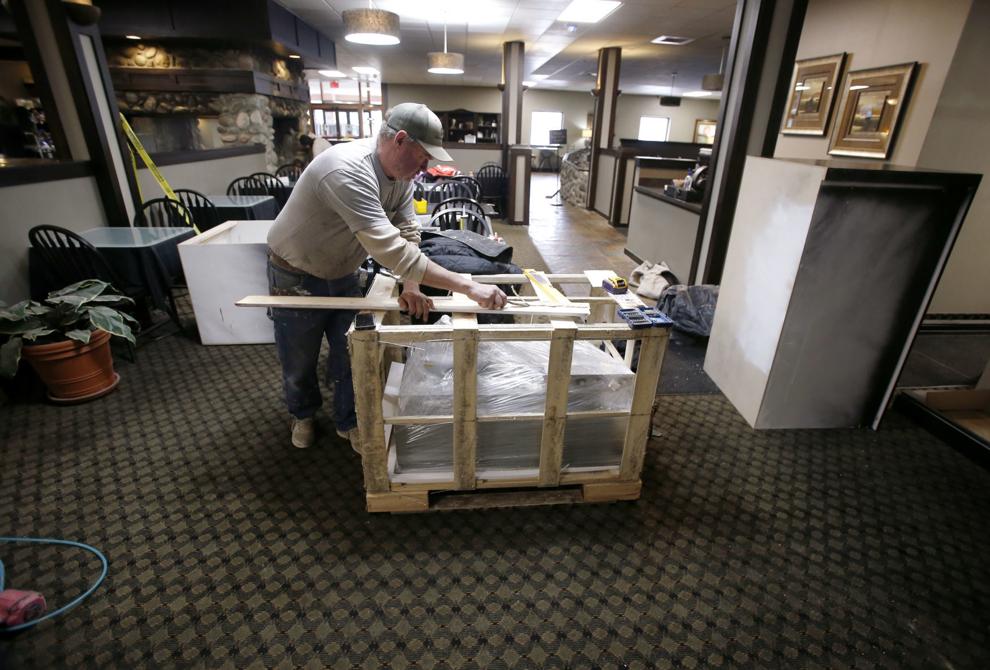 Tender Nest, an assisted living facility in Billings, hired a number of Muri's employees for the time being.
"As a city and as a society, we need to look at the big picture instead of just ourselves," Muri said.
Events in the hotel's convention area supply a lot of business for room rentals, so when events are canceled or postponed, the hotel loses room rentals, too. The 231-room hotel is seeing about a 50% reduction in guests right now, Muri said.
For the time being, Muri said the hotel is undergoing some renovations as travel restrictions persist.
"Hopefully the trend changes pretty quickly, and we can get back to doing business in a few weeks or hopefully by the end of April, but you just never know," Muri said. "Luckily, we've done very well, our property's done well. We have a good staff and we're all working together."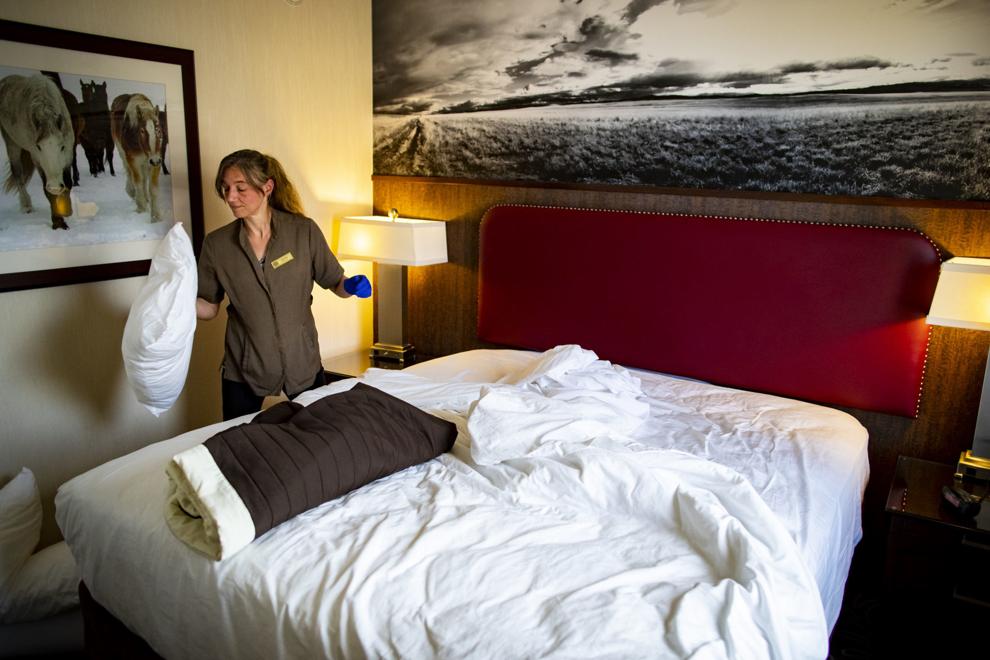 The Boothill Inn & Suites in Billings' Heights has seen about a 60% decrease in guests compared to this time last year, with about 60% of employees being furloughed, according to Shelli Mann, the hotel's general manager.
Most room reservations have been canceled through May, and as more MetraPark events are canceled due to the new coronavirus, fewer rooms are rented out. MetraPark saw the National Association of Intercollegiate Athletics cancel the national women's basketball tournament that was scheduled for First Interstate Arena at MetraPark in March. In previous years the tournament brought hundreds of people into the city. Cher postponed her April concert until October, and other trade shows were canceled.
"If there is something going on at the Metra, we are very busy," Mann said. "That's hurt us a lot."
Keeping it clean
Keeping rooms and surfaces clean and safe for guests is a high priority for Billings hotels. None of the guests or the employees within the hotels have been diagnosed with COVID-19 or needed to be quarantined so far.
At the Northern Hotel, cleaning crews go into rooms and change bedding and disinfect surfaces and high-touch points. Rooms will sit for a few days before they are rented out again. All hotel employees wear gloves while they work, Nelson said.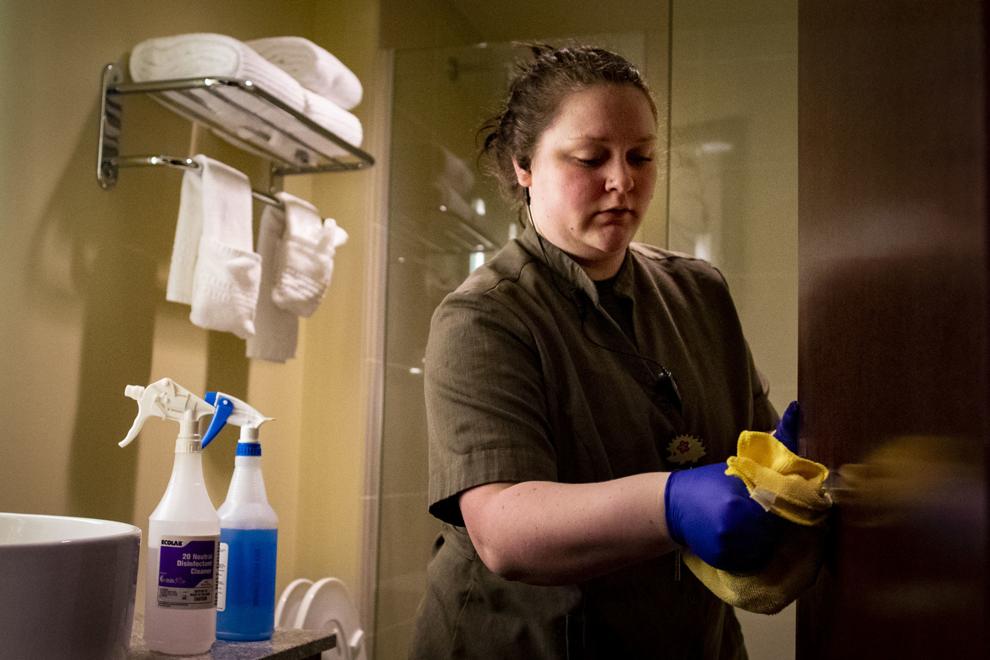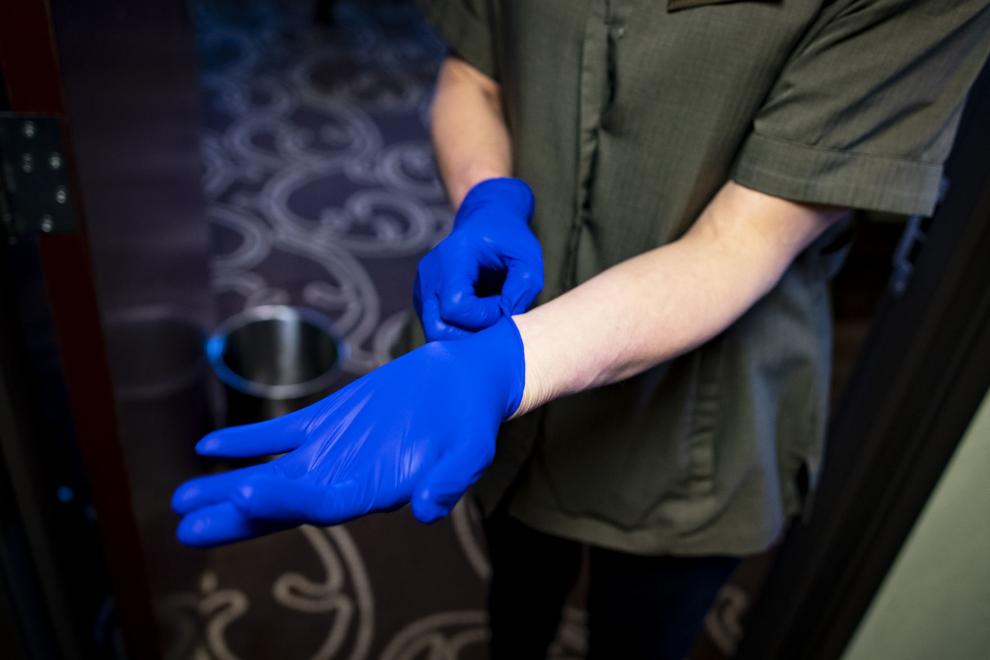 Along with disinfecting and cleaning rooms, the Boothill Inn & Suites closed its swimming pool and fitness areas as precautions and completely changed how the hotel offers breakfast.
The hotel now offers individually wrapped breakfast sandwiches, a drastic change from its usual buffet.
Employees wear gloves while they work, and continuously disinfect room keys as guests check out. If anyone in the building becomes sick, Mann's first move would be to consult RiverStone Health for guidance.
Rooms are thoroughly cleaned at the Billings Hotel & Convention Center, and Muri said that he tries to reduce the amount of contact that his employees have with one another, like reducing front desk staff to one person and keeping a limited staff in the administrative office.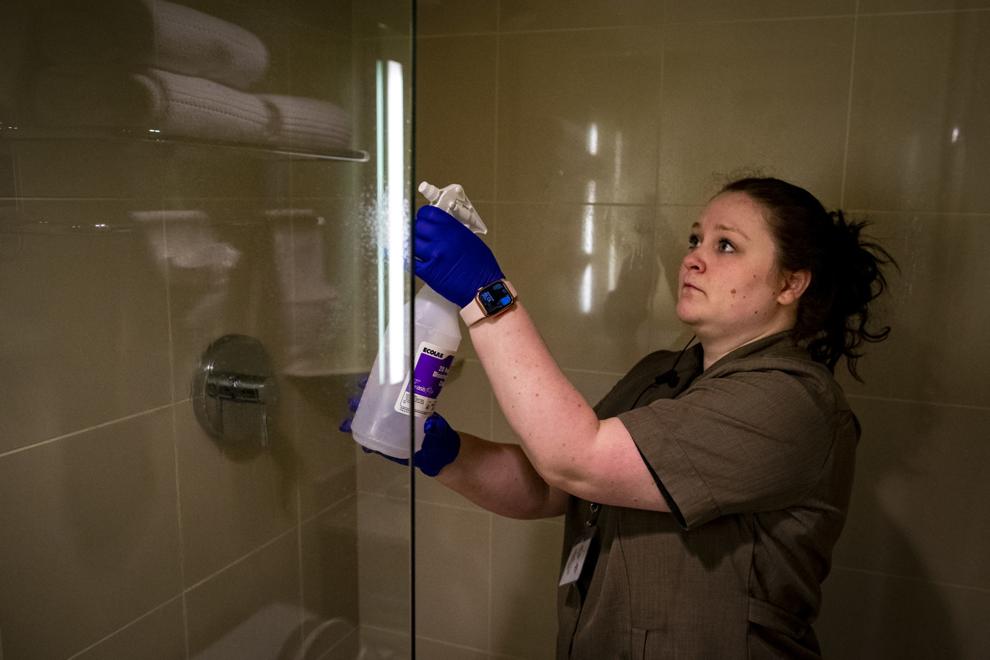 Hand sanitizer dispensers are now placed in high-traffic areas, and employees also wear gloves while they work. The pandemic has brought these precautions to the forefront of the hospitality industry, and Muri said he may even require certain workers to wear gloves continuously after the pandemic passes.
"It makes you re-evaluate your business — and you can get better," Muri said.
Help for employees
Hotel employees are especially impacted by business shutdowns, and many are receiving assistance.
Hourly employees, like those in food service and other hotel departments, are furloughed for the time being until business and travel resume as normal.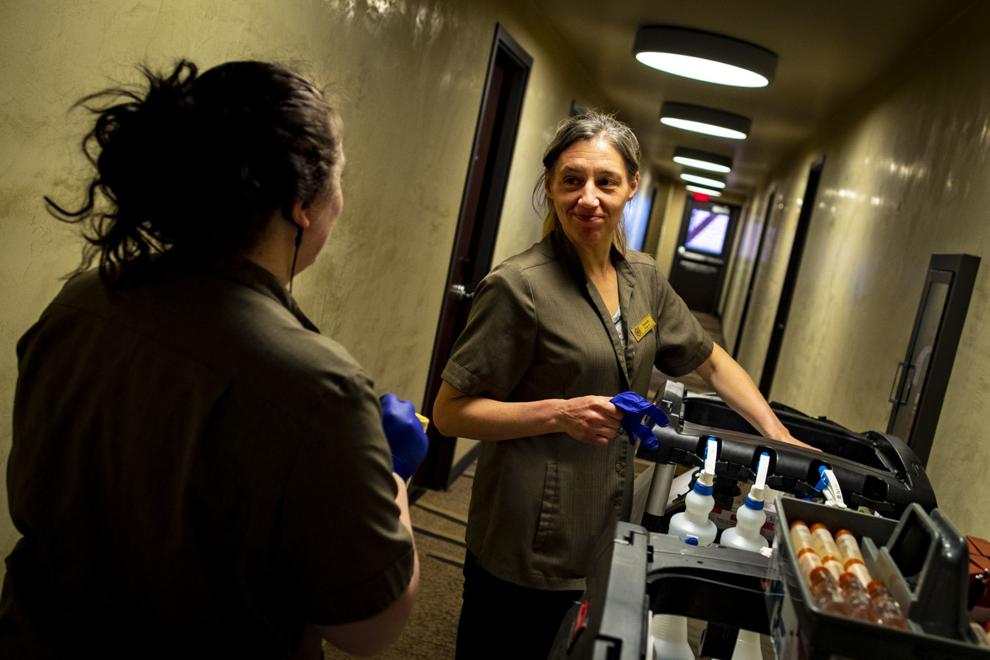 Nelson said that the employees who are continuing to work at the Northern Hotel are able to bring their kids to the hotel, after Gov. Steve Bullock on March 15 ordered the closure of all K-12 public schools. Since then, all businesses and areas where people congregate have been ordered to close, and Bullock told Montanans Thursday to hunker down and leave their homes only for essential reasons.
Employees who aren't working are still covered under their health insurance plans and can get help with filing for unemployment. Other assistance is also underway, including free meals to those who can't work.
"We're like every other business in the country," Nelson said. "We have to conserve whatever cash we have so that we can pay the bills that come along, so there are definitely some employees that are hurting and suffering and we'll do our best to be there for them."
Hotels across the country are being affected by the impacts of the coronavirus, but hoteliers are optimistic about the future and see a light at the end of the tunnel.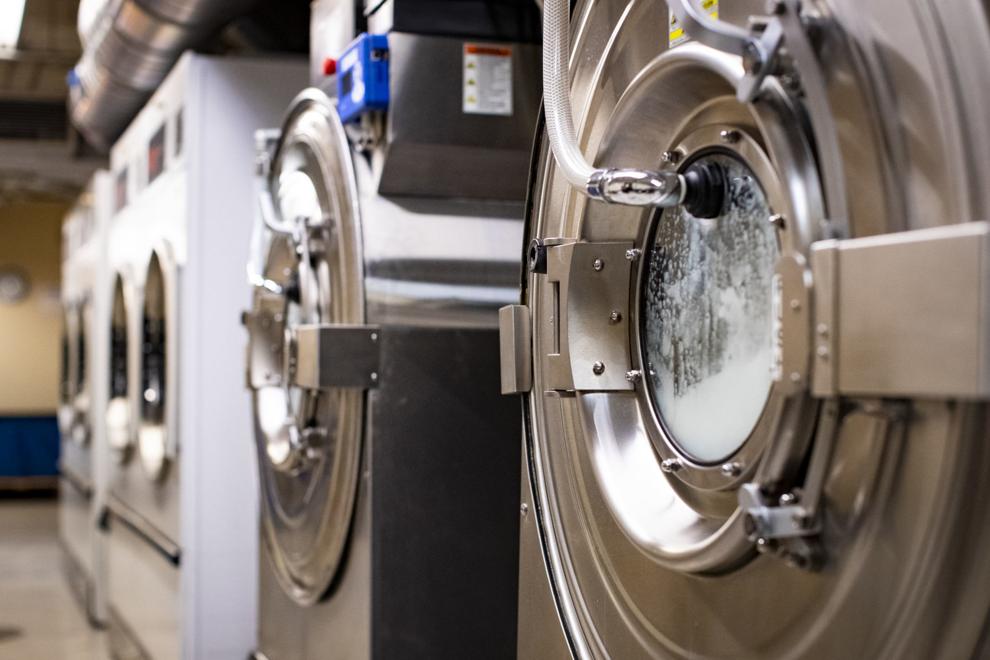 "I'm staying open because I want to take care of the people that have taken care of this business for the last 20 years," Muri said.
Thousands of Montanans have filed for unemployment in the past two weeks as the new coronavirus has led to furloughs and indefinite layoffs of a record-breaking 3.3 million people across the nation.