Montana milk doesn't always come from cows. At KJ'n Ranch, sheep are milked twice a day to produce the smooth and creamy lactose-free beverage.
Jim and Kim Ashmore, owners of KJ'n Ranch, have been in the sheep business for about 25 years. They started out with sheep for meat with Dorper sheep from South Africa. They do custom cuts and have a signature sausage line, which is sold at farmers markets and Real Foods.
KJ'n Ranch has been located in Helena for about eight years. A year ago, dairy operations opened.
"About 15 years ago we were approached to open the dairy," Kim said. "I've spent all that time researching what was the available and what it would entail."
Kim was raised on a goat dairy farm in California and so was familiar with raising goats. However, she never really liked the taste of goat milk. So, she thought it would be fun to give sheep milk a go. She didn't have any clue on some of the pieces necessary for a sheep dairy and so spent many years studying.
Jim retired from the Air Force. While he was in the military the couple lived in Europe.
"Over in Europe you get sheep cheese and sheep milk all over the place," Kim said. "We were familiar with it."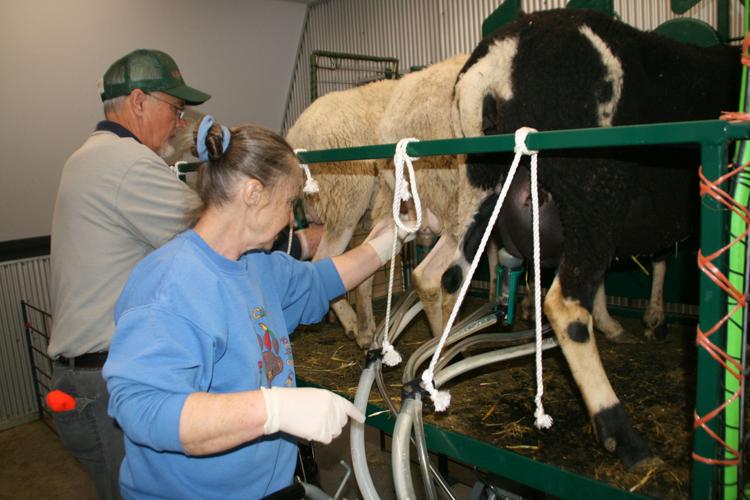 Dairy operations are not cheap. So before taking any steps, the Ashmores did a feasibility study. That took about 11 months but revealed the demand is there.
"We wanted to make sure we would not fail," she said. "People want to know where their food comes from, the farm-to-table concept."
She set out to learn all she could. She is artisan certified, which involved a lot of science and chemistry.
"Cheese is a science," she said.
"A lot of people don't realize that certain cheeses are 100% sheep cheese," Kim said. "They originated with sheep and the cow industry tweaked it for their milk. You can take milk from any of the animals and make cheese and process milk from them."
Camel, horse and water buffalo milk has to be tweaked based on coagulants and lipids to create cheese.
From there they applied for and received a USDA grant and Montana Business Assistance Connection loan.
"The dairy has been received quite well," Kim said. "Part of this is an education for people to understand that, yes, sheep give milk. Yes, there is sheep cheese."
Not all sheep are high milk producers. The couple invested in Lacaune sheep, from the Roquefort region in France, and East Friesian sheep, from Germany. They breed the ewes and sell the offspring.
You have free articles remaining.
Sheep milk is a great substitute for those who are lactose intolerant or don't like goat milk. Goat milk tends to have an acidic flavor and take on the flavor of whatever the animal eats. 
"If they get into some bad sage or ragweed or anything that has a pungent flavor or odor, that goes into the milk," Kim said.
Milk from sheep and cows does not take on flavors of what the animals eat.
"I can make any kind of cheese I want to. With sheep cheese, Roquefort cheese is 100% sheep cheese. Montego is 100% sheep cheese," Kim said, adding that she has not seen either of those made from cow or goat milk. 
"We can make any kind of the hard cheeses, your Gouda, jack, cheddars," she said. "We can make dry and wet feta."
One of her big sellers and a child favorite is cheese curds. They are packaged in small containers for an affordable and easy snack.
Her signature flavor is salt, but she also does garlic and onion and has even tried taco and chili flavors.
The curds are a quick and easy cheese with about 36 hours required for processing. Wet feta takes about three days out the door for sale. Dry feta takes up to three months.
Kim is picky about what she makes and says tweaking cheese recipes can be interesting. She prefers to stick with what she likes.
"It's easier to sell," she said. "We artisans can sell a product we like."
There are three sheep dairies in the state and KJ'n is the only Grade A sheep dairy in Montana with pasteurized, bottled milk.
Production this year is just beginning. Milking is done twice a day and, with 40 head of sheep, can take up to two hours. Each ewe gives milk for about two and a half minutes each time. The first week of milking takes longer as there are new ewes that never have visited the milking parlor.
Sheep are milked three at a time in a stanchion. Kim preps them with a warm wipe-down and inspection. Jim tests each ewe's milk with a quick squirt of the teat to check for blood or lumps. They get a trough filled with grain treats during the process. If all is well, the ewes are hooked up to a gentle pump that coaxes the milk out and into a container.
The containers are moved to the pasteurization process and eventually on to where it will be bottled or made into cheese.
Everything is done in the sheep barn and the the processing rooms are kept clean and sterile.
Kim is proud of how clean she runs the area and points out that it has to be that way because she is state and federally certified for meat as well as USDA certified for meat and milk. The inspector drops in frequently for a checkup or just to visit.
There are more than 100 sheep on the ranch, 40 on the dairy side of the business with the rest part of the meat herd. Currently, everything is being done by the Ashmores. Jim said he never thought he would be a sheep rancher but is as committed as his wife to making their venture successful. Kim said they are going to soon hire staff so she can devote more time to cheese making.