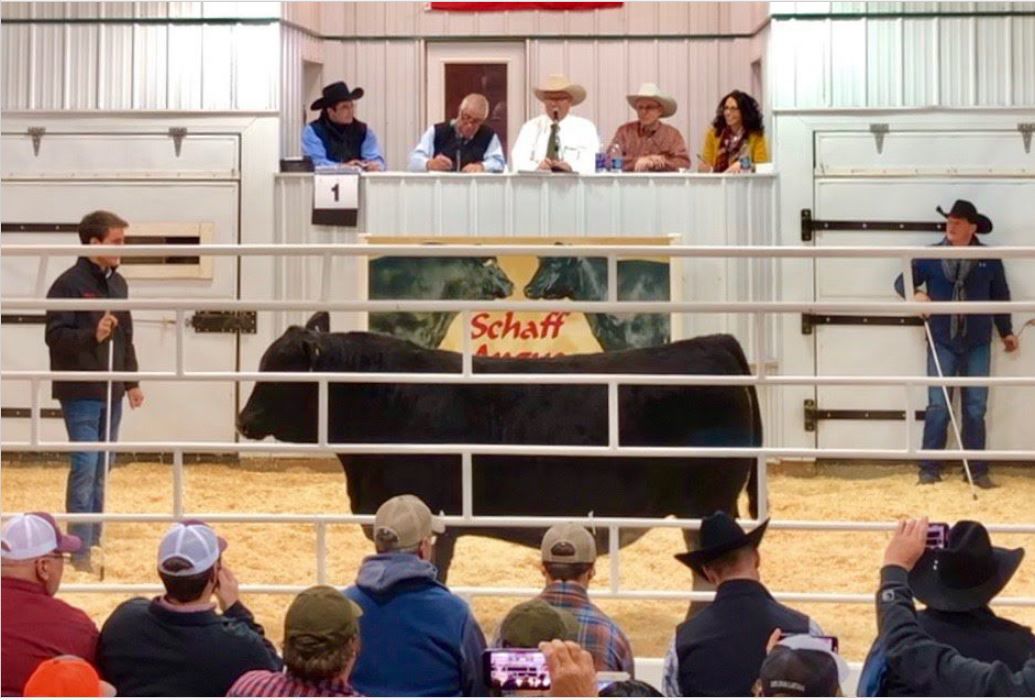 ST. ANTHONY, N.D. — Kelly Schaff had high expectations for SAV America 8018. But he had no idea the bull would end up being the record highest-selling beef bull of all time, nearly doubling the price of the previous high-selling bull.
Schaff Angus Valley on Saturday, Feb. 9, sold SAV America 8018 to Herbster Angus Farms of Falls City, Nebraska, for $1.51 million.
Auctioneer Joe Goggins of Billings introduced America, the first bull into the ring during Schaff Angus Valley's annual production sale, saying he "might be as good of bull as we've ever had walk into this ring." Goggins started bidding off in earnest at $10,000. But the asking price quickly climbed into the hundreds of thousands. As the price topped $1.3 million, Goggins had to pause for a moment, pointing out he was dealing with "figures I'm not really used to."
This was the third year in a row that Schaff Angus Valley has broken its own record for highest-selling bull. Last year, Schaff Angus Valley's SAV Elation 7899 set the record at $800,000. In 2017, SAV President 6847 — SAV America 8018's sire — had been the top-selling bull, at $750,000.
Schaff said America was "the best bull from the first calf crop from President." While that's an impressive distinction on his paternal side, America might have an even more impressive maternal lineage, coming out of SAV Madame Pride 0075, one of the Angus breed's historical top females.
"His dam was the herd-leading cow and the high-income-producing cow in our herd and in the breed for many, many years," Schaff said.
He explained America came from the last embryo out of Madame Pride, who was nearly 18 years old the last time they flushed her embryos. Past Schaff Angus Valley sales have featured 154 direct sons and daughters of Madame Pride that sold for a total of $3.7 million and went to ranches in 21 states, Canada and Brazil, Schaff said. Including America and some heifers that sold this year, Madame Pride's progeny has topped $5.3 million in sales.
In addition, Schaff Angus Valley has 41 Madame Pride daughters "retained and working in our herd," Schaff said.
The Feb. 9 sale was the 116th production sale at Schaff Angus Valley — the longest running consecutive purebred production sale in the world.
"It was outstanding," Schaff said of the sale. "Very, very strong from start to finish."
Schaff said his great-grandfather homesteaded the ranch south of Mandan, N.D., and his grandfather started the registered Angus herd. Schaff's children are the fourth generation to raise Angus cattle.
"Schaff Angus Valley's focal point is on high quality performance and maternal cattle that are productive and profitable for the commercial cattlemen," Schaff said.
SAV America 8018 had a 205-day weight of 1,107 pounds — a weight some bulls don't approach until they're yearlings.
"He is the record heaviest weaning weight bull in the history of Schaff Angus Valley," Schaff said.
America now will undergo health tests before being sent to North American Breeders in Berryville, Va., where straws of his semen will be frozen for purchase in artificial insemination.
"Semen orders have been accumulating since last summer and will go along with the sale of the bull," the sale catalog said.
Schaff Angus Valley retained 20 percent interest in the bull. The sale catalog said America "will be an important part of the SAV breeding program and forever represent the great country we live in."