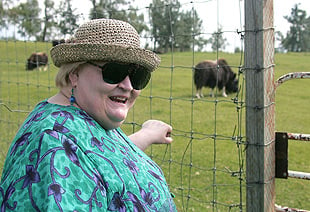 PALMER, Alaska - Customers browsing a small store in Anchorage mull over the triple-digit prices for scarves, hats and stoles made from rare musk ox fur, called qiviut, one of the world's warmest natural fibers.
Winter accessories made from the ultra-soft, brown undercoat of the musk ox weigh just a few ounces, but retain body heat better than wool.
"It's so lightweight and it's so warm. There's nothing like it," said Dahna Graham of Anchorage, who already owns a qiviut vest, scarf and headpiece known as a "smoke ring."
Scarves knit by Alaska Native women cost between $230 and $330 at the Oomingmak Store in Anchorage, which is run by the Musk Ox Producers' Cooperative. Oomingmak, the Eskimo word for musk ox, literally means "the bearded one."
Even flawed pieces, made by novices or knitters with failing eyesight, are expensive. A scarf with the wrong stitching and an imprecise pattern was marked down, but at $175 still cost much more than a typical scarf.
"The people who buy it have money. If you're being practical, you don't buy it," said John Nash, who started breeding musk oxen for qiviut five years ago on his 50-acre farm in Palmer.
The warmth of qiviut has helped the shaggy musk oxen survive Arctic conditions for hundreds of thousands of years. The animals lived through the Ice Age and developed a qiviut undercoat as well as long, coarse outer hair that helps them survive temperatures as low as minus-100 degrees Farenheit.
Nash harvests qiviut when his herd sheds in spring and early summer, picking chunks of it off the grasses, fencing and tree trunks, where the animals like to rub when they shed. Each of his 15 musk oxen slough off an average of 4 pounds of qiviut per year.
Profit margins for qiviut widen the more it is processed. A pound of raw qiviut, which fills about one 30-gallon garbage bag, sells for $150 to $200, according to musk oxen farmers in Palmer. Nash nets about $400 a pound for the spun fiber.
"We're not making a whole ton of money on this," said Nash, who is one of the only private musk oxen farmers in the world. "But these guys are profitable. There's money in them."
To start his herd, Nash paid $10,000 each for two females and $6,000 for one breeding bull.
Musk oxen, native to Arctic regions in Canada, Greenland and Alaska, were hunted to extinction in Alaska in the 1850s. A herd of 34 from Greenland was reintroduced to the state in 1930 and wildlife officials estimate the number has grown to about 3,000 animals total, including those in the wild and animals in captivity.
The rise in the musk oxen population has helped Alaska Natives, many of whom live by hunting and fishing in isolated villages where job choices are limited and extra cash is a treat.
The Musk Ox Producers' Cooperative employs more than 200 Alaska Native women throughout the state who knit qiviut into the scarves, hats and other cold-weather pieces sold at Oomingmak. Their knitting is voluntary and unscheduled, with no quotas. Some women simply knit when they need the money.
"It gives them an extra source of income when the cost of fuel goes up or the fishing is bad," said Marie Texter, office manager at Oomingmak.
The $163,000 earned by knitters last year was divided among 193 women based on the number of stitches they knit. They also received a dividend, which last year was 32 percent of each knitter's base earnings.
Anchorage resident Regina Hunter, a Yupik Eskimo, joined the co-op eight years ago and earned about $1,300 last year.
"I love to knit. It keeps my idle hands busy," said Hunter, 58. "I can't watch TV without knitting."
Almost all of the spun qiviut supplied to the co-op comes from the Musk Ox Farm in Palmer, about 45 miles northeast of Anchorage.
Musk oxen are born wild, with deep defensive instincts, and even seemingly tamed animals have attacked handlers, farmers said. The Musk Ox Farm managers have been trying for years to domesticate the horned animals through a breeding program.
"Someday they will be a good farm animal, but it's going to take a very, very long time," said farm director Cora Simonmoses.
Copyright © 2005 Associated Press. All rights reserved. This material may not be published, broadcast, rewritten, or redistributed.