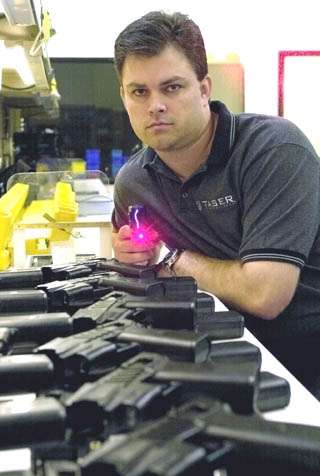 SCOTTSDALE, Ariz. (AP) – A decade ago, Tom Smith and his brother began thinking more seriously about how to protect themselves from criminals.
The brothers stumbled across the Taser, a weapon developed in the 1970s that fires electrically charged darts to temporarily immobilize an attacker.
To the Smiths, the 1970s Taser was a great start, but it was in serious need of retooling and upgrading.
The brothers founded Taser International in 1993 and launched their own product, the Air Taser – a hand-held remote stun system. It was originally sold on the consumer market in stores such as the Sharper Image, but sales weren't as brisk as the brothers had hoped.
Today, Taser International has been increasing its sales. The company earned $4 million in net sales for the nine months ending Sept. 30, compared with $2.4 million for the same period in 2000.
The M-26, which is sold only to law enforcement, runs on eight AA batteries and uses a cartridge of compressed nitrogen to propel two probes up to 21 feet at 250 feet per second. The probes, actually straightened lightweight fish hooks, are connected to the Taser by two strands of high-voltage insulated copper wire.
fired, 50,000 volts of electricity are transmitted in a five-second blast, temporarily paralyzing the targeted person. It can penetrate through two inches of clothing.
"It's definitely not a pleasant experience at all," Tom Smith said. One reaction he's heard: "It's like hitting your funny bone over your entire body and about 10 times more intense."
The M-26 sells for about $400 and is four times as powerful as other stun gun-type weapons. But the Smiths insist it's safer and more effective than other less-lethal weapons, such as pepper sprays and rubber bullets, when used properly.
"She's very pleased," Tom Smith said. She's never had to use one, but "keeps three or four of them in the house."
Copyright 2001 Associated Press. All rights reserved. This material may not be published, broadcast, rewritten, or redistributed.
The business news you need
With a weekly newsletter looking back at local history.