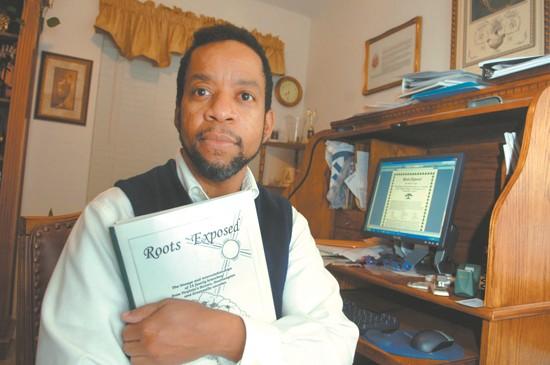 On the first night of Carol Knox Hossfield's first genealogy class, the instructor asked where her family was from.
When Hossfield replied, "New York," the instructor smiled. "Ah, the black hole of genealogy," she said.
Despite New York's reputation - earned because the state was settled before vital records were recorded and because New York lacked detailed town records such as those found in New England - Hossfield soon found an extraordinary amount of information on the Internet, thanks to census records from the early 1900s.
But her spine-tingling moment occurred when she checked out an Ellis Island Web site and found her great-grandfather's name on the passenger list of a ship that came from Italy.
"When I popped up the picture of the ship, I just sat there, staring at it with my mouth open," says Hossfield, 51, of Orlando, Fla. "To see the ship that he actually boarded and took that trip on, to me was overwhelming."
For students such as Hossfield, the Internet has brought a revolution to genealogy: quick results. In a field that has traditionally attracted retirees, widespread access online is attracting younger people to genealogy and providing many of these new students with a wealth of information that once could be found only by digging through courthouses and cemeteries.
Genealogy is the second-most-popular American hobby after gardening (and the second-most-visited category of Web sites, after pornography).
"The Internet is not the be-all and end-all to genealogy, but it has given genealogy the greatest jump-start you've ever seen," says Ann Osisek, president of the Florida State Genealogical Society.
"Typically, you used to see a lot more retired people who would come because they have the time to devote to the research," says Osisek, who has been teaching genealogy classes since 1991. "Now, I've found that I have a lot more younger people - people in their 20s, 30s and 40s. And I've had mother-daughter, brother-sister pairs that come."
For new students, the thrill of quick discoveries keeps them digging.
Inspired after finding her great-grandfather's name at the Ellis Island site, Hossfield has signed up for a second genealogy class and is taking Italian language classes, so she can travel to Italy and find out more about her family tree.
"I've had an awful lot of luck," says Hossfield, who is taking Osisek's class at the Winter Park Community School in Winter Park, Fla. "I had no idea the extraordinary resources that are available - particularly on the Internet."
Although newcomers can try striking out on their own, genealogists suggest they take classes, join a genealogical club or head to the Church of Jesus Christ of Latter-day Saints' local Family History Centers for help.
"A lot of people will call to register, and they'll say, 'I don't think I need the beginners class' because they've been doing some research on their own," says Osisek. "They're quite surprised that they don't know as much as they think they do."
The Mormon Church operates Family History Centers, where volunteer staffs can help church members and nonmembers research their family histories. Church members believe that knowing one's ancestors is essential because families cannot be separated by death.
At one center in College Park, Fla., nearly 75 percent of those who use the center are experienced genealogists or taking classes, while the remainder are new to the field, says Twila Williams, a genealogy instructor and church spokeswoman.
"We instruct beginners to go home, call relatives and gather documents," says Williams. Volunteers hand newcomers a family tree - also known as a "pedigree sheet" - and ask them to fill in as much as possible.
At the Family History Center, anyone can use the center's computers and log on to the church's family search.org Web site, plus other sites that typically have annual subscription fees. In addition, the church has a huge database of microfilm and microfiche, drawn from census, church and historical records from all over the world.
Genealogy clubs can also be a starting point. When Stuart Doyle moved to Orlando fresh out of graduate school in 1989, he'd already started researching his family's history in the Virginia State archives.
He quickly joined the Afro-American Historical and Genealogical Society, which meets monthly at the Orange County (Fla.) Public Library. And there, he heard a steady stream of experts talk about African-American history and genealogy.
By 1994, "the bug really bit," says Doyle. Now considered the family historian by several generations of family members, he began collecting oral histories. And those family members filled in gaps and the blanks that he hadn't been able to document on paper.
For instance, he learned that his great-great-grandmother was born in Georgia, though the rest of the family had been born and lived in Virginia. It turns out that the family had been taken to Georgia by their slaveowners, Virginia farmers who bought land in the Georgia Land Lottery - Indian lands auctioned off by the state government.
"Boy, talk about a story," says Doyle, 46. "It's like a novel you can't put down."
The parents of Doyle's other great-great-grandmother turned out to be a Confederate soldier and a Native American woman. "The other surprise is looking at family photos," says Doyle. "The further back you go, you see why they were labeled 'mulatto.' By today's standards, nobody would consider them black people."
The more he looked, the more stories he found. Finally, Doyle wrote and self-published a 600-page family history, titled "Roots Exposed." In it, he traces 15 branches of his family tree and ancestors who arrived in Virginia in the 1700s.
He printed copies for family members and has since given some to archives and historical organizations. "It's important for us to tell our own stories," says Doyle, "because black history has not historically been well-documented in textbooks."