Virtual reality is a popular but expensive technology that many cannot afford, but the Townsend-based Virtual Reality Game Truck Montana is helping to put the experience within financial and physical reach.  
The traveling business with up to 14 VR setups was brought to the area by Michael Dale, a former teacher who has a passion for gaming. 
"I love games," Dale said. "As a history teacher I really love the stories they tell."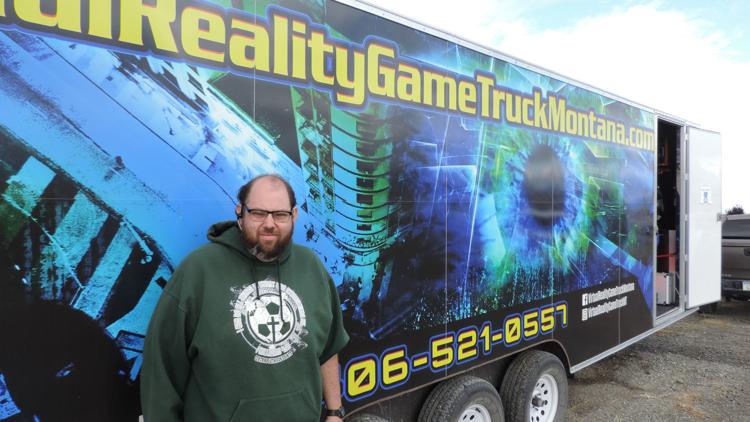 Dale came to Montana to become self-employed and work with his brother, a former oilfield worker who now drives the VR truck. Dale said they wanted to start a business together, and gaming trucks have risen in popularity since the decline of arcades in the mid 2000s. The gaming truck model has evolved alongside advances in VR technology.
Dale's business is part of a larger hub based in California. Last June, Dale spent time in California learning how to teach children how to use the technology. 
The Virtual Reality Game Truck business fitted a trailer with most of what Dale would need. However, Dale added onto the mobile business, securing game consoles and adding on the entertainment options.
You have free articles remaining.
The VR Game Truck Montana features six VR stations and up to 14 headsets, in addition to traditional video games. The primary method of delivering a VR experience is through the PlayStation VR headset, but Dale keeps an Oculus Go in the trailer as well. Additionally, he has game consoles from Nintendo, Sony and Microsoft for regular gaming while the VR stations are occupied. 
Dale also had the trailer fitted with both a full flight and full driving VR station, both of which are among Dale's most popular offerings. According to Dale, these simulators are the most popular games he has. Other popular VR games include Shark VR, Astro Bot Rescue Mission, Creed: Rise to Glory, and Beat Saber. 
"I have lots of shooting games as well," Dale said. "But I don't offer them at schools or churches because you never know how they might feel about them." 
Dale said standard screen gaming is popular with younger kids. The most popular screen games are Mario Kart, Super Smash Bros. and Minecraft. Most of these games were added by Dale in order to include standard screen gaming as part of the business. 
Dale also offers educational games that let users explore an ancient civilization, join the Apollo 11 mission, experience the life of Anne Frank or tour a dinosaur museum. He also has a game called Jesus VR, which is popular at church functions. 
Dale has donated a lot of his time to churches and schools. Dale said he likes doing these sessions for free to get the word out about the business and to help support events. Recently, Dale brought the game truck to evangelist William Graham's Big Sky Celebration in Helena. He is also donating his services to a fundraising event for Jackson Hines, a Townsend boy with serious medical issues. Dale said helping people like this is important to him, because he lost a son to cancer. 
However, the game truck is a business that can be rented for parties and events. Dale's rate is $350 per 90 minutes for a full VR party that includes instruction. Dale said he can negotiate costs with interested parties.