It was a straight-forward explanation. 
"I need them," said Landon Gallegos, 14. 
Landon set up a tent at the front door of Krispy Kreme's new Billings store at 4 p.m. on Tuesday, a full 14 hours before the shop was set to open. It guaranteed he was first in line and as such, the recipient of one dozen free doughnuts every week for a year.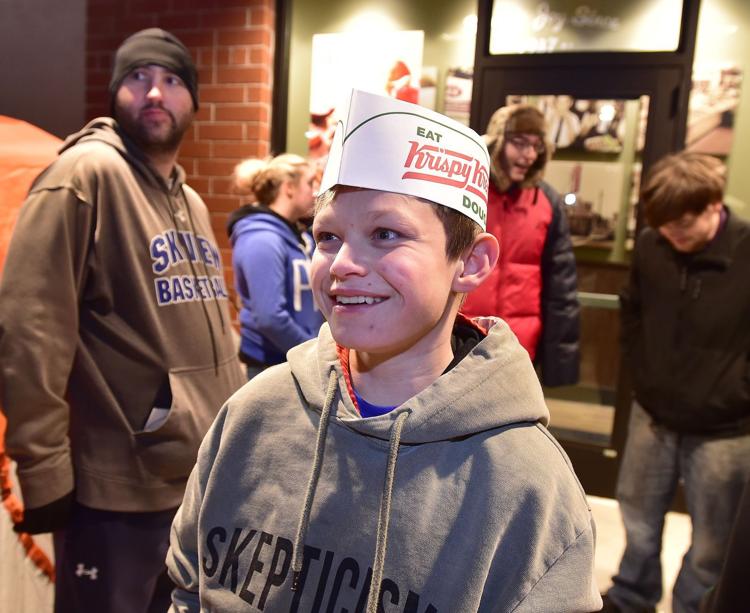 It was a cold dry night, and Landon was there with an older brother and friends. 
"I feel asleep at like 1. And I woke up about 4," he said.
Still, he planned to be in school on Wednesday; he's an eighth-grader at Will James Middle School. "Can't miss it."
Krispy Kreme announced in July it would open a store in Billings at the site of the old World West Theater at Central Avenue and 26th Street West, which had been torn down last year. Rimrock Mall has been working to attract stand-alone restaurants to its property. 
It's not the first time Krispy Kreme has been in Billings.
Krispy Kreme opened its original Billings franchise in 2004 at 2850 King Ave. W. It closed four years later in a company-wide restructuring that was a result of overbuilding and saturated markets. Hundreds of stores were shuttered, including the locations in Billings and Missoula.
Its return Wednesday under new ownership is a smaller, more streamlined operation. It's Krispy Kreme's third location in Montana, which also operates stores in Missoula and Kalispell.
Before dawn Wednesday morning in Billings more than 200 people lined up outside, many of them high school students, to get the store's first warm, original glazed doughnuts, Krispy Kreme's signature confection. A line of nearly two dozen cars stretched back into the mall parking lot. 
"Totally worth it," said Ahnali Harris, 14.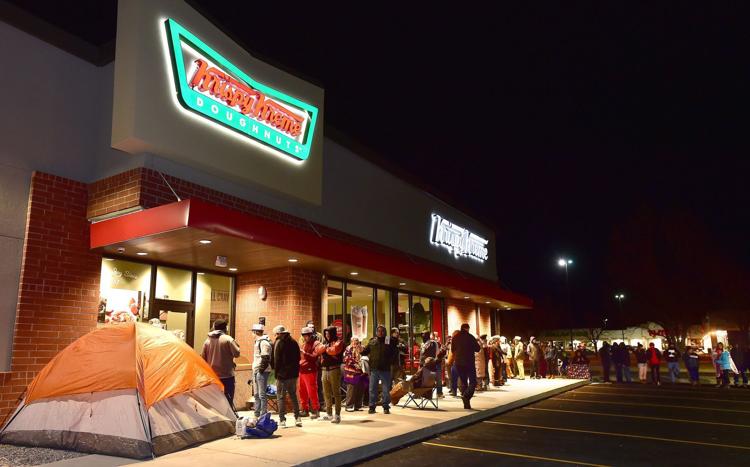 Standing near Ahnali in line was Rita Cady, who works for Adult Alliance Resource Center, an organization in town that, among other things, runs Yellowstone County's Meals on Wheels program. She was there because she had commitments. 
"I told (the office) I'd bring doughnuts," she said with a smile. 
She's hopeful Krispy Kreme can partner with Adult Alliance Resource Center so that every so often Meals on Wheels can bring doughnuts to those who receive the meals. 
Jason Sansom, one of the new store's owners, spoke Tuesday about Krispy Kreme's history of community support. The stores sponsor fundraisers for community groups and find other ways to give back. 
He talked about the last time Krispy Kreme was in Billings and said the business model they used — marketing doughnuts wholesale to the region and selling doughnuts retail in Billings — ultimately couldn't be sustained. 
This new store is focused on the customers who come through the door and the drive-thru, he said.
"It feels mom-and-pop," he said.