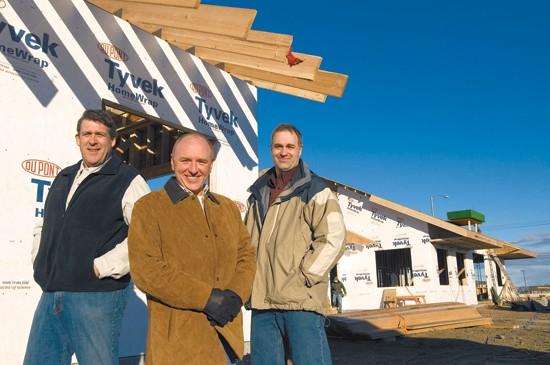 What started out as child's play culminated in an almost $7 million development on the West End.
Anthony Miller of Anthony D. Miller Financial Group and Spencer Zaugg of High Plains Dental Center first met when their young sons befriended one another. Their sons are best friends still.
Zaugg and Miller also became friends. One day, Zaugg shared the development aspirations of his colleague, endodontist Steve Lyon, with Miller. The rest, as they say, is history.
The three formed a partnership last summer. They purchased land on 32nd Street West, subdivided it and made plans to build a new business center. The development will be known as the Business Center@32nd.
"My understanding is that it's the most highly concentrated population in Montana in that five-mile radius," said Miller. "That's what I was told."
The trio also found the site to be conveniently located for other reasons, one of which is the Zimmerman Trail project's completion. Miller said he also anticipates the Shiloh Interchange project to route more traffic that way as well.
"We anticipate 32nd will be a significant through street in Billings, if it's not already," said Miller.
Although the men each had his own reason for wanting a share in the development opportunity, they all shared one common motivator: the desire to move.
"Even though I've been in the business for 15 years, I'm only 40. I'll be around for a long time," said Miller. "I've always wanted to make sure that at some point I owned the office space I resided in."
Miller has been in Billings for 10 years. The first years he operated out of an office in the First Interstate Bank Center downtown. For the past six years, he has done business from 1,200-square-foot office behind the West End Target. For a long time he tried to convince his landlord to sell him the space.
"Now I'm actually glad he didn't," said Miller. "I've outgrown it."
Currently Miller and four others work in his modest-size office. He said he already has another person coming on board soon. With his new office, he'll be able to expand to as many as 12 employees, which he'd like to do within the next two years.
Similarly, Miller said that Lyon had been looking for office space for some time before joining forces with Zaugg and Miller. Both Lyon and Zaugg have plans to add associates in the future as well, said Miller.
The 3.7-acre development, financed by First Interstate Bank, will feature three separate office buildings at its completion. Miller said the feel they're going for is residential-professional in what will be around 40,000 square feet of office space when completed. The buildings will be finished with deep burgundy brickwork, exposed natural steamed wood and black steel accents.
"It'll look kind of like an old train station with contemporary accents. But mostly it will be traditional," said Miller.
Neumann Construction broke ground on the first 9,000-square-foot building in July 2006. That phase is expected to be finished in May. The three partners will move into that building upon its completion.
The next phase, an 18,000-square-foot building, will begin this spring, with hopes that it will be completed by the end of the year. Those suites will be finished to suit the new owners. The final phase, a building mirroring the first, is slated to begin sometime in 2008.
Editor's note: If your business is moving, has a major remodeling or construction project or other significant building project, we would love to hear about it. Please send information to: Chris Jorgensen, Billings Gazette, 401 N. Broadway, Billings, MT 59102 or cjorgensen@billingsgazette.com.