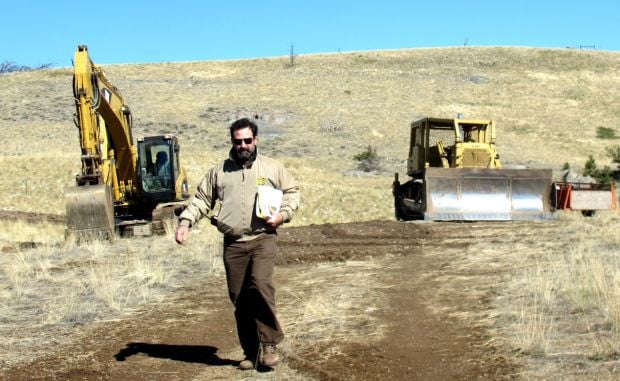 A Livingston-based district ranger for the Custer Gallatin National Forest will be reinstated on Oct. 23 following an internal review of his conduct in a hotly disputed public access case in the Crazy Mountains.
Alex Sienkiewicz was removed from his job on June 16 and reassigned to the forest's work on a proposed mineral withdrawal in the Paradise Valley. Even after his reinstatement he will continue to work on the mineral withdrawal, said Teri Seth, acting public information officer for the forest.
Sienkiewicz, who has been a vocal advocate for maintaining and securing public access to public lands, was cleared by a human resources review, Seth said. The review was related to his conduct concerning Trail 115, a historical route that accesses the east side of the Crazy Mountains by first crossing private property — the Hailstone Ranch owned by Lee Langhus. In the past Langhus has said, through his attorney, that the trail does not provide a legal public easement across his ranch.
Several landowners contacted for this story, including Langhus, did not return calls by press time. But in letters to the editor some have accused the Forest Service of bullying and intimidating landowners and threatening their private property rights.
Review
In June, Mary Erickson, forest supervisor, said Sienkiewicz's reassignment was made to "create some separation between Alex as district ranger and allegations raised concerning access issues in the Crazies."
Seth said the review focused on "whether that issue was handled in accordance with law, policy and regulation — and it was." In such cases, Seth said an investigator from the Forest Service's Albuquerque office is assigned to the case and reports their findings to a line officer.
Kathryn QannaYahu, a public access advocate now based in Helena, announced Sienkiewicz's reinstatement in an email and on her website. She has been a vocal critic of the Forest Service's stance on the issue and filed several Freedom of Information Act requests to dig into the subject of public access in the Crazy Mountains.
FOIA
QannaYahu said she's glad Sienkiewicz will be reinstated and that many people spoke out in support of him. But she said the allegations that led to the review should be revealed. She believes they were made based on false information — specifically that a Facebook posting on a public lands access group's site was made by Sienkiewicz.
Her FOIA requests revealed that landowners protested that Facebook posting to Sen. Steve Daines, who wrote a letter to the Forest Service questioning its tactics.
"The perceived direction coming from the USFS seems to promote controversy and aggressive action rather than the collaborative approach we all strive to achieve as public servants," he said.
Even when the posting was shown to have been made by someone else, Daines' staff still stuck by the original argument.
"Darn right the Senator asked for an explanation for the aggressive and provocative tone coming from a Forest Service employee that was posted on Facebook," wrote Jason Thielman, Daines' chief of staff, in a July email to the Gazette. "Montanans have the right to expect civil servants are both serving citizens and civil. The actions brought to the Senators' attention were neither."
Reached for comment on Thursday, Daines said in an email, "Going forward I hope we can have a more respectful dialogue between federal employees and landowners."  
Landowner request
Daines' involvement in the Crazy Mountain access issue was requested by Montana Farm Bureau Federation executive vice-president John Youngberg and nine Sweet Grass County landowners who sent a letter to Daines and Secretary of Agriculture Sonny Perdue in May. The letter was revealed in one of QannaYahu's FOIAs.
"We would request that you use the full power and authority of your offices to investigate and determine whether this FS Ranger has been acting in congruence with FS policies and his job duties when he has been instigating conflict and encouraging criminal actions by members of the public against private property owners in order to try and establish public access across private lands," the letter said.
QannaYahu compared the entire process to a "McCarthy witch hunt based on false information.
"There needs to be some accountability and transparency," she said.
Seth said none of the HR review is public information because it was a personnel matter.
The review could also have a chilling effect on other public employees who, like Sienkiewicz, advocate for public access, QannaYahu said.
Trespass
Sienkiewiz's removal from his district ranger duties in June came shortly after a resolution to a Sweet Grass County trespass citation. Last year, Bozeman hunter Rob Gregoire was cited for trespassing when he used Trail 115 to reach public land. Gregoire settled his case in June, agreeing to a deferred prosecution on the condition that he make a $500 donation to the Sweet Grass Foundation, not go on the property again and not get into any legal trouble for the next year.
Gregoire said his lawyer told him that even if he were to win and be found not guilty, it wouldn't settle the access dispute. That needs to go through civil court, he said, a case that could cost $100,000 or more.
When contacted on Thursday, Gregoire said, "Alex is a good guy," and that he is waiting to see how the complicated issue of Crazy Mountains public access plays out before saying any more.
Negotiations
One of the wheels set in motion by the entire quarrel is that talks began in April between representatives of the Crazy Mountain Stockgrowers Association, the Forest Service, Fish, Wildlife and Parks, the Montana Department of Natural Resources and Conservation and the Rocky Mountain Elk Foundation. Colleen Coyle, a Bozeman attorney, has been acting as a facilitator for the group, which has met about five times. Her work is paid for by the Montana Stockgrowers Association, Seth said.
"Discussions have been going pretty well," Coyle said. "There are maybe three or four landowners talking about some type of transaction to increase access."
Work continues to try and reach landowners all around the Crazy Mountains to gauge their interest in some type of exchange or purchase to provide public access, she added.
"I do think something good will come from it," Coyle said.
Any trade or purchase would go through a public process.
Gregoire said he was encouraged a resolution may be reached when he heard rumors about the talks.
"But it's only a rumor, and they've been negotiating a long time," he said.