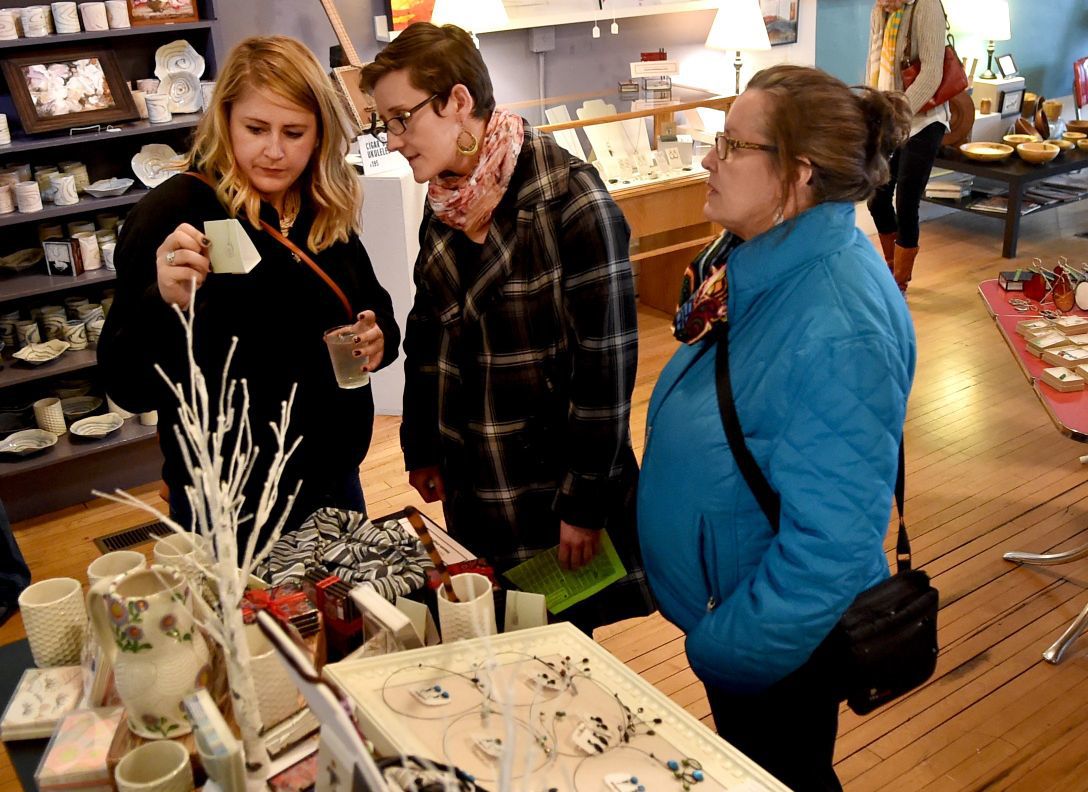 The idea had come up before — six ArtWalks per year.
Member galleries discussed the idea to go from five to six events about 10 years ago, said ArtWalk Director Virginia Bryan. At that time, they stuck with five. 
Now for its 24th season, the ArtWalk's schedule will change a bit to accommodate an extra event. The interest was there for the steadily growing collection of Friday evening exhibitions.
"It just sailed through," Bryan said. "Everybody was ready to go to six. And I think that's because of the increased interest."
Starting on April 6, ArtWalk will take place in downtown Billings on the first Friday of every other month. The final date of the current season is Feb. 1, 2019.
Bryan said that part of the concern around six events was the cost. The organization runs largely on membership fees. The members decided to seek additional help from the community, and a small fundraising campaign came through.
"We've done that, and I think we'll have around nine sponsors," Bryan said. "And those are just businesses and professional people who've said, 'We like the ArtWalk.'"
Regular patrons of the ArtWalk know many of the full-season members, who open their doors for each date. Bryan said they ended last season with 26 of those.
But they also include one-time galleries, many of which don't have art displayed during the daytime hours. There are dozens of those as well, in stores and eateries and the tucked-away rooms of downtown Billings.
Either way, Bryan said there will be more ArtWalk venues in the upcoming season.
You have free articles remaining.
"I think that they are participants because they see the value in the crowds that come downtown," she said. "And the people come into the store because they want to see that art."
Take 2905, which is a multi-purpose space on Montana Avenue. It hosts all types of events, which requires quick setup and tear-down operations for ArtWalk.
The space was an ArtWalk gallery for a few dates in the past, this but this year the owners signed on for all six. Co-owner Grace Kim said they enlisted the help of local artist Jodi Lightner to help recruit artists for showings.
Lightner is also an assistant professor at Montana State University Billings, and the April 6 showing will feature MSUB student work, Kim said.
Though the schedule can be hectic, Kim said that the growth of ArtWalk has been good for downtown.
"It's amazing how big it's become," she said. "Even a few years ago there were a lot fewer, and now there are so many galleries participating."
The south downtown area is getting more established on the ArtWalk this season. Real Deals home decor, which opened just last fall on Minnesota Avenue, immediately jumped on for the entire season of dates.
"I'm excited about Minnesota Avenue — the revitalization," said owner Lisa Pugrud. "We'd like to get people over here."
She said that it's good for the area businesses, but it's foremost a showcase. She's enlisted a local metalwork artist and a watercolor painter for ArtWalk showings so far. When the weather warms, Pugrud said she'll throw open the big garage door on the building and show off the renovations.
By casting a wide net for participating galleries, Bryan said the ArtWalk will continue to pick up talent.
"From my perspective, it's just such an eclectic array," she said. "Because we have everybody from Kevin Red Star, who's one of the top American Indian artists in the country, down to Central High School kids having their senior art show."