After serving the Yellowstone Art Museum for more than 11 years as executive director, Robyn Peterson took off for her home state of California to take on leadership of an art museum.
Board members, artists and patrons of the Yellowstone Art Museum gave her a sendoff last week that included T-rex sweeping her off to warmer climes and a champagne toast by Bob Durden, who has been named co-director with Carol Green to run the museum until a replacement for Peterson is found.
Made it look easy
Peterson's skills were multi-layered, and she always made the job seem easier than it is.
Local artists say she forged connections with them and cultural leaders say she bought in world-class art and nurtured a climate of collaboration instead of competition.
Part of her vision for the Visible Vault, beyond showcasing the YAM's extensive permanent collection, was to feature working artists.
It started with Tracy Linder, of Molt, and has included more than a dozen artists, most of whom are from Eastern Montana. One of the featured artists was Billings sculptor Brian Scott, who is hopeful that the Visible Vault artist program continues.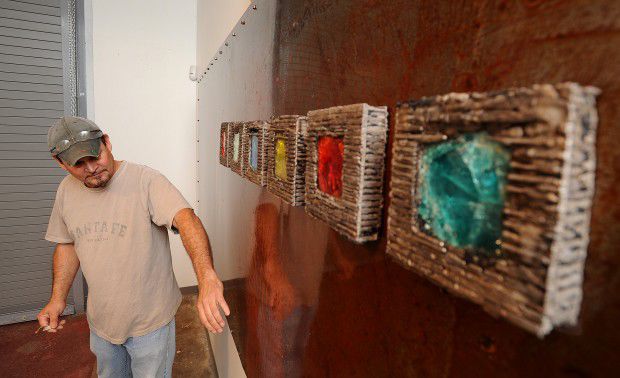 "She immersed herself in local art and really took the time to find out who we are," Scott said. 
One of the best parts of working in the studio at the Visible Vault was interacting with school groups who come through on tours.
"Nobody has said 'no' to them yet; that's the great thing about working with kids," Scott said.
Billings artist Jon Lodge, who has also served on the YAM Board of Directors, sees Peterson's work from both sides.
"There are many layers of preparedness and organization, getting all the details behind the scenes," Lodge said. "She oversaw the whole creative process and led the board on the financial aspect to overseeing a museum."
Scott added: "She's got the Captain Kirk thing going. Maybe you've got to send the red guy to the dark planet to save the ship."
Longer stay
When she first arrived, Peterson said she planned to stay six years. Even though she missed the sunny California skies, Peterson stayed more than 11 years, a testament to how much she loved the people of Billings and the YAM.
Billings artist Patrick Zentz, whose 'Pool," on the first floor of the museum is always a big hit with visitors, said Peterson built on the permanent collection, honoring artists like Zentz by including their work in it.
"As an artist, I'm thrilled to have my art in the permanent collection of an incredible museum that is in the black so we know it will be here."
Having a strong leader at a cultural anchor in Montana helps secure the standing of other cultural entities, like the Billings Symphony Orchestra & Chorale. Darren Rich, executive director of the BSO&C, said through her hard work and passion for the arts, Peterson taught him how to lead.
"I consider her as a mentor for guidance," Rich said. "She set an example for strong leadership."
Collaboration between the cultural arts entities was encouraged by Peterson. That's not always the case when arts organizations are seeking funding.
"She always encouraged working together," Rich said.
As she stood under a wall-size Keith Herring graffiti painting, Billings architect Kim Olson said she appreciated the world-class art Peterson brought to Billings.
"In a place such as Billings, to have the quality of museum that we have here is phenomenal," Olson said.
And it's not just the YAM that benefited from Peterson's tenure. At the Dec. 1 ArtWalk, thousands of people were downtown, and galleries like the Toucan Gallery were so crowded, people were lined up outside to get in.
"Everything revolves around the museum," Toucan owner Mark Sanderson said. "Downtown is the cultural center of Billings and the museum is a big part of that."