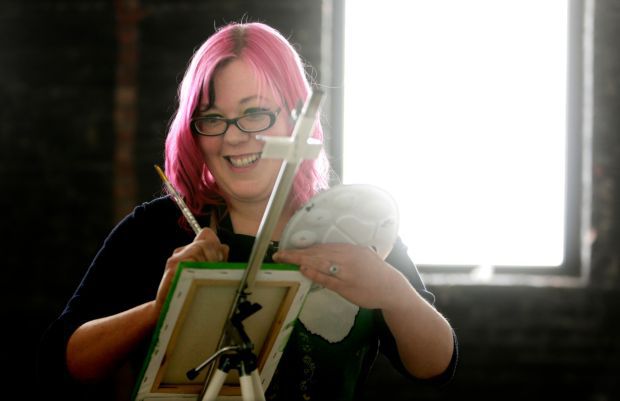 For one night only, seven local artists and poets are extending an open invitation into their living rooms to share a new collection of collaborative works.
Michelle Dyk, Pete Tolton, Anna Paige, Ashley Warren, Matt Taggart, Kelly Mullins and Meagan Lehr are presenting "Ekphrasis: A Poetry & Collage Pop-up Show" at 6 p.m. on Friday, Sept. 15 at 2905 Montana Ave.
Poets will read from 7 to 8 p.m. and art will be on display until 9:30 p.m. This collection of collage and poetry was developed as a series of pairs — artist and author cooperating to create diptychs of visual media and written word.
The word ekphrasis is Greek, meaning "a vivid, often dramatic, verbal description of a visual work of art, either real or imagined. In short, it's art about art."
"A picture inspires a thousand words," said artist Michelle Dyk. "I wanted to see what poets' words would do, even just ten words." The results are diverse — impressionistic, playful, heartfelt and, most of all, inviting.
The venue, named for its address (2905 Montana Ave.), will be filled with sudden spaces — little living areas transplanted from the exhibitors' homes. Arranged throughout the event space, these spaces serve multiple functions: exhibition galleries, performance halls for poetry readings and art studios for expository creations.
"Sudden spaces came from an interest in making the experience personal," poet Pete Tolton said. "We wanted to show how we live, which reflects so much about us, and give insight about the things we say in these works."
Visitors are invited to participate in producing their own small works of collage and poetry. However, guests wishing to simply attend, observe or enjoy beer, wine and art, will feel no pressure to participate.
In the spirit of living rooms, the event is BYOB, though Last Chance Pub will contribute hard cider. Attendees are also encouraged to bring any bits of poetry or print media they may like to adapt into a new work of art; a spirit of openness and enthusiasm for exploratory art forms. Artworks, framed poems, and one-of-a-kind chapbooks will be for sale at the show.
The exhibitors are grateful to the event's sponsors, Jon Lodge and Last Chance Pub.