Captain America let the Hulk hold his shield while Wonder Woman took a selfie with Spider-Man.
It wasn't your usual crowd at the Yellowstone Art Museum on Thursday night for the opening of "My Hero!" The exhibit, which is up through Jan. 2, 2018, includes 130 pieces depicting superheroes. It was curated by the Bedford Gallery in Walnut Creek, California.
These are superheroes like you've never seen them. Imagine the Hulk as a fat green cat in a piece titled "Cat-vengers" or Batman's sidekick Robin in a police mug shot with his crime listed as "aiding and abetting."
Dressed as Wonder Woman, YAM assistant curator Amanda Daniel strolled through the upstairs gallery marveling at the turnout of more than 200 people, including several youngsters under age 12.
"When you do something like this and it ends up being this big, you feel like Wonder Woman," Daniel said.
A small crowd gathered around the "Terra Cotta Batman," a takeoff of China's iconic Terra Cotta Warriors.
"It's so imposing," Daniel said. "I like that parts of the show harken back to history and then you have the silly stuff too."
One piece by Alessandro Rabatti of Florence, Italy, turned Abraham Lincoln, Queen Elizabeth and Mao Tse-Tung into superheroes. The images were taken from bank notes from the U.S., England and China.
Curator Bob Durden said the works are fun to look at, but they also pose serious questions about gender roles and aging.
You have free articles remaining.
"What happens to these superheroes as they age?" Durden said. "It's comic, but it forces us to think about how our identity changes as we age."
A group of Rocky Mountain College students came to the opening as part of marketing class. Student Jen Valentine said it was a nice surprise to see such a contemporary exhibit.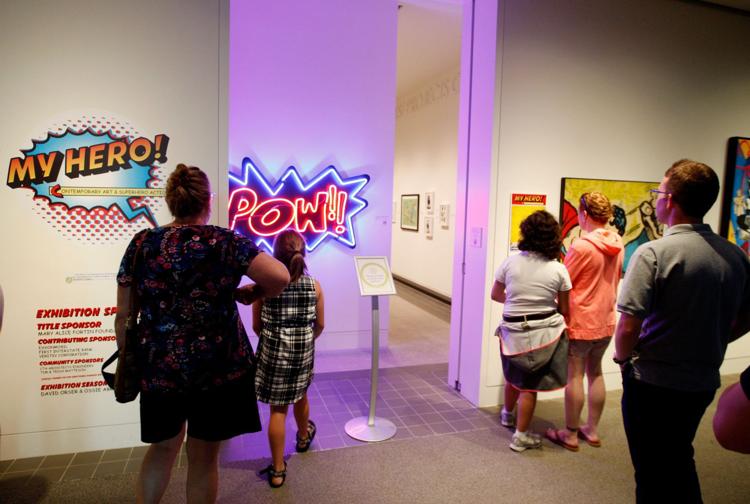 "When you walk into a museum, you don't think of anything modern," Valentine said. "The superheroes have been modernized. It's a nice change of pace."
Nicolas Cordero, a senior at Rocky and a native of Ecuador, said he outgrew superheroes a while back, but noted that everybody needs a hero to look up to.
"Heroes come with fairness, and the hero brings peace. That's something we need right now," Cordero said.
Several family-friendly activities will take place in conjunction with the exhibit. Sept. 9 is "Superhero Saturday," co-hosted by the Billings Public Library and the YAM. There is free admission at the YAM that day if you mention that it is Superhero Saturday.
On Sept. 28, RMC philosophy professor Aaron Rosen will discuss the other side of heroism in contemporary comics in a 6:30 p.m. lecture titled "The Anti-Hero in Contemporary Comics." Billings illustrator Jason Jam will conduct a children's workshop, "Comics for Kids," on Nov. 25.