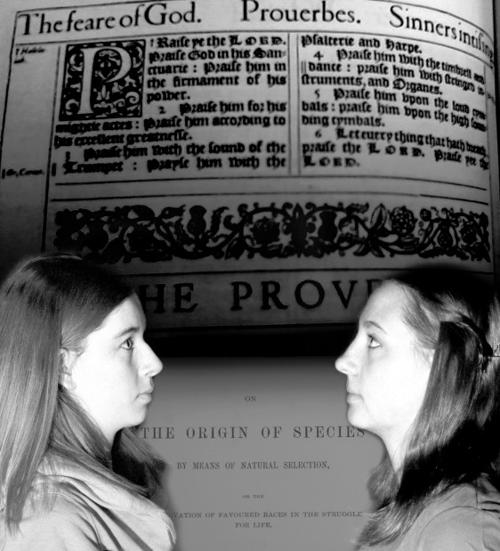 Nearly 85 years have passed since John Scopes was convicted of the crime of teaching evolution in a Tennessee public school.
Venture Theatre's Youth Conservatory brings the spectacle of the "Scopes Monkey Trial" to Venture's Blackbox Theatre in the courtroom drama "Inherit the Wind," which plays March 23-31. Tickets are available online at venturetheatre.org, at the box office at 2317 Montana Ave., or by calling 591-9535. The production is sponsored by the Billings Humanists Association.
The issues of freedom of speech and the proper role of religion in the public arena have been around for centuries. With the surge of religious fundamentalism in America in the early 1900s, science and faith increasingly came into conflict.
Darwin's theory of evolution and natural selection was seen as a direct challenge to the Biblical version of creation, so a strong effort was mounted to keep these ideas out of public schools. Two of America's most seasoned and charismatic orators, Clarence Darrow and William Jennings Bryan, inserted themselves into the raging debate about teaching evolution in the classroom when they took up opposing sides in the trial.
Darrow had gained a reputation as one of the nation's most successful defense lawyers and he was determined to defend the schoolteacher's right to present the idea that humans evolved from the lower species of animals. Bryan, who was vehemently opposed to teaching evolution in the classroom, had run as the Democratic presidential candidate three times, served as Secretary of State, and established himself as one of the most popular public speakers in America.
When the judge denied Darrow's attempts to present scientists as expert witnesses on evolution, Bryan accepted the challenge to take the stand as an expert witness on the Bible, and a titanic battle ensued between these towering American icons.
"Inherit the Wind" playwrights Jerome Lawrence and Robert E. Lee stressed that the play "does not pretend to be journalism. It is theater." The play ran on Broadway for more than two years and was adapted for the screen a number of times, including the celebrated 1960 version that featured Spencer Tracy.
Venture Theatre's Youth Conservatory director Brandon Burton decided to twist things up a bit with his version of "Inherit the Wind." Burton moves the action to a more present day, and cast two young female actresses, Sydney Otey and Megan Gollahon, to duke it out in the lead roles.
The cast also includes Cossette McCave, Michael McCallum, Anna Downs, Grace Iverson, Anna Stagg, Avery Jam, Bob Schwarz, Aaron Linde, Zach Anderson, Kendall Nusbaum, Mary Gluekert, Lainey Patterson, Maggie Schwarz, Emily Manning and Lauren Lane.