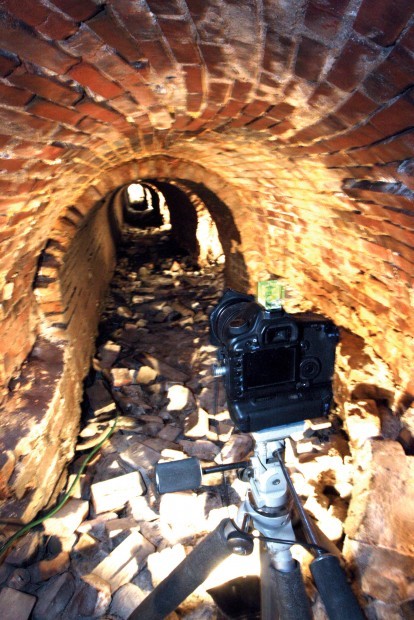 LARAMIE — Through the lens, Doc Thissen preserves the past.
Some days, that means crawling on hands and knees for hours over broken brick and mortar, kicking dirt and soot into stale air with every movement forward. He strings lights and cables through to the very end of the tunnel, which continues to shrink the further he goes.
Other times, it means photographing a wall for hours, maneuvering the camera in a space the width of a small office to photograph the mural in its entirety. He doesn't know when it was painted, or by whom, but he shoots hundreds of frames before losing daylight completely.
In photography, "partial" is a word that could never describe Thissen.
"To become an effective documentary maker, one has to immerse themselves into the project and really understand everything that's involved or what all took place," Thissen said.
In Thissen's current project documenting the old Midwest Refinery, he's spent roughly six hours a day for 36 days over the course of a year shooting tens of thousands of frames of everything. Even the dashboard in the dust doesn't escape his lens. He's spent just as much time researching the property, spending hours at the American Heritage Center or poring over microfilm in Coe Library.
"It all takes time," Thissen said. "Time and dedication and the willingness to talk to a lot of people. I'm doing as much as I can right now tracking down anything on the U.S. Yttrium side."
For a brief period in the 1950s, the Midwest Refinery was home to an yttrium processing plant. Yttrium is classified as a "rare earth element" used in the manufacturing of electronics. Information about that stage of the building's life has been sparse, but Thissen said he's hoping to find more.
"There were two guys who founded United States Yttrium in 1955, give or take," Thissen said. "They signed their lease in October of '56 and completed the building in late '56 and went bankrupt in '57. No records exist. All I've got to go on is (Environmental Protection Agency) reports and maybe newspapers, which is where I'm going next."
As the project continues, Thissen said he'll also help increase awareness of the refinery's history through presentations like the one he has planned at the Lincoln Community Center in May.
"I also want to do an exhibition in conjunction with the tearing down of the plant so we have even more interest going back and forth on this thing," he said.
Thissen's passion for photography likely began at a garage sale in 1976, where he purchased a Minolta Rangefinder. It wasn't anything special; by then, it was already about 16 years old, but it was a single lens reflex camera. It represented opportunity for experimentation, Thissen said.
"It wasn't the Kodak instamatic pocket camera," he said. "I saw possibility in it; finally, something that's a little more flexible. I did a lot of experimentation and wasted a lot of film."
But it wasn't until the mid-2000s, when Thissen switched to digital photography, that he began to get more serious about the craft.
"Once I went digital, all holds where gone," he said.
He enrolled in online classes through the Academy of Art University in San Francisco. That's where he began to combine photography with his interest in history.
"Through my education, I've found direction, which was documentary work," Thissen said. "That probably plays well with my love of history."
Preserving a building through research and photography provides a record of important history for future generations, Thissen said.
"It isn't so much that I want to see the site saved; I want to see the memory of the site saved," he said. "The fact is, I've talked to a number of people and many didn't even know we had a refinery here . In a town of 6,300 people (the population of Laramie in 1920), 300 employees at one location is pretty significant."
Without such efforts, history could fade into obscurity, like the Wyoming town of Sherman. Thissen said Sherman was a town in Albany County that once had more promise than Laramie. Situated at the confluence of the Big Laramie and Little Laramie, it was thought Sherman would do well. But with the Union Pacific focusing more on Laramie City, Sherman's prosperous future never materialized.
"The town just disappeared from the face of the map," Thissen said. "The only way I initially knew it was there was by GPS. Driving along, I was like, 'Sherman, Wyo.? Where?'"
"There's nothing left except for the Ames Monument (nearby) and the cemetery and the moorings for the water tower that was there," he added. "I don't want to see another Sherman, Wyo."
Thissen said he hopes to graduate in 2016. Once finished, he said he'll continue working to document sites of historic significance.
"I'm going to adopt and modify the TV show name from the 50s: 'Have camera, will travel,'" he said. "I'll go just about anywhere, depending on how much research and how much time is required, that kind of stuff."