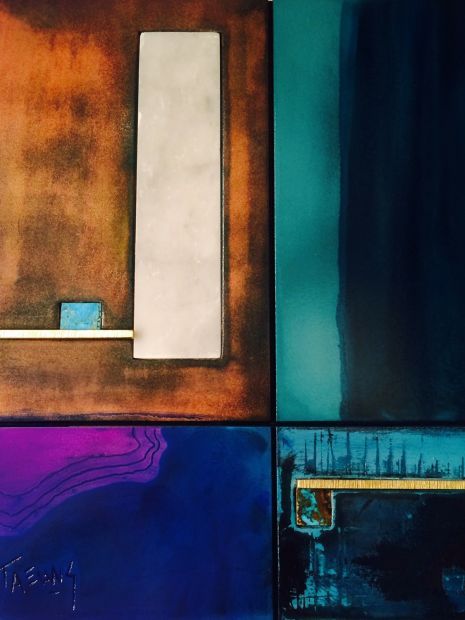 Roundup artist Troy Evans has recently expanded into new markets, showing his sculptural table with a corral top at the Architectural Digest Show in New York City, and being a featured artist next month in Western Arts and Architecture magazine.
One of his newest works will show in Dubai later this year. On Friday, Billings folks can see some of his new work at a rare solo exhibition. "Parallels and Dust" opens Friday with a reception from 5 to 9 p.m. at the Catherine Louisa Gallery on North Broadway. Evans will give a gallery talk at 6 p.m.
The show will focus on Evans' two-dimensional paintings, which he has innovated from the Russian school of Architectonics and Constructivism. Evans has said he admires the Russian work of the early 1900s, including works by Popova, Malevich, Tatlin and Rodchenko.
These Russian artists delineated lines and geometric shapes using marble dust mixed into their paint. Evans innovated the process by using kerfing (cutting into his panels), then adding silver dust, marble dust and turquoise dust into his Architectonics.
As Evans has progressed into the processes of Constructivism, he inlays elements into his works, including brass, copper, turquoise tile, marble, and reclaimed wood.
Evans' show at Catherine Louisa Gallery will feature 25-30 new works. The show will run through May 8.
In late summer, Evans plans to unveil a neo-classical cabinet featuring mosaic turquoise tile and a Moorish window grill circa 1480. The cabinet will have a silver gilded interior and traditional Moorish joinery.