The Yellowstone Art Museum is celebrating the beauty of nature and rural life in three new exhibitions that open with a public reception on March 22 from 5:30 – 7:30 p.m.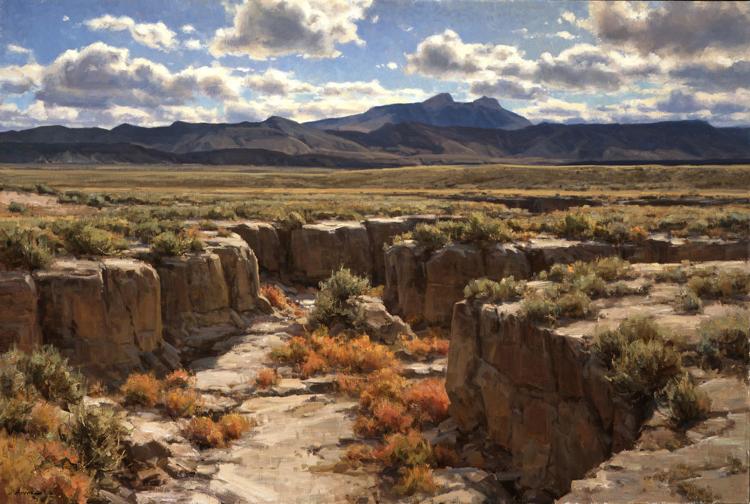 "Nature's Cadence: Paintings by Clyde Aspevig" will be complemented by Emil Carlsen's "Quiet Harmonies." These two exhibitions inform each other, respectively offering views of natural scenes that range from the sublime to the extraordinary.
Throughout his life Aspevig has been listening to the cadence of nature, its crashes and whispers, its grand symphonies and its single sonorous notes. In every season, he is literally and physically "in" his subject matter. Subtle, intimate views draw him as surely as do heart-stopping, dramatic vistas.
Born and raised in Montana, Aspevig is a world traveler; however, he returns to his wellspring of inspiration — the Northern Plains and Northern Rockies — with the sureness of the migrating sandhill cranes.
Through the filters of his intense curiosity and his wide-ranging familiarity with the history of art, Aspevig has approached the craft of painting with both intellect and emotion. His work brings the art historical past into the present while simultaneously representing his unique hand, so clearly distinguishable from the work of other contemporary landscape artists.
The YAM's exhibition will include 37 paintings on loan from the artist, museum and private collections from across the nation. The exhibition is the fifth installment in the museum's Montana Masters series, which focuses on the work of mature artists who have not only created a profound body of work, but who have influenced artistic practice in the region.
Aspevig expresses a reverence for the craft of painting through his own mastery of it. His respect is also evident in the influences he acknowledges from such painter-teachers as the Danish-American painter Emil Carlsen (1848-1932). "Nature's Cadence" has been coordinated in tandem with an exhibition of Carlsen's work to permit the viewer to study how the work of an artist from the past can be reshaped and made visible once again in the present.
Carlsen is counted among a diverse group of American Post-Impressionist and realist painters who flourished in the late nineteenth and early twentieth centuries. Carlsen, a master colorist, possessed a sophisticated sense of design and an ability to find subtle beauty in the everyday subject.
As a young man, Carlsen emigrated from Denmark, and he brought European academic training to his new life in the U.S. Carlsen's livelihood depended much on teaching, with benefits to American art history that he may never have set out to attain. This exhibition emphasizes the critical importance of artists such as Carlsen, who influenced generations of artists not only through their own work but through their effective teaching philosophies and methods.
Carlsen is known within the history of American art for his masterful still-life paintings, but this exhibition will be the first since the 1970s to focus on Carlsen's equally compelling landscapes and seascapes.
The exhibition's curator and former executive director of the YAM Robyn G. Peterson notes, "All of these exquisite works reveal a technical facility and assured composition that deeply impress the viewer. Carlsen is remembered for his still-lifes, yet the landscapes and seascapes—a majority of them executed during the prime of his artistic life—are a true joy to experience."
Carlsen's "Quiet Harmonies" includes 40 paintings and works on paper from 20 museums and private collectors in the U.S. and Canada.
The third exhibition in the spring cycle is "Rough and Tumble, Smoke and Rope," a videographic and photographic look at contemporary ranch life in Eastern Montana.
The exhibition includes 31 works by photographers Mark Chapman and Harry Sandler and a video montage produced by Chapman. The content of the video and photographs documents the daily activities on Cabin Creek Ranch between 2014 and 2017.
The exhibition, which was inspired and driven by photographer Harry Sandler and ranch owner Rob Andy, avoids a sentimental view of agricultural life, offering instead a sincere portrayal of the activities that borrow from traditional ranching philosophies while instilling twenty-first-century technology and medicine into the mix. It conveys the individual commitment from ranch hands and seasonal labor from neighboring ranchers that are required to raise healthy stock while building a sense of community between neighbors, a sense of pride, discipline, and accomplishment in all who live this life.
All three exhibitions are family friendly. "Nature's Cadence: Paintings by Clyde Aspevig" and "Emil Carlsen's Quiet Harmonies" remain on view until July 8. "Rough and Tumble, Smoke and Rope" remains on view until Aug. 5.