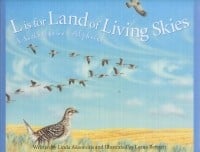 LINDA AKSOMITIS AND LORNA BENNETT
"L is for Land of Living Skies: A Saskatchewan Alphabet"
The latest in a series of books from Sleeping Bear Press, "L is for Land of Living Skies: A Saskatchewan Alphabet" uses fun facts and brilliant illustrations to educate children on a variety of topics. Not only is this picture book from Linda Aksomitis and illustrator Lorna Bennett fun and festive, but educators are also able to download teaching guides from the publisher. Moreover, the information found in the colorful pages is written simply enough for young children everywhere to grasp, and it artfully pulls in the adult reader's interest, too.
A finalist in the Art and Photography category in the High Plains Book Awards, this volume of exploration is chock full of interesting tidbits, literally from A to Z. As each page unfolds, the reader will find herself on an adventure from the provincial farmlands of the south to the 100,000 lakes in the north. Readers will discover the meaning of "kimberlite" as they travel to Sturgeon Lake and cross all seven bridges in Saskatoon. Each page delivers a new opportunity to discover the agriculture, cities, wildlife, industry and culture of Saskatchewan. Each letter of the alphabet is paired with a short poetic verse and Bennett's vibrant illustration:
Hear the fiddle start to play,
set your rhythm — spoon or heel,
let your feet fly as you dance
La Grande Gigue or Chicken reel."
Aksomitis' use of meter and rhyme lends well to the whimsical nature of the poetry page by page. Once the reader is pulled in, she leads him further with attention-grabbing details beside each illustration. The reader will find out what the Métis people are famous for, what the heck curling is and where a T-Rex was found. The final page of the book is "A Flock of Facts." There is a list of questions readers can look for the answers to: "Where do most of the Dene people of Saskatchewan live?" and "What made the town of Yellowgrass famous?" The reader will also find "Birds to Spy," a list of bird species she can look for information on throughout the reading. This makes for a more enjoyable and interactive experience for adults and children alike.
I have never been to Saskatchewan, but after reading this book, I want to go! Though it doesn't exactly act as a travel guide, it certainly gives the reader a list of interesting sights to see and places to go see them. If Bennett's illustrations are at all like the real thing, the people of Saskatchewan are lucky to live in such a lovely province, and visitors are lucky to be able to see it for themselves. Children will come away from this book with a sense of wonder at all the great things to be discovered in Saskatchewan, and adults will have more of its finer points to share with their friends — and this is only one of Canada's provinces! Wouldn't it be great if there were an A-to-Z book for all of the states in the U.S., too (starting with Montana, of course!)?
Amelia McDanel is pursuing her master of fine arts in poetry at Antioch University Los Angeles. She has lived in Montana most of her life and loves to travel, dance and share great food with great people.