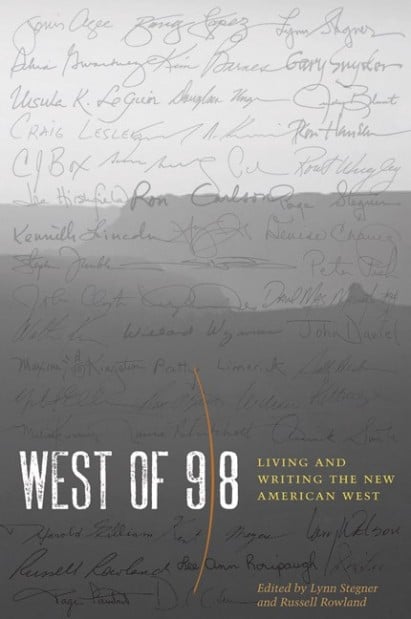 What is the West? Where does it begin and end? How does one even get there?
According to the "West of 98" editors and contributors, the answer to all three questions is: it depends. The West is less terra firma than it is terra incognita, a landscape of the imagination that is still being mapped by politicians and poets.
Lynn Stegner, who co-edited the anthology with Billings author Russell Rowland, writes in the introduction that the original goal was to find "a kind of Greek chorus that might define, remark upon, and otherwise characterize the West as each of us grew to know it, and, equally important, the West that is still becoming. A declaration not of our independence this time, but of our interdependence."
What Stegner and Rowland got were 67 writers — most of them all-stars in contemporary west-of-the-Mississippi literature and each with a distinct and often contradictory perspective on what it means to live "west of the 98th meridian." Taking a wide-angle view of "West of 98," we find a crazy-quilt definition of the Western landscape and its people; some of the individual essays are exquisite, a few are flat as a Nebraska wheat field, but all form a pattern of what eventually looks like a singular landscape that generations have both tamed and succumbed to in the quest for more open spaces. The West is, as David Mas Masumoto claims, "dirt worth fighting for."
In this thick, rich volume, we're treated to essays and poems by, among others, Rick Bass, Larry McMurtry, Judy Blunt, Walter Kirn, Gary Snyder and Gretel Ehrlich. Some of the contributors merely define their own postage-stamp-sized corner of the West, others conclude by admitting they're baffled by the physical and imaginative boundaries of the region. The true West is such an enigma to Ron Hansen, for instance, that his entire essay "Why the West?" is nothing but a series of questions ("Why do movie characters on the run almost always head west?" etc.).
The editors have smartly arranged the anthology according to geography, moving from east to west, so we begin with Louise Erdrich in the "big grass" of North Dakota and spill out of the book with Page Stegner in coastal California.
The experiences vary widely, often fueled by literature and childhood dreams of Roy Rogers refusing to be fenced in. Ed Kemmick said as a young adult he was transformed by "The Big Sky": "I wanted not merely to live in Montana but to live out, in my own small way, the story of Montana as constructed by A. B. Guthrie." Willard Wyman recalls the summer of 1944 which he spent working on a ranch during the day and reading Zane Grey novels by lantern light at night: "They were exciting, but they had nothing to do with the life I was living. I could actually taste the life I was living. You couldn't taste Grey's stories."
On the other hand, Kris Saknussemm writes, "the only way to live in the American West is to idealize it. You have to make it up or you'll never really find it."
Many of the authors concentrate on the mores of the West rather than its mountains. Barry Lopez writes of the dark streak of racism that runs like an unhealed scar across the land: "The West's principal contributions to the shaping of the American character, arguably, were its promotion of a folklore of self-reliance and independence; its championing of unlimited development, linked to a philosophy of endless financial opportunity and unrestrained personal freedom; and its support for the taming of all things wild — Indians and land in particular — as an unalloyed social good."
Jim Harrison goes further, saying we will never truly be settled in the West until we ask forgiveness for our history, to "finally totally admit what we did to our first citizens as a rag-tag invading army of soldiers and settlers. This is the true ghost in our immense closet. Honest reparations are in order to honor the long nightmare of millions who did not ask to be born on the routes of our conquest. Only then may we have a more justifiable sense of belonging where we are."
But where are we? That's the real question at stake here in these pages. The answer is as slippery as that cutthroat trout you hold briefly in your hands before setting him free back into the current.
Robert Wrigley, in his poem "Progress," opens with these lines: "You begin to fear all the nowheres are somewheres now./Everywhere's been discovered."
It's true, we may have no more John Fremonts or Kit Carsons scouting new territory. The only place we can find the undiscovered country is in our imaginations — which these 67 writers have pinned to the map as well as anyone can.
David Abrams is a novelist and short-story author who runs the Quivering Pen blog (http://david