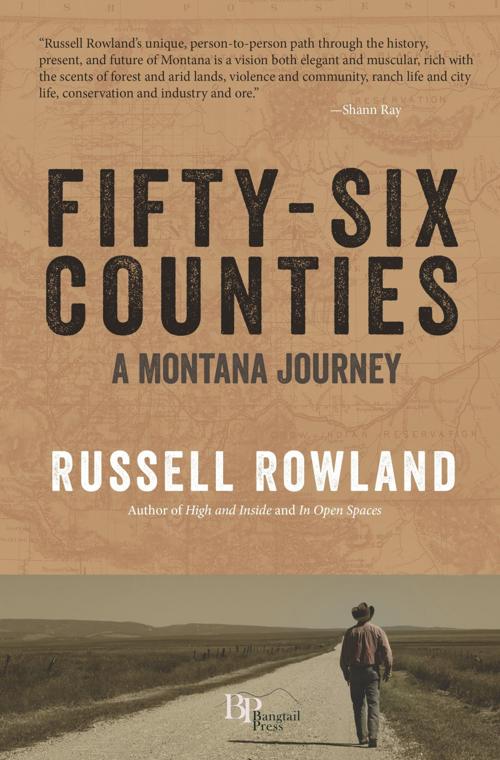 "Fifty-Six Counties: A Montana Journey"
By turns sweepingly ambitious and cheekily self-aware, "Fifty-Six Counties" by Montana native Russell Rowland adventures readers across each of the state's fifty-six counties, tipping a respectful hat to the deep roots and deep hearts of its people while mining the rich historical and economic context that makes Montana so deeply, uniquely itself.
Rowland's novels have always had the ability to capture a certain flavor of early Montana — an essential quality that has intoxicated readers, authors and residents for decades.
But in "Fifty-Six Counties" he spends less time describing that unique allure than he does trying to understand and define it, to trace the connection between Montana's formative years amid the chaos of the wild West and the vibrant and multifaceted place it has become.
Each chapter shines light over a different feature of Montana's surface, examining everything from the strife and struggle of early railroad towns and mining communities to our relationship with the environment itself. From Yellowstone to Glacier, Missoula to Dawson, Rowland reaches in to feel the heartbeat of his homeland.
Though the heady adventure idea that gave rise to the book seems as intriguing as the history itself, the weight of the book falls heavily on the historical examination of what shaped Montana into the state it is.
Rowland's own journey through its vast expanses and winding valleys and personal experiences in each town are peppered throughout, but remain mostly in the background. Where he does recount a particular conversation though, the result is often an insightful glimpse into how real people see their communities and family roots.
If you're looking for a way to see Montana past and present through a macro-lens, and want a more gripping, honest way to see it than through a textbook, let Rowland take you on the tour.
Tim Lagace moved to the mountain paradise of Montana two years ago, where he now works as a freelance editor and professional coffee enthusiast. 
Stay up-to-date on what's happening
Receive the latest in local entertainment news in your inbox weekly!