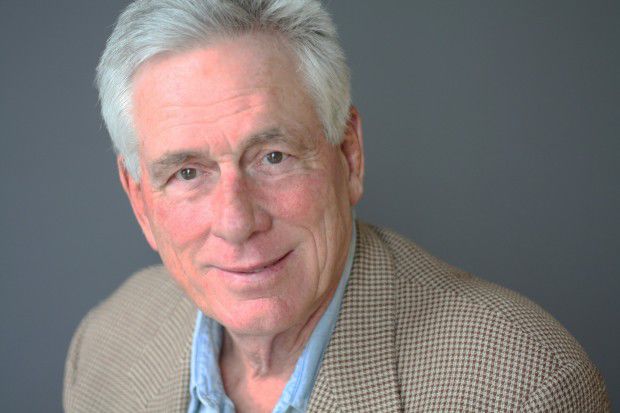 Tom McGuane, just in from getting his place buttoned up for fall, couldn't pass up a few M&Ms on the way to the phone.
"Who can resist M&Ms?" he said with a friendly laugh.
McGuane and his wife, Laurie, still run cattle at their ranch near McLeod. But the livestock now are seasonal yearlings that arrive in May and are shipped out before the snow flies.
McGuane enjoys the ranch and continues to own a string of aging cutting horses that landed their owner in the National Cutting Horse Association Hall of Fame, but he reserves the term "rancher" for those who draw most of their income from the land.
McGuane has earned most of his living from a 43-year career writing novels, screenplays, short stories and magazine articles.
The latter pursuit took him to Russia this summer to fish Atlantic salmon in the Barents Sea, a pristine area cut off from the rest of the world when the Soviets used it for submarine training.
Writing and ranching isn't all that keeps McGuane busy.
In early October, he was inducted into the Fly Fishing Hall of Fame in New York's Catskill Mountains for his lifelong passion for saltwater and freshwater fishing and proficiency at writing about both.
And Saturday, McGuane will receive the Emeritus Award of the High Plains Book Awards, a project of Parmly Billings Library.
McGuane will speak at the High Plains Book Awards banquet Saturday at the Yellowstone Art Museum. The event starts at 6 p.m., with dinner at 7.
Asked to ruminate on what an "emeritus" award means to him, McGuane said with amusement that at first it sounds "like a geezer award."
Yet it does remind him how time has flown.
It also is nice to at last be recognized close to home, he said, adding that he's never been reviewed by The Billings Gazette, a paper he reads every day.
He is flattered to receive the award and be included in the company of such writers as Louise Erdrich and Gary Ferguson, two previous winners.
An emeritus honor usually celebrates a late period of a career, although McGuane seems to be closer to the peak of his writing than at the end.
Born in Michigan in 1939, McGuane graduated with a bachelor's degree in English from Michigan State University and a master's of fine arts from Yale University.
After completing a Wallace Stegner Fellowship at Stanford University, he came to Montana, planning to move on after a few months of fishing.
"Sporting Club," his first novel, was published in 1969, giving him enough money to put down roots outside Livingston.
From the start, McGuane cut out new literary territory, writing about what he saw around him.
He took the advice of his mentor, Stegner, who told him that "backward-looking" western writing had run its course.
Although McGuane loves reading books that mine the rich history of the West, he wanted to record the life and times in which he lives.
"What if F. Scott Fitzgerald wrote a historical novel about whaling instead of 'The Great Gatsby'?" he asked.
Despite continued pressure for writers who live in the West to write about the past, McGuane would rather chronicle pizza delivery boys, waitresses and bankers.
His favorite contemporary authors with ties to Montana — David Long, Maile Meloy and Richard Ford — focus on the present, too.
McGuane traces the enchantment with the past to the phenomenon in American literature that he called "a search for a usable past."
Until well into the 20th century, American authors were anxious about just what they were supposed to write about.
Many writers in the West latched on to the pioneering past and then had difficulty escaping from it.
"We fear if we don't follow that model, we'll lose our identity," he said. "But it's not necessary to keep flogging that model."
During the 1970s, McGuane was known as much for his wild lifestyle as he was for his critically acclaimed writing.
That lifestyle coincided with the era of "Rancho Deluxe," a movie McGuane wrote that turned the traditional western on its head, placing it in a contemporary town based on Livingston.
Hollywood itself could not have scripted a better story about how the movie came about.
McGuane was broke when a producer asked if he had ever written a screenplay.
"I said I did, but I didn't," McGuane said.
McGuane went into his young son's bedroom and worked furiously for 15 days to complete it. The producer loved it.
Even though the lives of many of the characters in his books and short stories are in tatters, McGuane's own life settled down long ago.
He's been married to Laurie, his third wife, for 35 years, and they enjoy time with their four children and five grandchildren.
He also expects to put more mileage on his long career.
He recently signed a contract to complete one novel, a book of short stories and a collection of sport essays.
He still works hard at writing. His short stories show up regularly in The New Yorker and his most recent novel, "Driving on the Rim," was published two years ago.
But at age 72, he's easier on himself. When he wants to do something with his wife and family, he does it.
"It's hard to stay inside in the summer in Montana," he said.