Every aspect of Ernest Hemingway's colorful life has been scrutinized and analyzed since his suicide in 1961, yet Billings natives Robert K. Elder and Aaron Vetch, discovered a trove of unexamined objects — including a poem to a lost love — when they visited his archives in Oak Park, Ill.
Three years ago, Elder made the pitch to Vetch to collaborate on a book focused on the Hemingway archives, an intimate look into the hundreds of objects the famous author left behind. The result is the 230-page book "Hidden Hemingway: Inside the Ernest Hemingway Archives of Oak Park," published last month by Kent State University Press.
The two have been friends since meeting in French class at Lewis and Clark Middle School.
"It's nice to work with your best friend," Elder said. "I've been his best man twice, and he's the godfather of one of my twins."
Elder, a newspaperman and author of six previous books, lives in Oak Park, Ill., where Hemingway grew up. At one time, Elder was editor-in-chief of Oak Leaves, a newspaper that Hemingway delivered as a boy. And one final coincidence is that Elder was born at St. Vincent Healthcare where Hemingway was treated for a broken arm.
More into Vonnegut
Yet Elder never appreciated Hemingway's work until he started this project. The more he looked into Hemingway's life, the more Elder gained respect for his work ethic and interest in his short stories.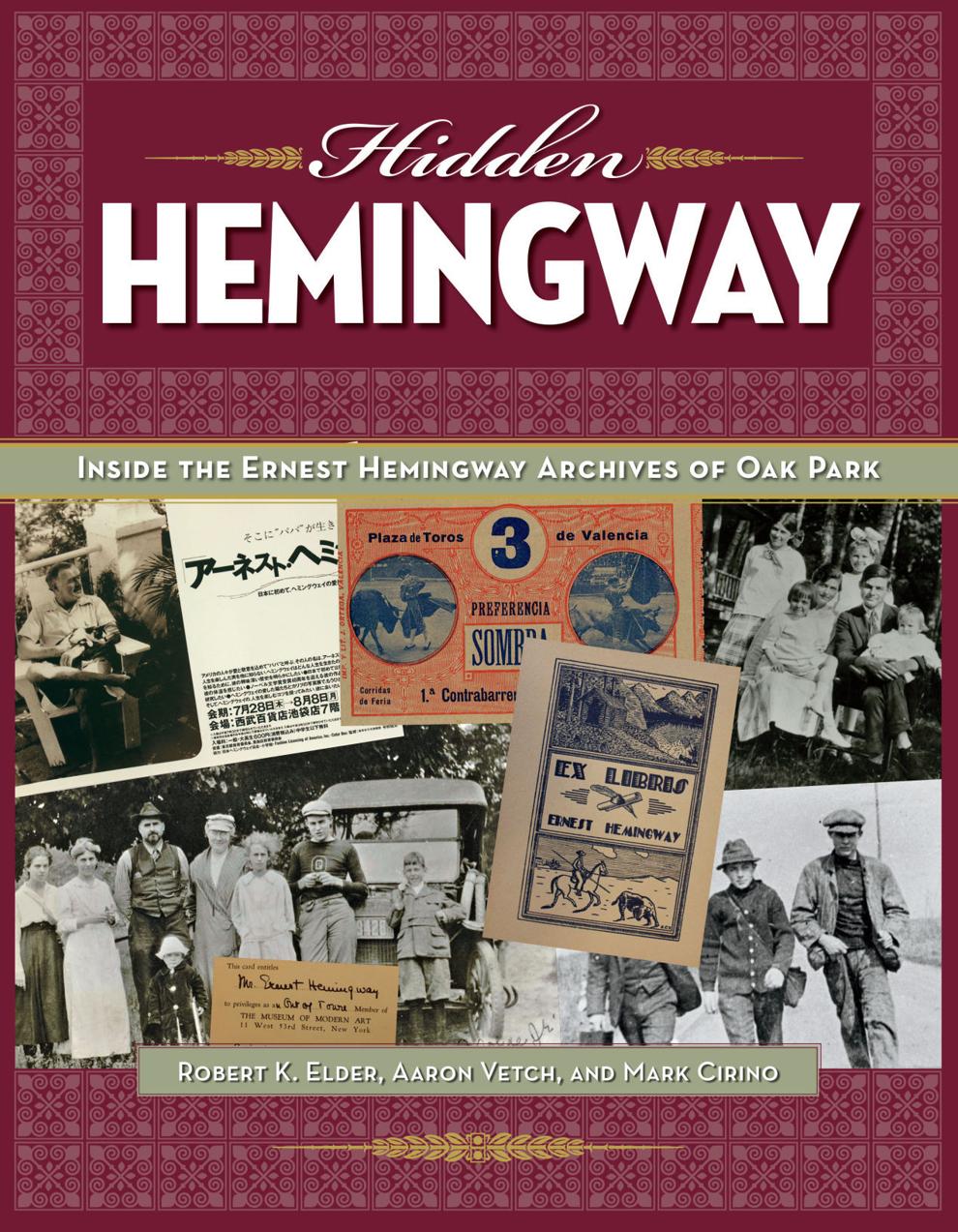 "I was more into Kurt Vonnegut, John Steinbeck and Harlan Ellison. This was a project born out of civic pride. But you do the work, and in the process you become a fan," Elder said.
Vetch, who lives in Seattle, has worked as a copy editor for some of Elder's previous books. He, too, gained an appreciation for Hemingway through the project. He first read Hemingway's short story "Indian Camp" in Mrs. Smith's English class at Senior High.
The story is a stark reflection on death that, taken in the context of Hemingway's life with his father, Ed, committing suicide and two of his siblings, becomes even sadder, Vetch said.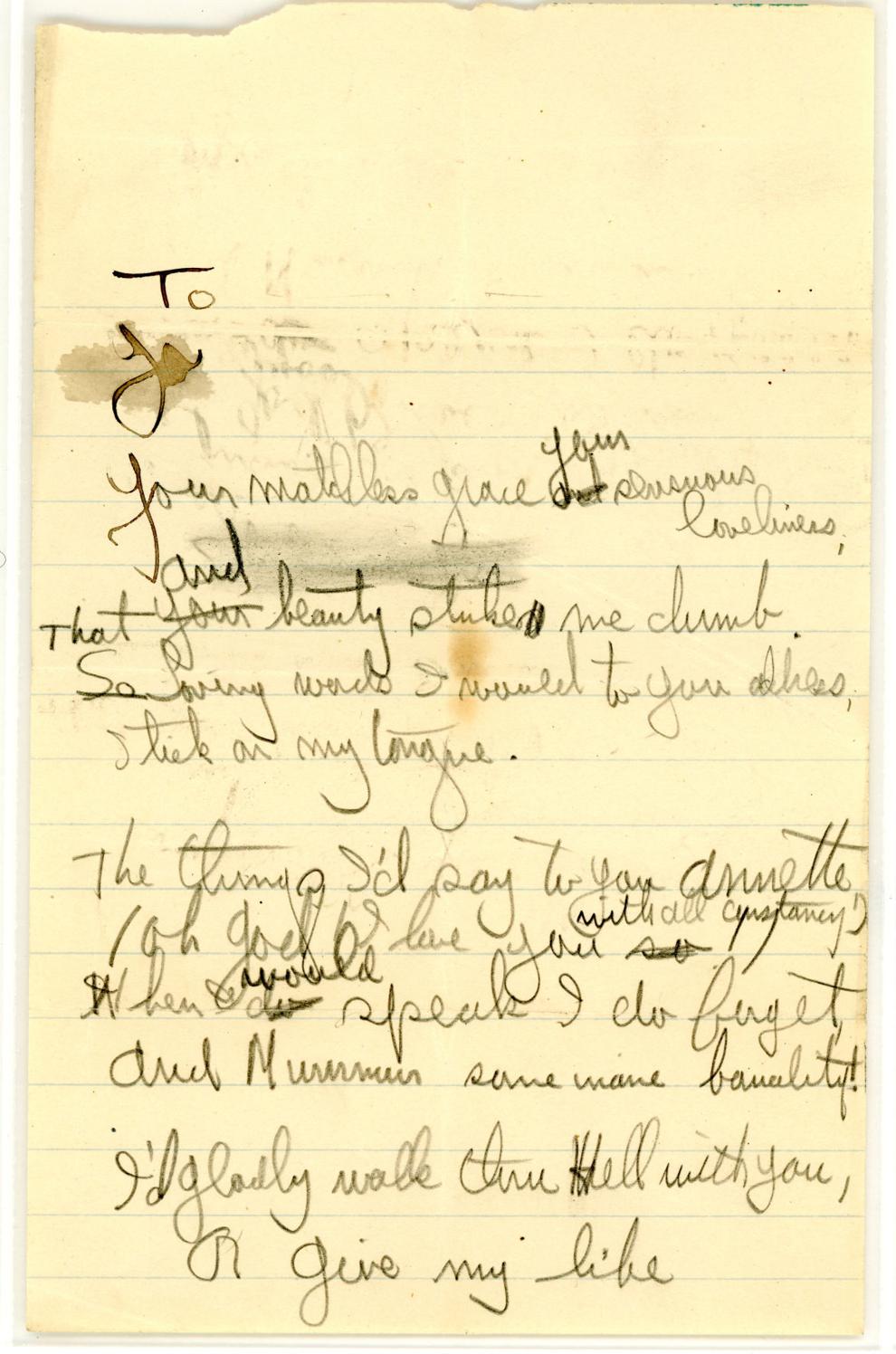 Visiting the four archives located in Oak Park, Elder and Vetch discovered a love poem Hemingway wrote as a teenager with the lines, "I would gladly walk thru hell with you/or give my life."
Elder tracked down the family of Annette DeVoe, the poem's intended recipient, and the family confirmed that Hemingway had a crush on Annette. This changed Hemingway's biography because it has always been written that Hemingway's first love was Agnes von Kurowsky, the nurse who treated him in Italy during World War I. Catherine Barkley from "A Farewell to Arms" is based on von Kurowsky.
"Even his classmates said he was more interested in hunting and fishing," Elder said. "But we found out that Annette was this woman who had this clandestine relationship with Hemingway."
Lost love
Elder said there was evidence that the infatuation was a bit one-sided, and DeVoe's family quoted Annette as saying Hemingway was "a kook."
Von Kurowsky's break-up letter is also included in the book.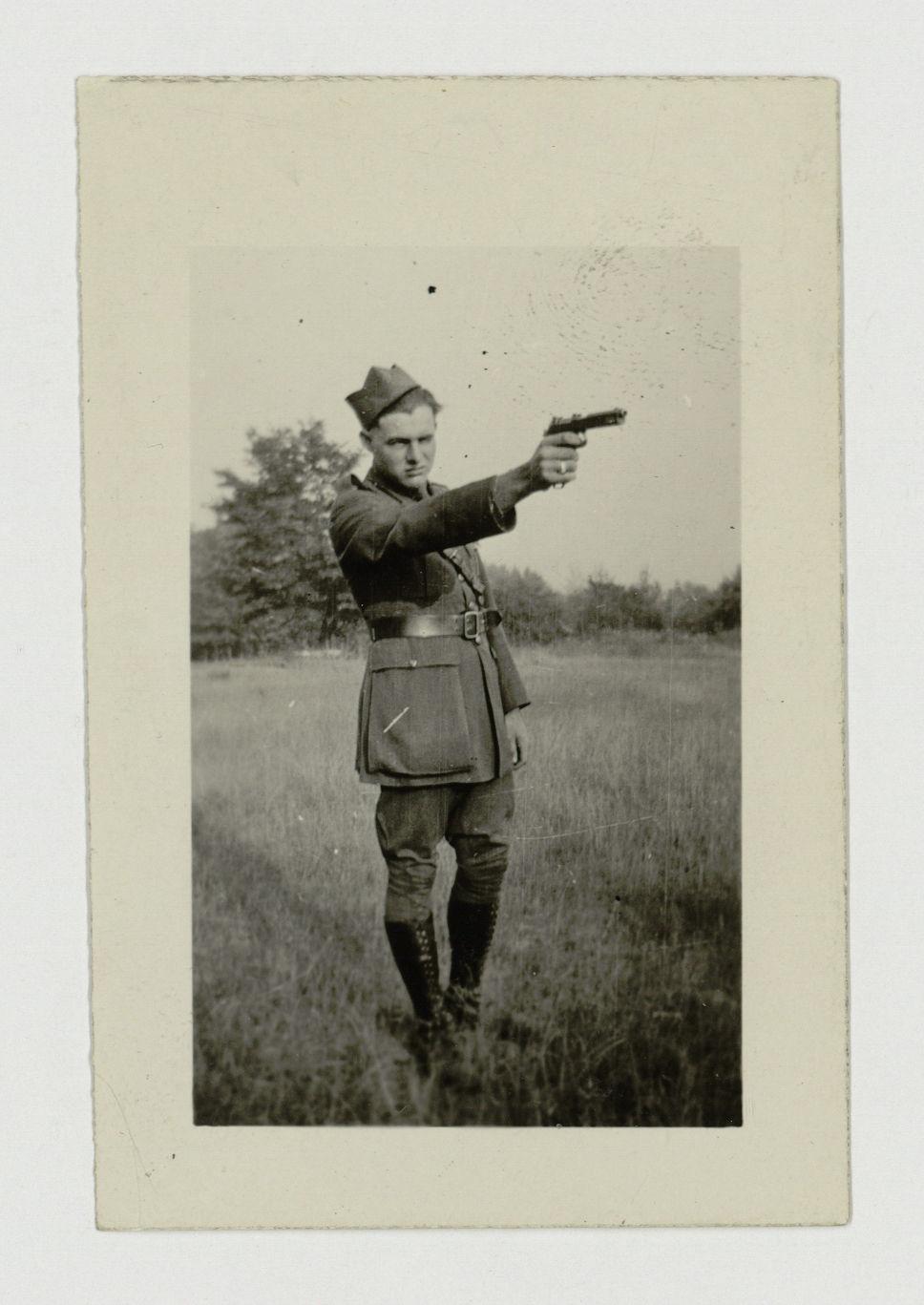 A previously unpublished photo of Hemingway wearing a World War I uniform and pointing a pistol toward the camera reveals Hemingway's fibs to make himself more heroic. Although Hemingway was an ambulance driver in World War I, he liked to embellish his stories by implying he was a soldier. Hemingway was badly wounded in the war by a mortar round while delivering chocolates and cigarettes to the troops, and his leg had hundreds of holes in it.
Vetch said he was struck by the fact that Hemingway felt compelled to stretch the truth about his service in the war. It was a big enough deal that he was so badly wounded serving the troops, but Hemingway wanted to pass himself off a war hero.
"He was just a kid, a teenager, when he was wounded. I don't agree with him on so many things, but I look up to Hemingway. He never stopped working," Vetch said.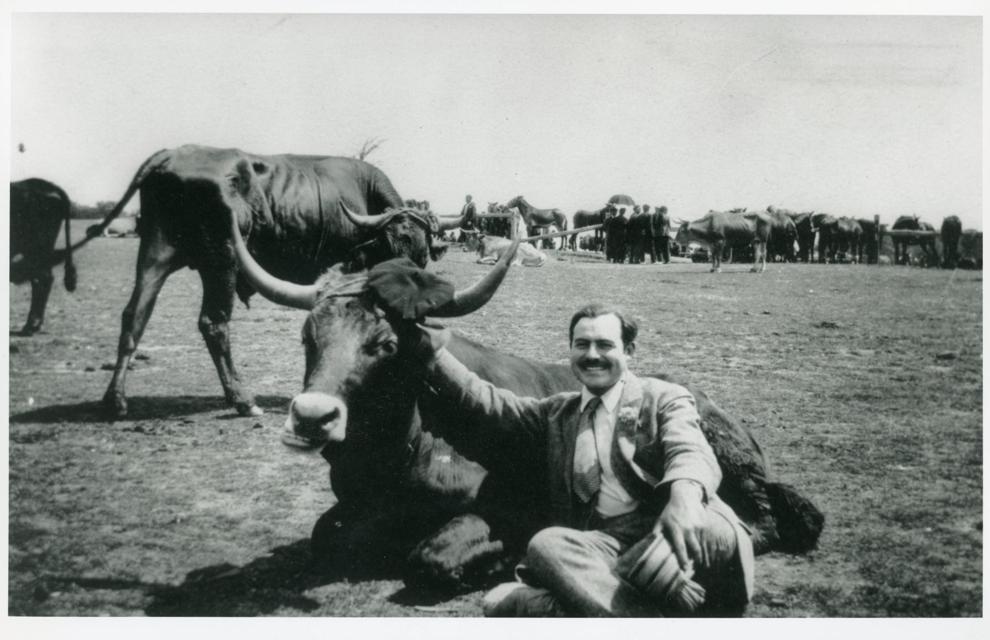 Many of the photographs of Hemingway show him looking macho, posing with a gun, a fish or a dead animal, but Vetch was drawn to a photograph of Hemingway hamming with his friend, Morris Musselman, in 1916 when they were teens.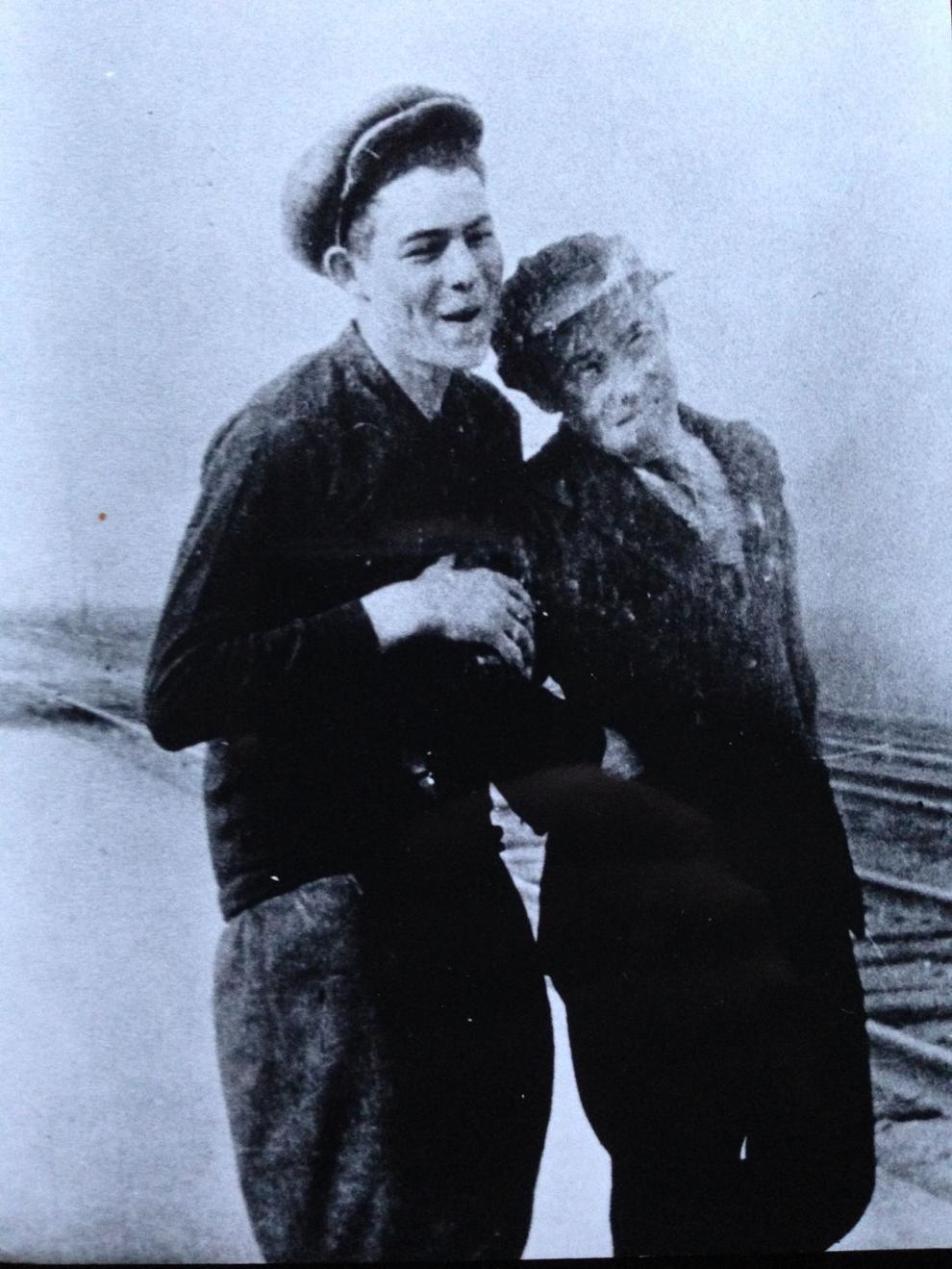 "This picture shows Hemingway unguarded," Vetch said. "It reminded me of some of the road trips Rob and I would take. I remember breaking down on the side of the road on our way to Yellowtail Dam and staging scenes in the middle of the road to pass the time."
The archives also revealed a sad beginning to Hemingway's life when his mother, Grace, used to dress Hemingway as a girl to pretend that he and his older sister Marcelline, were twins. She held Marcelline back from kindergarten so the two could start school together to further her attempt to pass them off as twins.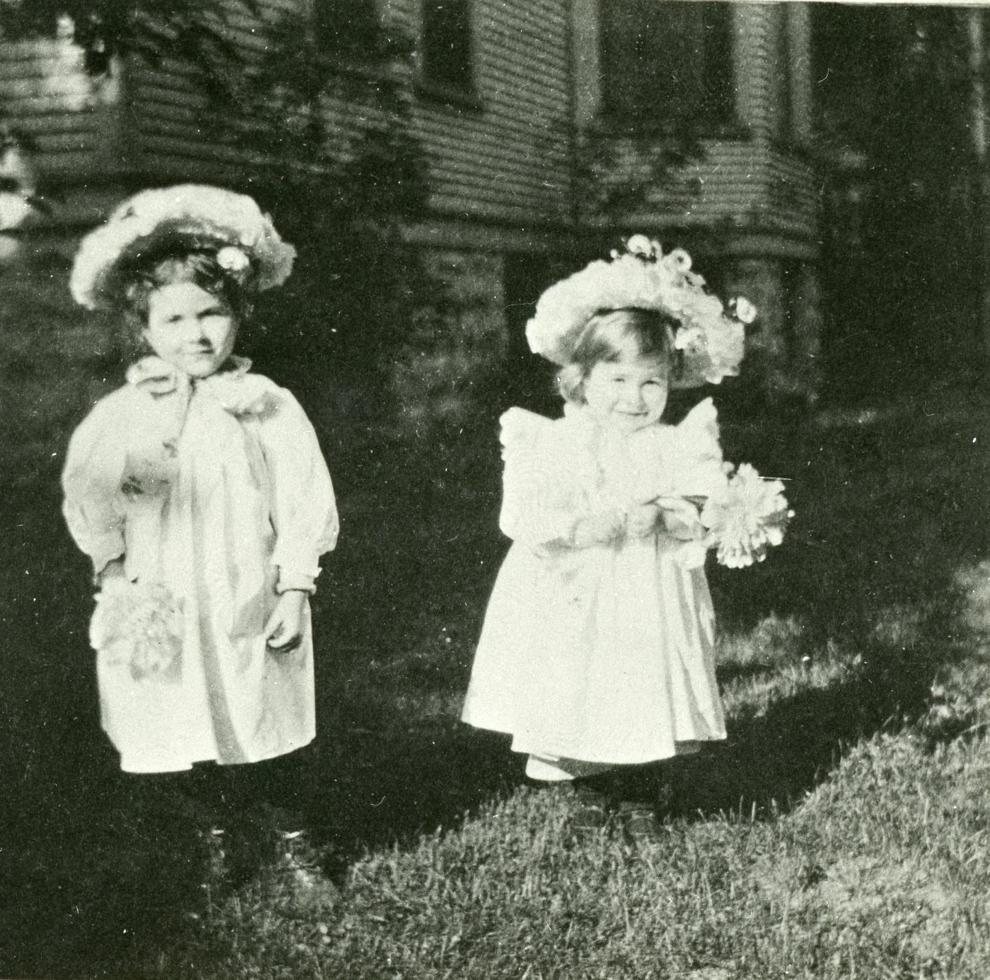 'Twinning'
One photo from 1901 shows the siblings dressed in frilly dresses with fancy hats and holding flowers. It was found in a family scrapbook with the caption, "Two summer girls with their peonies."
Grace was still trying to pass the siblings off as twins when they were second-graders. One particularly sad photo in the book shows Marcelline wearing a baby bonnet sitting beside Hemingway, who is wearing boy's clothes. The photo depicts Marcelline's punishment for having a friend cut her hair short to stop Grace's "twinning." Grace made Marcelline wear the baby bonnet to school for two weeks before a teacher intervened.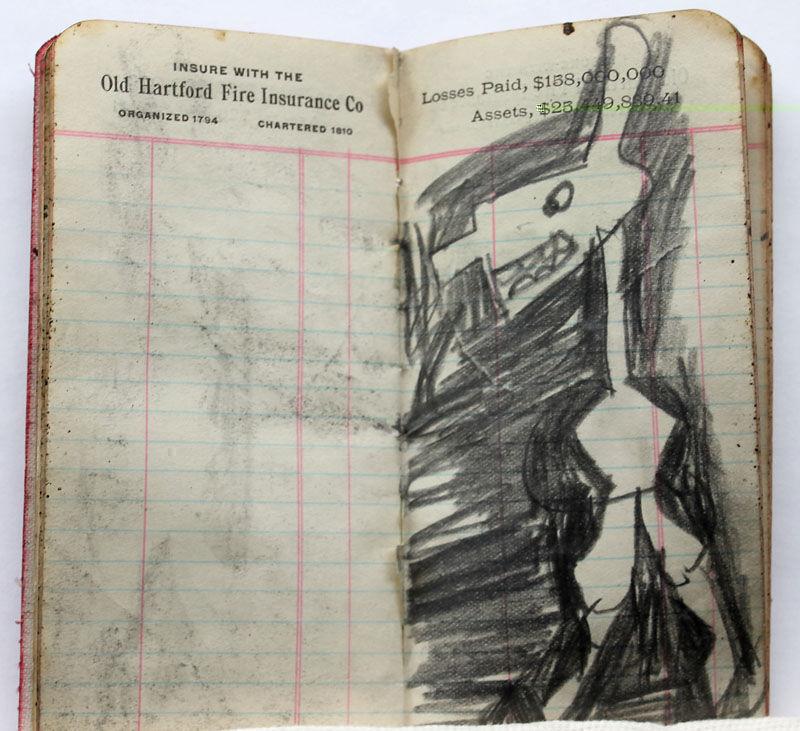 Elder described Hemingway as a packrat because he kept "every piece of paper that touched his hand."
That made the digging all the more complicated.
"What we tried to do is tell his life story through objects," Elder said. "If there was something that was interesting but didn't help tell the story, we left it out."
Kent State University Press agreed to publish the book, but wanted the authors to work with Hemingway scholar Mark Cirino. Cirino is associate professor of English at the University of Evansville.
Vetch said Cirino's expertise and guidance on the project were invaluable.
Elder is the director of digital product development and strategy at Crain Communications ,and Vetch is a copy editor and writer who worked with Elder on "Last Words of the Executed" and "The Best Film You've Never Seen."