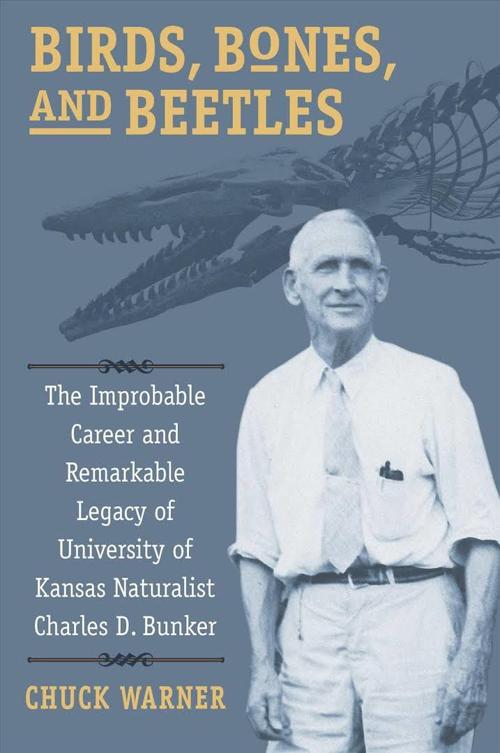 Editor's note: "Birds, Bones, and Beetles: The Improbable Career and Remarkable Legacy of University of Kansas Naturalist Charles D. Bunker" by Chuck Warner is a finalist in the Medicine and Science category of the 2020 High Plains Book Awards.
"Birds, Bones, and Beetles: The Improbable Career and Remarkable Legacy of University of Kansas Naturalist Charles D. Bunker," by Chuck Warner profiles a museum collector, preparator, taxidermist, ornithologist, field collector, and teacher. Before writing this book, Warner, Bunker's grandson, "hadn't written anything longer than a business letter," but he researched his grandfather's life and presents him in this objective, coherent, and compelling biography.
In his early twenties, Bunker approached the director of the University of Kansas Natural History Museum — unsuccessfully — for a job in taxidermy. He persisted, visiting the museum repeatedly until the director hired him as a general helper.
Once there, Bunker worked across the natural science departments to broaden his understanding of the natural world, for as Warner tells us, "The one overriding philosophy of the museum in those days empowered everyone to do what needed to be done. The pragmatic 'Bunk' could not have asked for a better job." Natural curiosity broadened his knowledge and hands-on experience strengthened his expertise, though he did not work toward nor earn a degree.
Through his years at the museum, Bunker became expert in collecting and preparing animals for the collection. He improved the cataloging system to provide greater detail on each specimen and invented a process of using beetles to strip skeletons of flesh rather than the usual method of boiling bones. He published articles in scientific journals, was elected as a full member of the American Ornithologists Union, and eventually was named assistant curator of birds and mammals at the Museum.
Bunker considered training undergraduates in field methods, taxidermy, identification and organization of artifacts as essential. His "boys" went on to earn advanced degrees and take up critical positions in the most important natural history museums in the country.
This is a rewarding read about the considerable personal and intellectual strengths of a quiet man — underpaid and underappreciated in his lifetime —  who followed his curiosities, initiated generations of undergraduates in the field, contributed to the knowledge of ornithology, improved cataloging of specimens, and improved the museum through his years of dedication.
A retired teacher, JP Mandler lives in Connecticut.