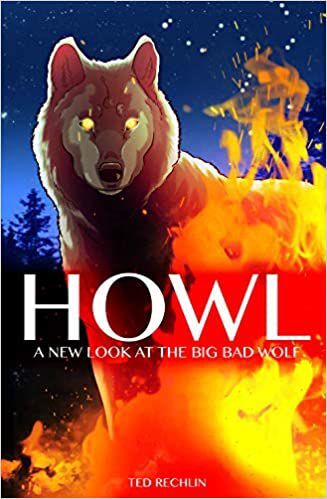 Editor's note: "Howl: A New Look at the Big Bad Wolf" by Ted Rechlin is the winner in the Children's Book category of the 2020 High Plains Book Awards.
The howls of a wolf can raise the hair on our necks, especially at midnight. Ted Rechlin, author and illustrator, presents a fresh look at this ancient predator with a beautifully done graphic book, "Howl: A New Look at the Big Bad Wolf."
Rechlin begins the pages with "Lobo," the tale of a Mexican wolf from the 1890s. Hunted by Seton, an expert marksman when it comes to wolves, Lobo finally meets his demise — yet in an unsuspecting way. Seton's experience with Lobo leaves a profound impact on the man. He writes about his experiences with this wolf, which helps fuel early movements to protect wildlife.
In the next section, "21," Rechlin details the return of wolves to the Lamar Valley in Yellowstone Park. He shares the story of 21 and 42, named for the numbers of their radio collars. These two massive wolves lead the Druid Peak Pack on various exploits until age and rivals force them to pass the baton to a new generation of Canadian wolves.
The following piece, "The Big Bad Wolf," discusses the negative reputation of wolves. From werewolves howling at the moon to trying to eat Little Red Riding Hood, this ancestor of man's greatest canine friend has had a rough go throughout the centuries.
The book ends with "Reclamation," a short description of the wolves' determination to reclaim what was once theirs—even in the midst of 21st century development.
Rechlin does an incredible job of weaving the story of wolves over several millennia. His terrific illustrations aid in painting a sympathetic view of wolves. While men have been the archenemy of these great beasts, he also makes it clear that for wolves to survive, people must take the lead. Still, the question remains: How will mankind respond to the howl of the wolves?
Penelope Kaye is the award-winning author of "Making Crooked Places Straight."