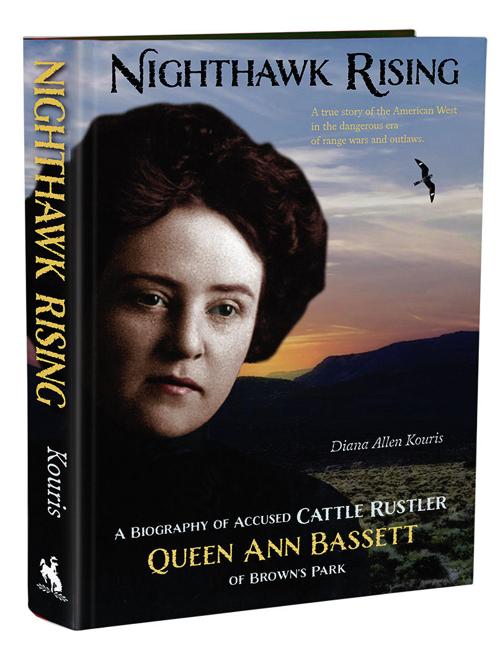 Editor's note: "Nighthawk Rising: A Biography of Accused Cattle Rustler Queen Ann Basset" by Diana Allen Kouris is a finalist in the Woman Writer category of the 2020 High Plains Book Awards.
"Nighthawk Rising" by Diana Allen Kouris combines a personal investment in Brown's Park, contiguous areas of Colorado, Wyoming, and Utah, with commendable research on the history of the area and its residents. A skilled horsewoman who achieved legendary status for both her beauty and her fearless character, Queen Ann lived in Brown's Park during the last decades of the range wars.
Just before she died in 1954 at age 78, she wrote of a "past that cannot return. . . The round-up days are over, and so are most of the old knee-sprung, saddle-marked punchers. . ." Kouris documents the history of the area beginning with the advent of the fur trade in 1825 through the 1878 arrival of Ann's parents, the 1879 Meeker Massacre, and subsequent colorful events involving cattlemen, outlaws, and the perils of nature.
A consistent thread in the book is the depiction of the relatively lawless culture of the time. Well-known outlaw Butch Cassidy passes through Brown's Park, and many lesser known scoundrels abound. Despite Ann's charisma and her family's fortitude, theirs is not a romantic story of the success of the righteous.
A climactic event in the book is Ann's trial for rustling, and an earlier description of a lynching involves a family member. Kouris's use of historical sources to buttress her story demonstrates that life on the mountainous frontier was not a story of good vs. evil but rather a complex drama in which the characters blend virtues and vices.
Kouris's compulsion to use every detail of her research often obstructs the story of Ann Bassett; overall, the book seems more a history of an area than a biography. The florid, sometimes awkward writing style and an often-confusing structure slows the reader. Nonetheless, "Nighthawk Rising" makes the reader want to visit Brown's Park for its history and natural beauty.
Lou Mandler is a retired educator and writer who is currently writing a biography of Billings mayor Willard Fraser.
Stay up-to-date on what's happening
Receive the latest in local entertainment news in your inbox weekly!