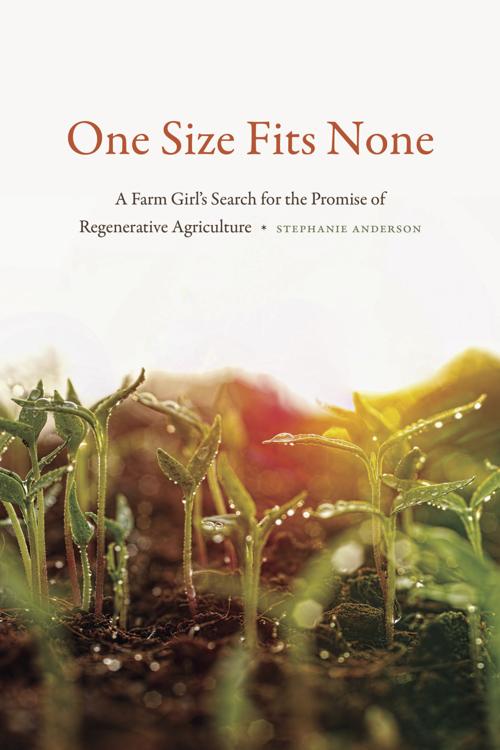 Editor's note: "One Size Fits None" by Stephanie Anderson is a finalist in the Nonfiction category of the 2020 High Plains Book Awards. 
"One Size Fits None" is agriculture journalist and academic Stephanie Anderson's engaging and superbly written call to action for farmers and ranchers to go beyond sustainable to regenerative farming — replenishing the earth rather than depleting it. She explains that healthier soils, teeming with bacteria, nematodes, and other organisms yield more nutrient-rich food, benefitting everyone.
For her research, Anderson traveled the U.S. interviewing growers who practice stewardship of the land rather than exploitation of it. She visited extensively with producers from Florida, New Mexico, and the Dakotas.
The author came of age on her own family's conventional ranch, influenced by the 70s agricultural era of "go big or get out." In order to survive, farmers bought more land, applied more chemical fertilizers, and often abandoned conservation practices such as crop rotation in order to increase profits. She describes throughout the book why "industrial agriculture is an environmental, social, and economic tragedy."
For example, conventional ranching operations often confine livestock to fenced enclosures, destroying most of the vegetation and its root mass, while over-saturating the ground with the animals' natural fertilizer. This concentrated impact on a limited section of land is detrimental to plant variety, its nutritional value, and ultimately, meat quality, according to South Dakota bison rancher Phil Jerde.
He and other producers featured in the book detail how they reinvigorate the soil, reduce dependency on chemicals, diversify their enterprises for economic resiliency, and take advantage of natural, symbiotic relationships among plants, animals, and wildlife.
But changing deeply entrenched ways is difficult and expensive. Recognizing that sudden, drastic changes would be impractical, these farmers encourage gradual implementation of holistic management that restores local ecosystems.
Although the book may appeal to a limited audience, it is well-researched and timely, since many people are increasingly concerned about the quality of their food and where it comes from. The book's title reflects Anderson's argument that one-size, single-focus farming benefits no one. Regenerative practices offer hope for a healthier future for all of us.
Margie Sylvester grew up on a farm, is a former teacher, and serves on the High Plains Book Awards board.
Stay up-to-date on what's happening
Receive the latest in local entertainment news in your inbox weekly!