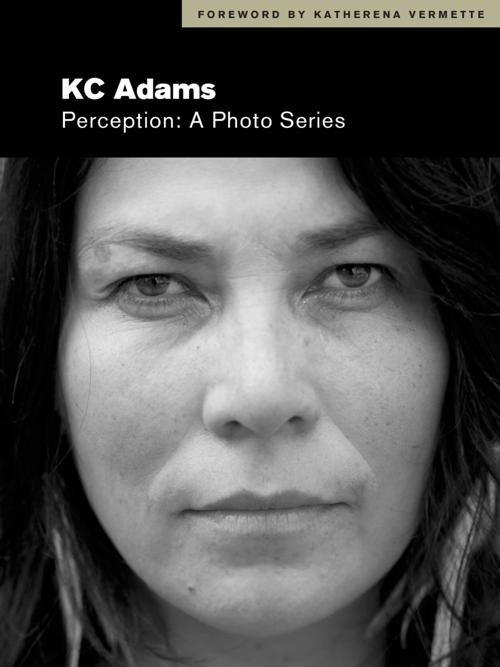 Editor's note: "Perception: A Photo Series" by KC Adams is a finalist in the Indigenous Writer category of the 2020 High Plains Book Awards.
The premise for KC Adams' book, "Perception: A Photo Series," is disarmingly simple.
She pairs two photographs of the same person, one bearing a racist slur or stereotypical anti-Native put-down, and the other the person's name, together with a self-description that shows who they really are, descriptions that make you confront their humanity.
Adams is an Ojibway/Cree who lives in Winnipeg, Manitoba. She says in a short preface that she was impelled to start taking the photos in 2014 as a reaction to a racist Facebook post by the wife of a Winnipeg mayoral candidate.
She put out an invitation to Metis, First Nations and Inuit people in Winnipeg, intending only to post the paired photographs on Facebook. But the reaction was so overwhelmingly favorable that she was soon working with an art gallery to create a series of posters, bus shelter images and billboards.
Adams explains how she created the photo sets — by first asking her subjects to remember when they were made to feel worthless or unwanted, and then to remember something involving an accomplishment, or pure joy.
The results are illuminating, as are the words affixed to each photo. The first photo of Kim Wheeler shows her frowning, wary and possibly angry, and the caption reads "Government mooch?" Below, as with each photo, it reads, "Look Again..."
Then you flip the page to see Wheeler flashing a broad smile, and you read that she is "A mother, writer, publicist, producer, homeowner, golfer, who paid for her own education."
This is a powerful book and it couldn't be more timely. Who could have guessed that one terrible incident in Minneapolis would spark a worldwide movement for racial justice? Adams' book is an inspiring example of how to advance that cause through art.
In addition to Adams' preface, the book has a foreword by Katherena Vermette, one of her photo subjects, and an essay on Adams' work by Cathy Mattes, an art history professor in Manitoba.
Ed Kemmick is a former newspaper reporter and the author of "Montana: The Lay of the Land—The Best of Last Best News."
Stay up-to-date on what's happening
Receive the latest in local entertainment news in your inbox weekly!