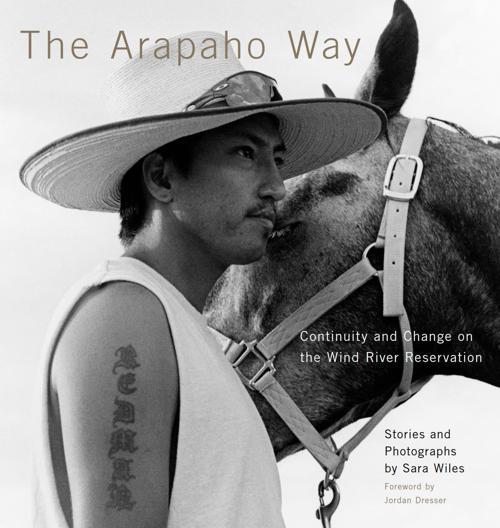 Editor's note: "The Arapaho Way: Continuity and Change on the Wind River Reservation" is a finalist in the Art and Photography category of the 2020 High Plains Book Awards.
"One thing we all agree on is it's hard being native. But that's who we are."
This line from "The Arapaho Way: Continuity and Change on the Wind River Reservation," a collection of stories and photos by Sara Wiles, honestly encapsulates Wiles' experience observing and reporting on the Wind River reservation from 1973 to 2017. She grew close to the Eastern Shoshone and Northern Arapaho tribes and made it a mission to share their truth.
Wiles — an independent photographer and writer with a Master's in anthropology from Indiana University — focuses largely on preservation of culture and language. She highlights William C'Hair, who made it his mission to teach Arapaho at the Wyoming Indian High School (the only high school on the reservation) and Joseph Goggles Sr., who worked to keep Plains Indian Sign Language alive.
Some of the stories are more interesting than others. For example, Laura Lee C'Hair's is truly inspirational. She would not be defined by her disability and made her way to the University of California–Berkeley, where she studied social work. Laura Lee learned, however, that success presents challenges of its own, as her husband "felt shamed I wasn't satisfied with life on the rez."
Other features, however, leave you wanting more, wondering if Wiles could have dug deeper, but those who stick with it will be rewarded by fascinating and powerful stories toward the end, such as the evolution of the Redman Relay and humanizing, heartbreaking coverage of the Riverton Center of Hope detox shooting that took place July 18, 2015. One Arapaho man, Stallone Trosper, was killed. Arapaho tribal member James "Sonny" Goggles Jr. survived but has never been the same. Wiles does a phenomenal job capturing Goggles' recovery and how Indian and non-Indian alike came together to create a Community Peace March.
"The Arapaho Way" is a fascinating read for those wanting to learn more about life on the reservation, then and now.
Charlie Denison is a freelance writer, musician and award-winning Montana journalist.
Stay up-to-date on what's happening
Receive the latest in local entertainment news in your inbox weekly!