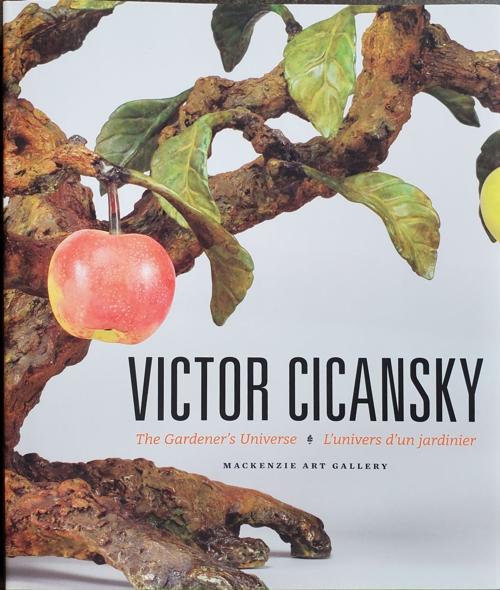 Editor's note: "Victor Cicansky: The Gardener's Universe" is the winner in the Art and Photography category of the 2020 High Plains Book Awards.
Opening "Victor Cicansky: The Gardener's Universe" is like opening a jar of tomatoes with basil in midwinter, when the bright reds and greens contrast with the world. The pages, like pantry shelves, are laden with preserved riches: six essays, an interview, 110 colorful images of Cicansky's narrative ceramics and other works of art, timeline, and index in English and French.
The cover of this art book tempts the reader with a red-yellow apple suspended from lumpy brown twigs and glassy leaves. Endpapers depict Cicansky's iconic canning jars: rows of bulging white corn, pickles, and a jar labeled KOOL-AID. Sumptuous images lead rhythmically throughout the 256-page publication.
Cicansky plunged into the vibrant and irreverent ceramics scene at UC Davis when he arrived in 1968, where he absorbed the lowbrow Pop-influenced ceramic "Funk" aesthetic of faculty and peers Clayton Bailey, David Gilhooly, and Robert Arneson. Throughout his career, he marries the irreverent humor of the California Funk cohort with the folksy candor of a small-town artist.
Like Ohio ceramist Jack Earl, Cicansky's sculptures highlight rural characters and landscapes with love and gentle humor. His series includes outhouses, dioramas of country folks in their homes, rows of gold-rimmed canning jars, and always — the root of the work — the garden.
Trevor Herriot states, "The beauty of Cicansky's garden universe… is that it is not entirely tamed. He cultivates, in garden and studio, an aesthetic that forbears, leaves room for the exuberance of the dandelion, the branch that escapes pruning."
To close, we return to the beginning: "As we complete the circle of our introductory sealer ring, it should be evident that Cicansky's oeuvre nurtures an understanding of history, locality, and materials that is as vital for healthy creative expression as cultivating gardens is for the health of our bodies and the planet. From the iconoclastic experimentation of his student days in California, to the recognition of his prairie immigrant roots, to his celebration of shovel to plate gardening — Cicansky has unearthed a politics of place using humour, play, and provocation." 
Susan Barnett is curator of the Yellowstone Art Museum and an avid reader of fact and fiction.