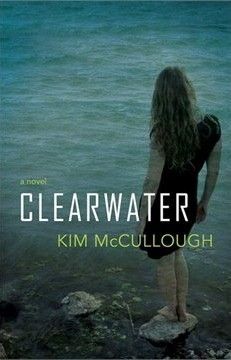 In her debut novel "Clearwater," Kim McCullough masterfully paints a coming-of-age story about growing-up and surviving life's two greatest universalities — love and loss. "Clearwater" illustrates the murky edge of adolescent depression, and the choices and consequences that stem from it.
"It's surprising what the heart can take." Without warning Claire Sullivan's life changes when her mother takes a new job and the Sullivans relocate to an off-the-map Northern Manitoba town. Claire and her older siblings, twins Leah and Daniel, leave everything behind in Regina. During the trip north, Claire finds "the emptiness in my window is a perfect picture of how I feel about our move." She quickly begins to experience the isolation of rural life. Her mother only worries about her job and current boyfriend, and Leah and Daniel share a bond that often excludes their younger sister.
Things start to look up when she meets Jeff, the boy next door, who makes her existence at Clearwater Lake tolerable. Jeff becomes an anchor to which Claire desperately attaches herself. Everything appears to be perfect, at least on the surface. But it seems that everyone at Clearwater has a secret, including Jeff. Ashamed of his turbulent relationship with an alcoholic, abuse-prone father, Jeff conceals his bruises and emotional scars from Claire. Meanwhile, the Sullivan family begins having their own problems: Frustrated with mundane small-town life, Leah sinks into depression and self-medicates with drugs and alcohol.
A violent encounter at a weekend party changes everyone's life forever. Both Claire and Jeff abruptly leave the small town, but their lives go in opposite directions. No one talks about the violence that ensued that night; instead, like a bruise, it sinks below the surface — enough to be covered, but always present.
Claire starts to spiral into her own depression. Years pass before Claire and Jeff find themselves back at Clearwater Lake confronting their troubled past. Together they begin to realize that "it's surprising what the heart can take."
A skillful writer, McCullough contrasts the barren landscape of northern Canada with a riveting plot and dynamic, vivid characters. The brilliant turquoise lake itself proves to be just as intriguing and complex as the characters. In contrast to the gray, monochrome backdrop, it is in itself an entity whose interactions with the main characters are just as meaningful as their interactions with each other. Perhaps the most striking feature of the novel is how McCullough juxtaposes Claire's first-person point of view and a third-person narration that follows Jeff's perspective. This narrative style is bold and allows the reader a multifaceted look at characters and events.
McCullough fearlessly explores the darker, more controversial elements that so often accompany adolescence — drugs, depression, sex, and violence. A page turner until the end, "Clearwater" probes the depths of loss and compels us to remember that death and despair often provide fertile grounds for growth and regeneration.
Korilynn Kessler is an MSUB graduate with a degree in English. She plans to obtain a master's degree in comparative literature.