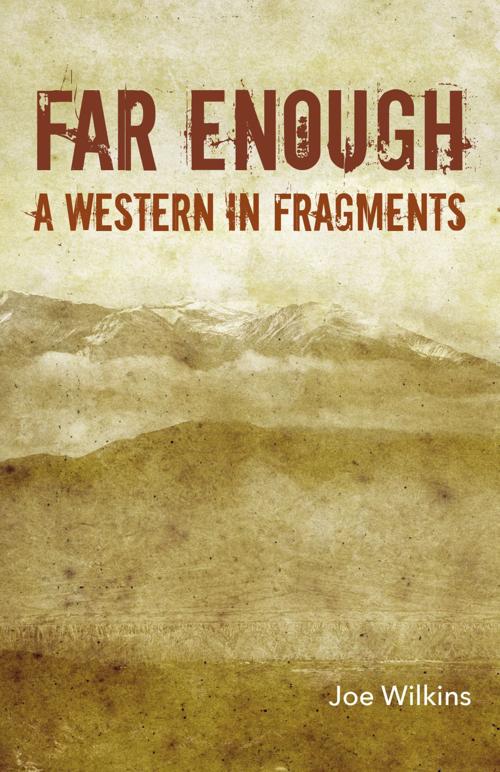 'Far Enough: A Western in Fragments'
A book as powerful and arresting as a prairie sunset following a furious rainstorm, Joe Wilkins' novel "Far Enough: A Western in Fragments" eschews the romantic myth of the Modern American West and replaces it instead with an authentic, poignant story of the yearnings, mistakes, suffering and healing of a Montana ranching family.
An austere, arresting novel, "Far Enough" is the story of a young cowboy Willie Benson; his boss, rancher Wade Newman; and Newman's daughter Jackie. Each is searching for something to hold onto as they cope with family strife, drought, loss and redemption in the high plains of eastern Montana near Ryegate.
It is evidenced throughout this novel that Joe Wilkins is a poet, capturing the landscapes, characters and events in stirring prose that speaks volumes on the Montana frame of mind. One example of Wilkins' masterful writing is young Jackie's perception of dust kicked up by a pickup: "Now the old Chevy Luv came racing down the dirt road, throwing great arcs of dust across the sun, and everything Jackie saw — the gray corral boards, the craggy bark of the cottonwoods, her own hands — went a reddish shade of gold."
"Far Enough" takes 30 minutes to read, but its impact lingers. From raucous cowboys on a Friday night at the Ryegate Bar to a rancher's gnawing, persistent fear of drought, and from a young girl's fragile dreams to the harsh realities of a cowboy's life, Wilkin's creates a vivid tableaux of the county and its people. Friends of mine, ranchers outside of Park City, agreed, saying that "Far Enough" is the real deal, and then qualified that statement with this passage:
"So Wade Newman rode for home, smiling, dreaming rain and a fast running river, dreaming lamb chops and green broke horses. And the dust beat against his face."
Read "Far Enough" during one of Montana's dramatic thunderstorms and then take a drive through Golden Valley County. Stop in Ryegate on the north bank of the Musselshell River and have a beer at the Ryegate Bar served up by retired cowboy who treats you like a long-lost friend. Continue on Highway 3 toward Shawmut and glory in the landscape: rolling green pastures undulating in the wind like a grassy sea framed by a panorama of rugged mountains; cows, sheep and Sandhill cranes; a lone cowboy on a four-wheeler rounding up cattle. Wilkins' book casts a spell that makes one fall in love with Montana all over again.
Wilkins' memoir, "The Mountain and the Fathers: Growing up on the Big Dry," was winner of a 2014 GLCA New Writers Award — an honor that has previously recognized early works by Richard Ford, Louise Erdrich and Alice Munro. He is also author of three collections of poems. His most recent, "When We Were Birds," is part of the Miller Williams Poetry Prize Series edited by Billy Collins. Wilkins grew up in Montana and lives with his wife, son, and daughter in McMinnville, Oregon, where he teaches writing at Linfield College.
Wilkins is a finalist in the High Plains Book Award for Short Stories. He will also be in Billings the third week in July to do a public reading.
Kathleen Benoit has been in communications, development, and special events coordination in Billings for more than 36 years. A fervent reader, Benoit volunteers as a reader for the High Plains Book Festival. She currently serves on the boards of the Alberta Bair Theater and Young Families Early Head Start.