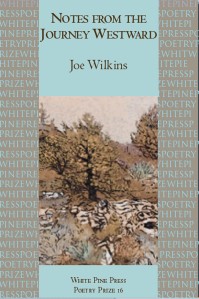 "Notes From the Journey Westward"
Joe Wilkins' "Notes from the Journey Westward" opens with this vision of landscape from his poem, "Hardscrabble Prairie Triptych":
"the land here falls flat
on its back. Just dust and blue grass
and a wind bearing up dry rivers of sky."
Wilkins doesn't romanticize the land or its people but respectfully demonstrates the hardships of both past and contemporary inhabitants. Winner of the White Pine Press Poetry Prize, his book is among the finalists for the High Plains Book Award in Poetry.
"Notes from the Journey Westward" is organized into seven sections named for individual peaks in the Seven Devil Mountains of Idaho: He Devil, Devil's Throne, Mount Baal, The Twin Imps, Tower of Babel, Devil's Tooth and She Devil. These subtitles, combined with two poems called "Theodicy" and multiple references to angels and devils, not to mention poems written in the litany form, suggest that this book centers on philosophical inquiry. "Theodicy" has to do with the justification for God's existence but can also address concerns about how evil exists in the world. Wilkins takes up these questions in a way that fits the harsh challenges of a western prairie environment. The subtitles provide a meditative structure for the book, as though these poems represent a journey over difficult ground.
Many poems are based on what seem to be the author's own early memories as well as memories passed on in his family. For example, "Mission School 1922: What She Remembered" shows the speaker's grandmother as a girl attending a country school. She enjoys playing with two boys, the Warman brothers, who are later found dead in a river, tangled in the roots of a cottonwood tree.
The companion poem, the first "Theodicy" of this volume, describes the scene of mourning:
sat in the dirt and weeds and wailed,
tore at the skin of her neck and arms."
The poem concludes aptly with the grandmother's voice:
"I don't know if there is a God,
but stay alive. Be sad awhile.
Here, any belief seems secondary to survival. Another poem titled "Theodicy" is equally ambiguous about God, but admires the mercy of stars:
"they loved us, those stars.
They must have, anyway, for they did
what no one did, what even we
"Notes from the Journey Westward" focuses on several motifs, including the quest for connection with a father who has died, respect for the widowed mother, the young men who drive too fast down country roads, those who survive, those who don't and finally, the emergence of a new family with small children.
This book is visionary. It is admirably consistent and meditative, relentlessly honest in its rejection of any romantic version of the West, and reverent before stars and morning, before the earth and the people who have survived on it. Joe Wilkins honors them by telling their stories.
Tami Haaland is Montana's Poet Laureate and the author of two volumes of poetry.