There is love for Yellowstone National Park and then there is the commitment to spend five years sleeping in your car and living on sardines while you photographed the people of Yellowstone.
The sacrifices professional photographer Steve Horan made to complete the book "People of Yellowstone" were in some ways on par with the sacrifices many of his subjects made to live and work in Yellowstone. They all had one thing in common: passion for Yellowstone National Park.
Twenty-five photographs from the new book will be on display in Livingston at the Yellowstone Gateway Museum, 118 W. Chinook, starting with an opening reception at 5:30 p.m. on June 9. Copies of the book are available for $29.95 and the exhibit will be up for a year.
Some subjects from the book will be part of the opening, and Horan and writer Ruth W. Crocker will be there to discuss the project.
Roosevelt connection
Horan grew up near Theodore Roosevelt's summer home, Sigamore Hill, at Oyster Bay, N.Y., and in 1984 his brother Jim moved to Yellowstone to work at Roosevelt Lodge. Those two coincidences led Horan to spend 30 years exploring Yellowstone until he fell in love with the park, just like his brother.
Horan lives in Florida where he helps care for his aging parents, but his heart is in Yellowstone.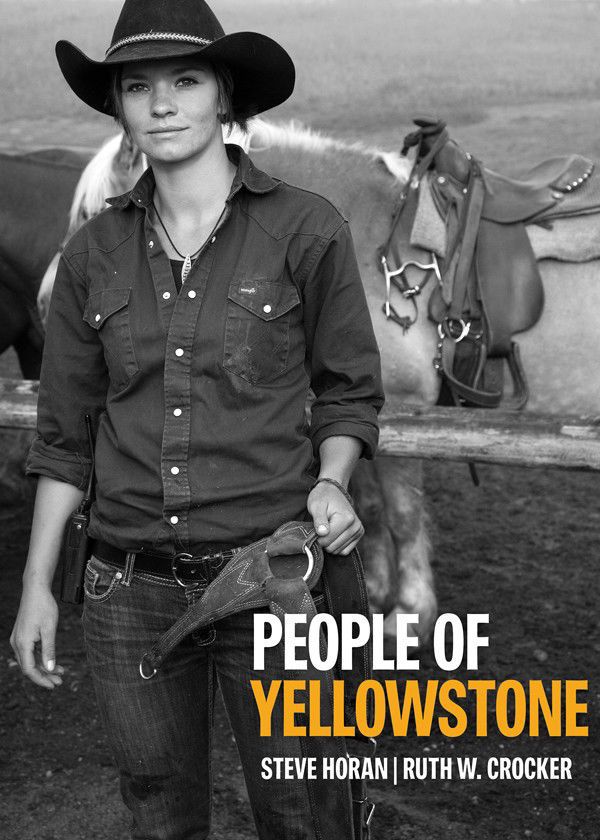 He believed so strongly in his book, he took out a personal loan and launched a Indiegogo campaign to raise $15,000 for the book. He spent five lean years commuting the 2,400 miles from his home in South Florida to Montana to connect with people and shoot their portraits. He doesn't fly.
It started with his little brother that Horan calls Jimmy.
"He's inspired me in a lot of ways, just by his stubbornness, living life and doing the things he wanted to do," Horan said.
The 180-page book includes 87 striking black and white portraits, each one unique to the individual. Salle Engelhardt, who spent time as an artist, musician and a truck driver before she found her niche as an interpretive ranger, was photographed at Hebgen Lake, the site of an earthquake in 1959.
"I thought it would be appropriate to go to Hebgen Lake where people were enjoying life one minute, and then they were gone. That's really the guts of this book to explain Yellowstone through people's eyes."
Horan photographed John J. Craighead at the age of 96 at his home in Missoula. Craighead's work with his twin brother Frank helped shape public environmental policy. Craighead died in 2016 at age 100, before the book was published in 2017. 
Arms like trees
Having Craighead's photograph to show others helped convince them that Horan was for real.
"I wanted to show his strength and spirit," Horan said. "I grabbed his arm to assist him getting up a hill on his property and it was like grabbing a tree. I thought, 'Oh my god, this man is strong.'"
Some people declined to be featured in the book. Others had to be persuaded. Some photos he took in five minutes, others took four or five hours.
He photographed wolf tracker and biologist Linda Thurston lying in a wolf den, an ornithologist holding a bird wing and renowned wolf expert Doug Smith draped in a wolf skin.
Like Horan's brother, Crocker's brother Robert G. Whipple works in Yellowstone, and is passionate about national parks. That's how she got involved in the book project.
Whipple has volunteered in several national parks, and now serves as an interpretive ranger in Yellowstone.
"We call him Ranger Bob," Crocker said.
Crocker grew up watching Yogi Bear steal picnic baskets in Jellystone. The cartoon is a far cry from the real people in Yellowstone who give their time and energy to protecting the park and its creatures.
"I did not speak to a single person that didn't love what they did, and love where they worked," Crocker said. "I interviewed a guy who was head of housekeeping at Lake Hotel who loved being able to head out the door and go hiking. It is a very healthy, transformative place to work where you are surrounded by so much wildness and natural beauty."
Crocker said her greatest challenge was boiling the interviews down to 300 words and making contact with people when she lives in Connecticut.
"I think it was Doug Smith, the guy who reintroduced wolves into Yellowstone, who talked about wild places, and how we have so few on the Earth. It's really a battle to conserve and protect wild places," Crocker said.
The astounding thing Crocker discovered is how few people who go to Yellowstone actually explore it.
"It's less than 2 percent of the 4 million people a year who visit Yellowstone who actually get out of their cars," Crocker said.