Celebrate the changing season at the 16th annual Harvest Fest on Saturday in downtown Billings, centered under Skypoint at Broadway and Second Avenue North.  
Taking place from 9 a.m. to 4 p.m., the event features arts and crafts tents, a variety of food trucks, kids fun zone, a pumpkin pie baking contest, a beer garden hosted by Montana Brewing Company, gift basket raffle donated by downtown businesses, and live entertainment throughout the day.
Though the weather made a shift mid-week, Harvest Fest will continue, regardless of inclement weather, according to Lindsay Richardson, DBA's events director. "This is a rain, snow or shine event."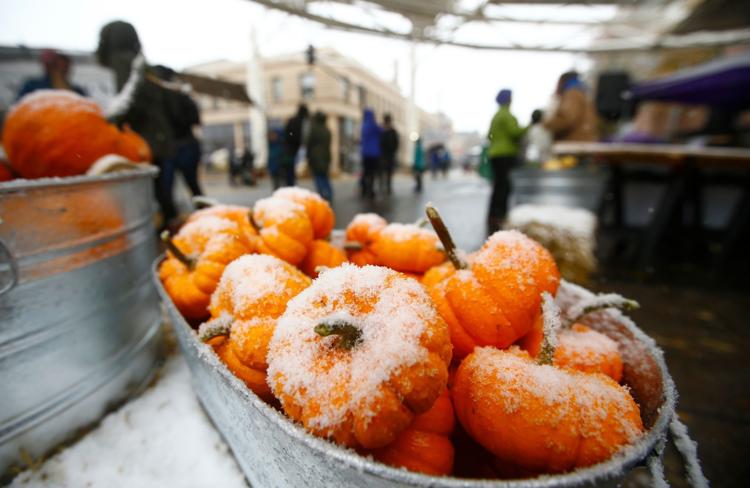 Attendees are encouraged to enter the pumpkin pie baking contest. An online application and rules may be found at www.downtownbillings.com/harvestfest, and pies can be brought inside the Valley Credit Union building on North Broadway, and the judging begins at 1 p.m. with a panel of judges from Chefs and Cooks of Montana. The contest results will be announced under Skypoint at 3:30 p.m.
You have free articles remaining.
Keep reading for FREE!
Enjoy more articles by signing up or logging in. No credit card required.
A Kid's Fun Zone will be east of Skypoint on Second Avenue North, featuring a craft tent hosted by Wise Wonders Children's Museum. Free activities include pumpkin painting and an over-sized block play area. Free unicorn or cowboy pony photos and pumpkin balloons are offered from 10 a.m. to 1 p.m. at the KTVQ booth.
The beer garden in front of Montana Brewing Company will include more than a dozen seasonal pumpkin and Ocktoberfest beers on tap, a stein holding contest, and corn hole.
Entertainment takes place under Skypoint. Schedule information provided by Downtown Billings Alliance:
9 a.m. - Magic City Gymnastics featuring students of various ages sharing gymnastics skills.
9:30 a.m. - Billings Special Olympics Dance Team "Rockers," an adaptive dance team, ages 7 to 70.
10 a.m. - Big Sky Chorus Group, featuring Billings' Barbershop Harmony Society singing a capella.
10:45 a.m. - NOVA Center for the Performing Arts features choreographed pieces from upcoming NOVA productions and the youth cast of "Jungle Book," running through October.
11 a.m. - Lockwood Middle School Musicians
Instrumental music performed by student musicians from Lockwood Middle School band. Contact: Q Staton, statonq@lockwoodschool.org
11:30 a.m. - Caledonian Pipes & Drummers
Billings based group, traditional bagpipes and drums. billingsbagpipe.us
12 p.m. - Wrecking Clowns Dance Crew
Local Billings Hip Hop dance crew. facebook.com/wreckingclowns
12:30 p.m. - Tesseract Dance Collective, a local collaborative belly dance troupe, performs.
1 p.m. - The Always Be Creative, a local band that performs original music and covers of family-friendly tunes. As well, the pie baking contest begins.
2 p.m. - Who We Are, a local acoustic trio of Trevor Wood, Chris Kellison-Decker, and Bekah Kellison-Decker. facebook.com/whowearemt
3 p.m. - Claddagh Irish Dance Academy, featuring traditional Irish dance performances. Raffle basket and pie contest winner announcements will take place afterward.
Raffle tickets will be for sale under Skypoint, costing $5 each (cash only). All proceeds will go to beautification projects in downtown Billings such as public art projects, hanging flower baskets and holiday decor. For more information, visit www.downtownbillings.com.