HELENA — A traveling art project called Her Flag visited Montana on Saturday to collect its 13th stripe in celebration of women's suffrage. 
The project is the brainchild of Oklahoma City, Oklahoma, artist Marilyn Artus. She said when she first heard the 100th anniversary of the 19th Amendment was coming up in 2020, she wanted to do something to celebrate women's suffrage. 
"I wanted to do something positive for America," Artus said. "And raise awareness of women's history, voting rights, and more."
Artus decided to create a flag celebrating the 36 states that ratified the 19th amendment. She would set out on a journey that would see her visit each of the 36 states in order of ratification. Additionally, one female artist from each state would contribute a stripe to the massive 18' by 26' flag. Artus received more than 340 applications to be a part of the project, but was only able to choose 36. 
Montana, which voted to ratify the 19th Amendment on July 30, 1919, was the 13th state on Artus' trip. Jane Waggoner Deschner, a mixed-media artist from Billings, was chosen to represent Montana. 
Deschner has lived and worked in Billings since 1977. Though born in Kansas, she has lived the majority of her life in Montana. Deschner earned a bachelor's degree in art from Montana State University-Billings. 
"It was exciting," said Deschner, when asked how she reacted to being chosen for this project. "This is such an inclusive and comprehensive project."
You have free articles remaining.
Deschner said at first she wasn't totally sure what she wanted to do for the project. However, there was one person she knew needed to be featured in the piece. Throughout the past 40 years, Deschner had heard and learned a lot about Jeanette Rankin.
Rankin, a Missoula native, was the first woman to ever hold a federal office in the United States. She was elected to the U.S. House of Representatives as a Republican in 1916. Rankin was the only woman to cast a vote for women's suffrage in 1918. However, she would leave office prior to the ratification of the 19th Amendment in 1920. Rankin was elected a second time in 1940. 
Deschner's research into Rankin led her to find a photo in the Library of Congress of the 1917 House of Representatives. Deschner took the photo and highlighted Rankin among the several hundred individuals who held seats in the House at that time. Artus sewed the stripe to the flag in front of a group in the Montana Historical Society. 
"It all fell into place," Deschner said.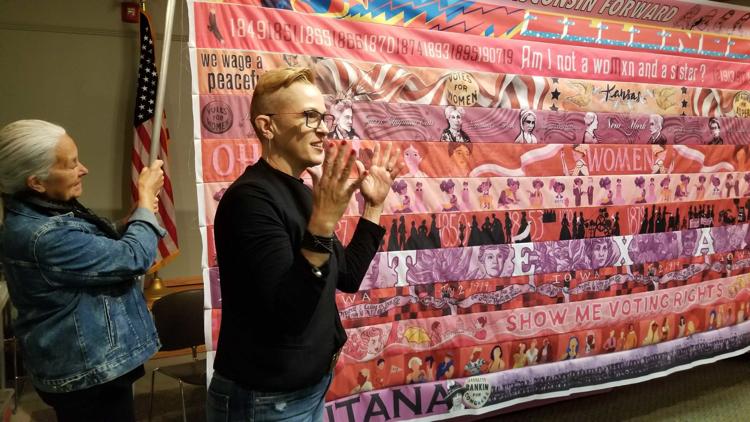 Her idea fit well into the instructions Artus had given the contributing artists. The only rule was to be celebratory and not inflammatory.
"It took Democrats, Republicans, men, women, black and white to ratify the amendment," Artus said. 
After leaving Montana, Artus will be headed to Nebraska then Minnesota, the 14th and 15th states to ratify. She will then take a break before heading to New Hampshire, Utah, and California. The project, which began in July 2019, will take over a year to complete. Artus will end her journey in Tennessee, the deciding state, in August 2020. 
Artus' dream is to have the flag displayed in Washington D.C., possibly in time for the 2020 election. Currently, she is in talks with organizations about displaying the flag but isn't prepared to reveal anything at this time.